121SexCams Review - One on One Sex Cams
Last updated
January 11, 2021
121SexCams just wants to entertain you. This is a very straightforward site with the organization of its options, simplicity of its features, and directness with its pricing. With top quality high-def broadcasts and a choice selection of webcam sex performers, there's no need to amuse members with flashy distractions and time-wasting gimmicks.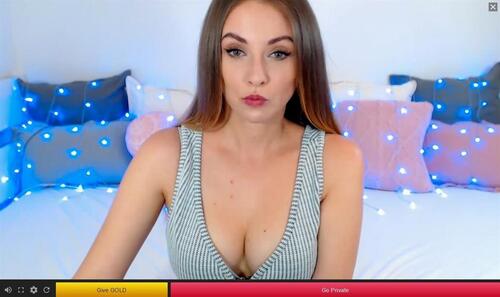 All the models are operating out of open rooms. Some of them show more of themselves than others. Though this is a premium site, the girls can choose to go topless in their public chat, if they wish. Plenty of them will be flashing and teasing themselves to get interest going for a private or group show, or just to earn some tips from all who are watching.
In Brief
Typically, there are some 600-800 female models online at any given visit to the site. If you're looking for Male performers or Transgirls, the selection is decent, with about 50-70 of each gender always online. Model profile pages are complete with a full biography of body attributes and a list of all the actions a performer is willing to perform. As well, most models upload enticing photos and videos that are free to peruse. And most useful, is the My Schedule, to track when they'll be coming online each day of the week.
The webcam rooms have a Stream Quality selector that shows the current streaming rate. Members can increase or decrease the selection. Most rooms are streaming in the very minimum level for a true high definition broadcast. The availability of cam2cam during a private show is dependent on whether or not the model permits it. And it may or may not cost an additional fee, depending on the model.
121SexCams is for those that are ready for the intimacy of a private sex session. Since there's not much free action happening here, the site doesn't get the crowds that the freemium cam sites get. Normally, there are just a few, if any, other viewers in each girls public cam room. And the models are quick to respond during their free chat time. Funny enough, if a girl says 'Hi' to you, and you don't reply, she may move to block you from her room. These girls are here for the business of one-on-one sex shows, not for you to stare at them indecisively.
The Webcam Models
Like any site, 121SexCams has its fair selection of girls ranging from dolled up Perfect 10's to regular amateur babes. But, it also has some of the most hard-to-find types of performers, like: female bodybuilders, massive tits freaks, hairy pussy oddities, an assortment of strange fetishists, and wild bondage specialists.
In each models preview display, her country of origin is shown. Get to learn the 2-letter codes, like: US, CA, GB, RU, to start to quickly identify where any girl is camming from. And, there's a Region selector, to sort all online models by the continent they're located on.
The Girls
The vast majority of the models come off as professional webcam girls. Their rooms are clean, thematic, and lit well. Even the girls that are found in the New Models category seem to have their act together, even though they're just starting out.
The Guys
There's a good mix of athletic guys, hairy bears, frat boys, and twinks to sex chat with. Those that are uncut, will classify themselves as such. And don't assume that the guys on 121SexCams are all gay. There's a healthy contingent of straight men camming too.
The Transgirls
In this category you'll find a good count of chicks with dicks. It's a fun mix of masculine transvestites, and wholly femmed out tgirls.
Chat Room Features
121SexCams' chat rooms have got all the standard features. The player opens into a big window that can go full screen. Text chatting and the model's bio remain available in an overlay pop-up will in full screen mode. There's a video quality tool that enables you to change the stream rate. Quick Tip buttons let you send instant tips in one of three small denominations. A recommended showing of similar models presents itself. And, the activation button to Go Private will first show you the Private and Exclusively private show rates for the model.
Going Private...
When taking a girl into a private session, she should be all yours. Access will start immediately. Be wary though, as it may take her a few moments to catch on that she's been selected for a private. Start chatting her up right away, and let her now how you want the show to go down. Don't be shy with your requests. She's there to please you.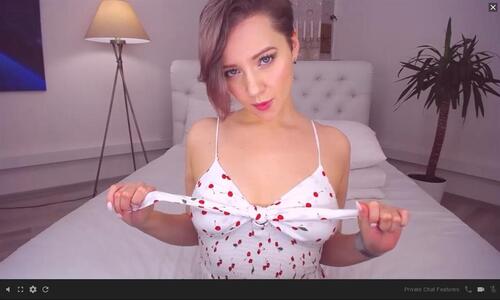 Show Types
The only difference between the free chat and private chat is that the models will get fully naked and sexually explicit when taken private. But that difference, is the game-changer. There aren't many show types on 121SexCams. It's basically a tame free chat or charged-up private and group shows.
Free Chat
Every model not currently engaged in a private show of some kind is ready and waiting in her open chat room. It's totally free to chat with the model, The models can be topless, but are not supposed to show anything more than that. But, there are some that dance across that line, here and there.
Site visitors that haven't yet registered a username can enter into the open chat rooms and send text chat, but each chat sent will prompt a pop-up reminder to create a membership account.
Private Chat
Going from an open chat to a private is a click of the button away. When entering a private, you're the first, but others may join and leave as they wish. The room's per minute rate is clearly shown before confirming to start the show.
Exclusive Chat
Here's the only way to have her all to yourself. The exclusive chat rate is always going to be slightly higher than the private chat rate, but you're guaranteed that no other members will occupy her time when she's with you.
Gold Shows
The model dictates the length of the show and sets a minimum buy-in amount per member. During the open chat time, the model tries to reach the goal she set before time expires. When time is up, the model starts the show immediately if her goal was reached. If not reached, she can decide to cancel or continue with the show anyways. If canceled, you pay nothing.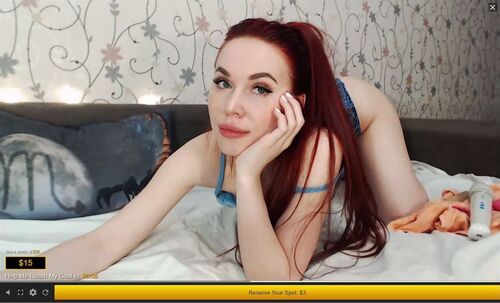 Webcam Broadcast Quality
The streaming rate for most of the chat rooms is impressive. This is a true HD experience. Each room room has a quality selector for you to choose a higher or lower rate, depending on how you think the show will play best based on your own internet set up. In the Features list found on the top of the galley pages, is the option to sort the models by 'best quality'. Select it, and go for the HD rooms for priority display.
Mobile Device Interaction
Accessing the site over a mobile device doesn't require the use of an application. 121SexCams is designed to operate smoothly through your mobile device's browser. The site is compatible with all iOS and Android operating systems.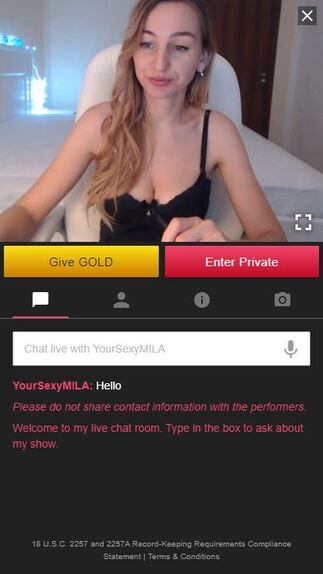 Inside the chat you'll have the essential features required for sex chatting. Unfortunately, the mobile site is missing a way to get to the next model. There's no easy swipe feature, or even a recommend list of similar models that can appear. The only way to see more models, is the obvious action of going back to the main page.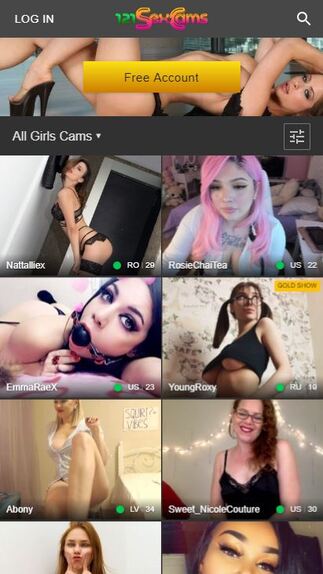 All online models can be sorted by those that are reachable over the phone. You can actually call up a girl over the phone. If you do, then please pay attention to all applicable charges.
Registration
121SexCams is totally free to browse through all online models, and to even chat them up in their open rooms. But, you'll learn quickly that most actions you try to make, like even looking to see what chat rates a model charges for a private chat, will prompt you to at least complete the simple sign-up, by submitting a valid email address, and creating a username and password.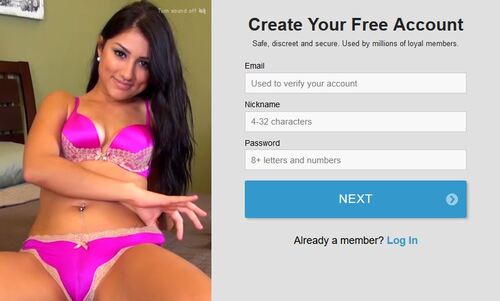 This registration process will not be complete until you add a credit card or PayPal to your account. Once done, you can continue to poke around for free without getting reminders to sign up. Your account won't accrue any charges unless you choose to purchase any of the paid services.
There are other adult webcam sites that offer their new members some free sex chat time just for signing up, or for validating a credit card. Sadly, that's not the case on 121SexCams. The site doesn't have any enticing freebie offers of any kind.
Payment Methods
121SexCams is unique, but also a bit archaic in its payment method options. The site doesn't sell pre-packaged bundles of Tokens or Credits like every other major private cam site out there. At 121SexCams, you put your payment method on file and then you're charged only for the live private cam sex you choose to start.
Credit or Debit Cards: Visa, Master Card, CB, Maestro, and Discover
PayPal
For your comfort and protection, there's a Daily Spending Limit. Once the limit has been reached, the chat you're involved in will close and you won't be able to start any other of the paid services until the current time period comes to an end.
To raise you limit, simply contact 121SexCams with a request to do so.
Prices
At 121SexCams, the performers set there own private chat and group show rates. Maybe it's the way currency converts from country to country, or whatever, but the result is that the rates you'll see are all over the place. One girl will be charging $1.54 a minute for a private show, while another is asking for $2.39 a minute. It just feels random.
| | |
| --- | --- |
| Sex Chat | Costs |
| Average Rate/Minute | $3.00 |
| Cheapest Rate/Minute | $1.00 |
| Most Expensive/Minute | $9.00 |
| Gold Shows | $1.00 - $5.00 |
And there's no price search of any kind. The only way to see how much any particular girl is charging is to go into her webcam room and select to Go Private. Then, her pricing list will present itself.
121SexCams Rewards Program
The program is designed to reward the site's most loyal members. There are 10 reward levels. Each level comes with an award of 121SexCams Credits that can be used toward the cost of any private show. The models will also be aware of your current standing.
After you have at least a 2-minute private session on 3 different days, you'll get a number 1 next to your username and 1% of what you've spent credited back to your account. The number 1 may be your first big advantage on a site with a bunch of members with no number next to their name. This number tells the girls you're interacting with that you're a spender. And girls love spenders.
Next, you can shoot for levels 2, 3, 4, and on up to level 10. This highest level is attained after having at least a 2-minute private session on 360 different days, and will credit back 10% of all spending. These status upgrades help demonstrate to the models who the best members are. And, in turn, you'll see the girls pay you the attention over all the other zeros clamoring for theirs.
Customer Support
Live chat support is available at all hours of the day. Response time is most often rather immediate. Email queries are made through the site and replies will come back to your registered email. For phone inquiries, there's a 24/7 phone service ready to pick up.
Positives and Negatives
Positives
Premium site, models allowed to go topless in their open chat
Stunning webcam quality. High-Def broadcasts from most rooms
Streaming quality selector in the video player
Industry awards and accolades for years of recognized excellence
It's pay as you go. No need to prepurchase any site currency
A sleek and simple interface and easy navigation
Hovering over a gallery preview picture triggers a live look into that room
A rewards program that gifts back site credit to spend on paid services
Model profiles with detailed bios and teaser pictures and videos
Members can add their own tags to a models profile
Offline girls can receive messages from members
Schedule of special events and celebrity performances
Sort the girls by the continent they're on
Safe and secure payment methods
Attentive customer service
Negatives
Not all of the performers offer cam2cam connectivity
No creating a username without putting a credit card on file for verification
Hang out in an open room for too long, and you may get banned from the room
Can't pay with Bitcoin, bank transfer, or gift cards
The daily spending limit will stop a show mid-track
Only one cam room can be open at a time
Known for leaving up recorded celebrity shows
No VIP membership program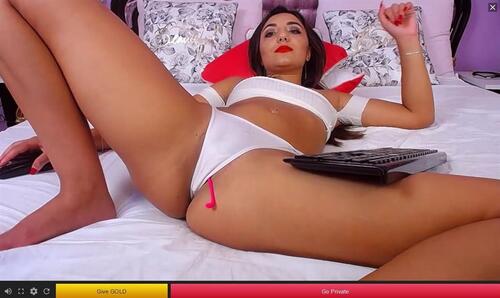 On The Whole
A mega-site for one on one sex chat that has been keeping things simple for site visitors since the turn of the century. There are no flashy or distracting features, games, competitions, or community efforts. This is a site solely dedicated on showcasing its assemblage of webcam models.
As a member, you're going to have access to a platform that has put its focus on cultivating talented performers and delivering them over first-rate streaming webcams. The consistency of the quality of most of the rooms you'll enter into is close to being unparalleled. You'll literally see the peach fuzz on the bum and the stretch marks on the waist. And when your choose a girl to start a private session, you'll have her put that webcam wherever you want.