Top 7 Cam Sites for 1-on-1 Jerk Off Instructions
Published
January 21, 2020
Receiving jerk-off instructions from a skilled adult performer can be an extremely liberating, not to mention an enlightening experience. A private cam lesson where you give control to a mistress of masturbation redefines online sex education. From orgasm denial to cum control, these 7 sites feature expert teachers who specialize in providing training to make sure you become best-in-class when jerking it.
LiveJasmin.com
If you're not only looking for an expert teacher in jerk off instructions, but want her to have top notch streaming quality, the looks of a XXX glamour model and of course be cam to cam enabled, then LiveJasmin should probably be your first port of call. This platform is the go-to X-rated live video chat destination for cam connoisseurs worldwide and the moment the homepage loads, you'll see why it's a fan favorite in all genres.
Unlike some of the sites listed below, there is no defined JOI sub-group at LiveJasmin but that shouldn't deter you as you're about to discover an easy hack to get to the cam models that are mistresses of masturbation manipulation. On the homepage simply select the small magnifying glass icon located on the top right of the screen and a search bar comes up. In the bar type in the abbreviation JOI (not jerk off instructions) and the site filters the results to only models that are specialists in the practice.
Cam2cam is a must when it comes to the art of exhibitionist masturbation. Almost every cam host at LiveJasmin is cam2cam friendly, though it does comes at a premium over non-c2c private sessions. To operate your webcam, once you start a private video chat show you simply hover over the live feed in her room and icons appear on the left of the window. Select the webcam icon and this will enable the model to view your performance. If you want 2-way audio, select the microphone icon to turn it on. (This also incurs an additional fee). If you want your JOI on the go - LiveJasmin offers C2C shows on mobile devices and smartphones.
Prices for a private show with a world-class JOI adult model on LiveJasmin average around $3.60 a minute (not including cam2cam), with the cheapest rooms starting at $1.20. For 2-way cam and audio you have to factor in an additional $1-2 a minute for each action.
---
Flirt4Free.com
Flirt4Free is one of the leading premium cam sites for those looking for a strong fetish and kinks category. While it's not a fetish-centric site, it's dedicated micro-site for BDSM and other non-vanilla practices attracts hardcore porn performers who are leaders in the various kink niches.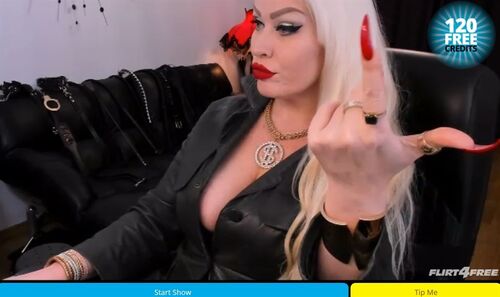 Like all premium cam sites, to get to the JOI girls takes a couple of clicks from the homepage. At Flirt4Free you have to hover over the Live Cam link located above the cam girls snapshots on the main page. On the drop-down menu that appears you then select Fetish, this takes you to Flirt4Free's famed fetish community page. Scrolling down the page you'll see 54 kink specific categories, Jerk Off Instructions is usually within the top three results. It's also worth checking out the teachers and pros in other groups such as Orgasm Control/Denial and Teasing.
Once you've decided on a masturbation partner you just start a show and on the right hand vertical menu that appears when you hover the live feed, you click/tap on the webcam icon. A pop-up alert may appear asking you to Allow the site access to your webcam. Confirm access and your show now becomes a cam2cam session and your teacher can see how well you follow her X-rated instructions.
All prices at Flirt4Free include cam2cam and 2-way audio if you so choose to activate these features. You can also activate a cam to cam session on your smartphone. Chat rates start from an extremely low $0.50 a minute - though there aren't that many JOI porn professionals that come in on the lower end of the scale. On average, expect to pay around $4.50 a minute.
---
CamSoda.com
CamSoda is a freemium adult video chat site, that means not only can anyone establish themselves as a cam model and start streaming their sex games, but it also means the free chat rooms are hardcore and explicit. Clothed models are the exception, not the norm and this is apparent the minute the homepage loads. Hundreds of extreme snapshots taken from live video feeds give an almost real-time indication of what to expect if you click on into a room.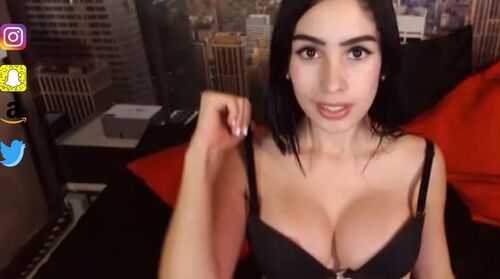 To narrow your choices down to the porn performers that are JOI specialists takes more than a couple of clicks away from the homepage. The quickest way it to select the View All Tags link on the top left of the horizontal menu bar located above the gallery of X-rated photos. Although around 789 pages of results come up, go directly to page 6 and you'll find the rooms that list JOI as one of their specialties. Another option is to check out the rooms that tag themselves with similar kinks such as Control, Domination, Femdom etc. The largest grouping that brings up relevant results is Fetish - this appears on page 1 of the search results.
A JOI private video chat without the teacher seeing your moves is somewhat missing the point (unless you prefer to stay totally anonymous - though that can still be done with the right camera positioning). Before you start a private show at CamSoda, first make sure that the cam host will allow a cam2cam session (some don't). Once you've established that she does, just start a private chat and click/tap on the Share Cam button that appears in the bottom of the live video feed window. CamSoda, like LiveJasmin and Flirt4Free also have mobile-enabled C2C capabilities.
While some of the hosts (normally the new/amateur performers) charge just $0.50 a minute for a cam2cam JOI video chat lesson, on average, rates stand at around $3.00 a minute.
---
FetishGalaxy.com
FetishGalaxy is the only fetish-centric XXX cam site on the list of the top 7 JOI cam sites, the reason it's the only one is simple - streaming standards. The majority of the kink-only live video chat platforms are focused on the extreme and not on the basics such as model selection, broadcasting quality and user experience - FetishGalaxy does both.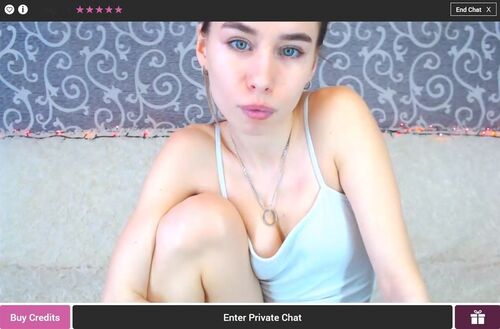 As you would expect from a fetish focused site, getting to the expert jerk off instructors is just a one click trip. The homepage features a top nav bar with links to the major kink categories including JOI. Simply select the link from the bar (on the center right) and relevant rooms fill the screen. Saying this, the results tend to be more limited than need be. On every screen shot, it's listed whether the hostess is a Professional Dominatrix, Professional Submissive, Expert (goes both ways), or Professional Educator. Basically, apart from the submissives, almost all of the others include JOI in their basket of BDSM games.
Cam to cam shows are pretty much par for the course at FetishGalaxy. There maybe some broadcasting cam babes that don't facilitate it, but they seem to be hiding in the shadows and can be rarely found. To kick off a cam2cam chat you have to first start a private show by clicking/tapping on the Enter Private Chat button in your chosen cam room. The next step is to select the webcam and microphone icons that appear in the top left corner of the live feed and the session then turns into a 2-way cam and audio lesson in jerking off.
There are no extra charges for cam2cam as opposed to a regular X-rated chat show. On average, shows in all proclivities come in at around $2.25 a minute, with many of the rooms streaming a 2-way audio JOI lesson for an extremely cheap $1.00 a minute.
---
LivePrivates.com
LivePrivates is very much the gold standard of adult video chat platforms and this is certainly the case when it comes to the seductive, stunning and skilled jerk off instruction teachers. HD streaming is the norm, not the exception and if you take advantage of all the special offers and discounts available, prices for a premium JOI show become extremely attractive (just like all the models waiting to teach you the art of masturbation).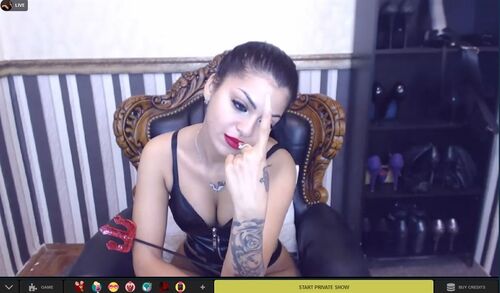 LivePrivates has some of the best jerk off guides from around the world covering all ages, appearances and ethnicities. It's worth taking your time scrolling through some of the models' rooms on the homepage before narrowing in on your JOI search results. Many of the gorgeous girls are experts in a variety of sexual practices and don't list all of their kinks. If one particular cam host catches your eye, message her to ask if JOI is one of her fortes. Chances are it is.
To find a JOI focused femme, go to the left side of the homepage and choose a category from the vertical search menu that's related to the JOI field (for example dominatrix, fetish and masturbation). You can also write 'JOI' in the search bar, this brings up a limited selection of cam hosts who are experienced masturbation and orgasm denial teachers.
To start a c2c show at LivePrivates, once you've started a private video chat show, go immediately to the left side of the video window and click/tap on the webcam icon. If you want your cam partner to also hear you, do the same on the microphone icon that's directly below the webcam image.
The cheapest cam rooms for JOI instructors start at $1.20 a minute, but these are few and far between. Most instructors ask $3.50 a minute for a private show. These rates do not include cam2cam. If you are operating your webcam then an additional $1-2 a minute fee is incurred. 2-way audio also adds another $1-2 a minute.
---
121SexCams.com
If you're looking for a JOI teacher that's slightly different from the rest, be it in age, ethnicity or style, then pop into 121SexCams, one of the most diverse premium webcam sites around. With cam hosts located in all hemispheres and time-zones, there's a strong showing of streaming sex performers 24/7 making every hour, rush hour, at 121SexCams.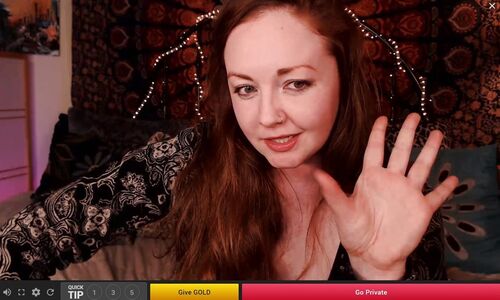 With around 1,500 rooms broadcasting day and night, finding the perfect jerk off sex expert isn't a problem. The problem is narrowing down the choices to just one or two. One way to filter down your results is to select the Advanced Search link located to the right of the white search box. This brings up several categories including a dedicated Fetish sub-category. While this doesn't feature JOI as a stand-alone option, other related kink variants narrow down the rooms you'll see to those that are jerk-off friendly (for example, BDSM, Cuckold, Dominant & Latex/Leather).
One major downside to 121SexCams is that not every X-rated cam host allows cam to cam shows. To find out if a cam sex teacher is cam2cam enabled you have to go into their room and message the performer directly to confirm if she allows for a 2-way cam show. If they do, then once you start a private sex session you just click on the webcam icon which appears in the live video feed and then the show becomes a mutual appreciation event.
Chat rates at the site are as diverse and wide-ranging as the models themselves. On the lowest end of the price range, a masturbation trainer may welcome you in for just $1.00 a minute, though on average expect to pay around $3.00 a minute. Cam2cam and 2-way audio may be included in the rate, or the performer may ask for an additional fee. There are no hard and fast rules for this, it's purely at the discretion of each broadcasting babe.
---
Sexier.com
When it comes to cheap, cam to cam, jerk off fun and games, Sexier reigns supreme. This popular low-cost adult chat site features over 500 cam performers always online. Focusing purely on live video chat, the site may be lacking the gloss and glitter of the top premium webcam platforms, but it makes up for it with extremely competitive rates and seemingly boundary-less cam babes.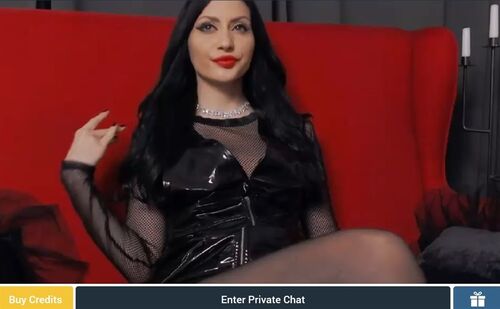 At Sexier you'll need to have a bit more patience when searching for the JOI practitioners. In fact, it takes more than just a couple of quick clicks from the homepage to find the BDSM sub-categories. First, go to the dedicated search tab which is a small icon featuring four lines and four dots located on the far right of the homepage's top nav bar. In the pop-up box that appears, click/tap on the Advanced Search button. Then scroll down on the page that comes up to the Looks category and select Fetish. This brings up 23 sub-categories and while JOI isn't itself listed, the models in the BDSM / Humiliation and Cum Play groupings tend to be skilled jerk off instructors.
Like every other site listed here, to start a private cam2cam experience, you have to already be in a private chat session. Once you are, simply select the webcam and microphone icons featured in the top left corner of the live video feed. A word of warning, Sexier keeps its chat rates to a minimum by compromising on streaming quality. There aren't many HD enabled rooms at this site.
All the rates at Sexier include cam2cam and 2-way audio and they start at just $1.00 a minute with the average cam chat rate coming in at $2.50 a minute.
---
Conclusion
The above 7 jerk off instruction cam sites are all proven A-grade graduates in the field of masturbation higher-education. A quick course with one of the live porn professors at any of the above sites guarantees a jerk off experience better than any before. It goes without saying that all the sites are safe, secure and discreet suppliers of online adult fantasy fulfillment.
One site edges out the others with its no-compromise policy. It doesn't compromise on video quality streaming, it doesn't compromise on prices - keeping them as low as possible, and it definitely doesn't compromise on the standard of its cam hosts, each one a breathtaking beauty. So when it comes to time to starting an advanced masturbation course with a JOI practitioner, the number one school of choice is LiveJasmin.