Top 6 BDSM Webcam Sites for Private Punishment
Published
January 14, 2020
If you're a practitioner of the art, a novice to the scene or just curious to find out what it's all about, a good BDSM cam site should have options for all levels. The following sites are the best of the best if you're looking to fulfill some discreet deviant desires. These 6 adult cam sites are all safe and secure, offer A-game chat room features, along with a bountiful selection of extreme cam partners. So whether you're into bondage/domination and humiliation, or prefer discipline/submission and SPH, check out these 6 fiercely fetish live porn playgrounds.
LiveJasmin.com
With over 1,000 rooms always streaming in HD or high-quality SD, you'll easily find a dominant showing of mistresses, subs and kinky queens with a penchant for the perverted. As one of the leading premium adult cam sites, all the models on LiveJasmin are not only extremely skilled cam performers, but are also highly talented in a variety of non-vanilla sexual practices.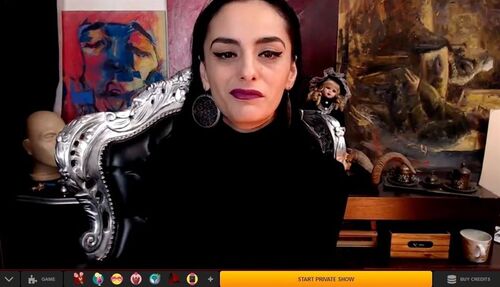 Only one of the top 6 BDSM cam sites listed below is fetish-centric. LiveJasmin, like the other sites listed here, hosts the full range of webcam performers. While our link goes straight to the BDSM girls, it's easy to find yourself out of category. To find the fetish practicing cam hosts from the homepage you have to simply find the category. To do this, go to the left of the screen and either select Fetish from the left hand nav bar, or scroll down and choose your personal kink preference from the Willingness category options.
Private cam chat prices at LiveJasmin may cause a bit of pain at first glance, but like all good mistresses - they know how to make the pain pleasurable. The cheapest BDSM private cam shows start at $1.20 a minute and the top earners can pull in an astronomical $12.00 a minute, but on average you're looking at around $3.60 for a minute of private camming.
These rates don't include cam2cam or 2-way audio. For each of these features you'll have to tack on an additional dollar or two a minute. The models themselves decide how much they want to charge, with a few not asking for any extra.
Prices do come down if you factor in all the promos and offers available on the site. These include the ability to Spin The Wheel before you purchase a bundle of LiveJasmin credits. You can win bonuses including a jackpot of doubling the number of credits you get for your money. You also get 10 free credits if you register a credit card (no purchase necessary) and 10 free Sneak Peeks when you register as a member (registration is free, quick and safe).
---
Flirt4Free.com
Flirt4Free is an all-inclusive premium cam site that has one of the strongest stand-alone fetish micro-sites for those looking for something a little less generic. The site's renowned fetish section is as all-encompassing as is its superb selection of cam models. Along with low-cost private BDSM webcam shows, the site educates with fetish articles and blogs, and provides a community platform for the bondage (and beyond) loving public.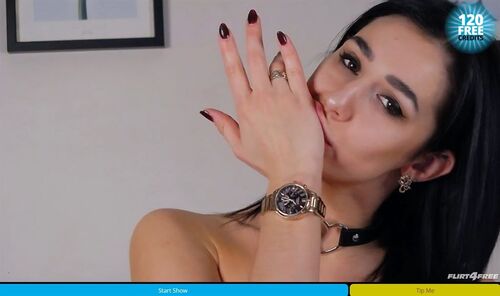 On the homepage of Flirt4Free go to Live Cams on the top nav bar and click on through to Fetish where you can find 52 categories to choose from that lists the online experts in each field. Groupings include; cum eating, corporal punishment, anal training, spanking, findom, CBT, and many more. There's also a forum where users and models can interact posting demands and asking questions related to different topics, along with a large library of informational kink-themed articles.
All video chat prices listed on Flirt4Free include the use of cam2cam and 2-way audio and at busy periods, you can find a few models offering private BDSM live cam shows for an unbeatable rock bottom rate of just $0.50 a minute. On the flip side, the leading fetish queens demand $12.00 a minute (but they are few and far between). Mostly, you'll be paying around $4.50 a minute for a 1on1 cam show. And, activating the C2C feature on both desktop and mobile devices is included in the private chat rate.
There are several ways to get significant reductions on private hardcore cam shows. At the bottom of the homepage there's a lower nav bar. Under the Live Chat title check out Promo and Deals. Promo lists all the discounts that Flirt4Free is giving out site-wide. Deals are the specials individual models are offering, usually extra minutes (sometimes double the time) on pre-booked 1on1 shows. For example, a fetish friendly cam host will offer a 10 minute session for the price of 5 minutes.
---
Stripchat.com
Stripchat is a freemium site which means a lot of extreme entertainment takes place in the free rooms, and kinks and fetishes are par for the course as you scroll through the live feeds. As anyone can register as a model on Stripchat expect to find an international array of exhibitionists who are performing for their pleasure, as much as yours. If you're looking for a like-minded amateur cam partner who's into the scene as much as you are - Stripchat will probably have just who you're looking for.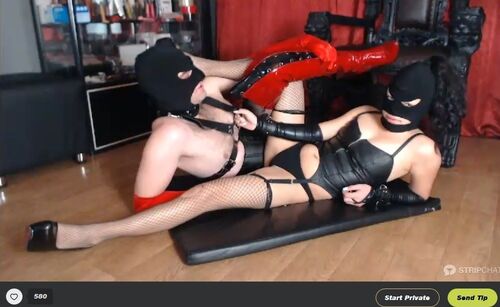 With everybody into everything, you need to quickly narrow down your selection in order to accurately find your perfect playmate. The easiest way to get directly to the lifestyle practicing cam hosts is to go to the left hand nav bar and scroll down to Popular tags. This features the major search groupings including; Hardcore, BDSM, Fisting etc. Alternatively, you can select All Categories and go through an an alphabetical listing of all search groupings that are far more specific for each genre.
Prices for a private cam show are at the lower-end of the scale with some rooms broadcasting for just $0.80 a minute. Costs cap out at the highest $8.70 a minute though average out at around around $3.40 a minute. These rates may or may not include cam2cam. Some will charge extra, even double for 2-way cam usage - others don't levy any extra cost.
HD streaming is spotty. But, with an incredible selection of over 2,000 streaming 24/7 you'll always find a strong choice of HD enabled rooms, though these are still in the minority.
---
FetishGalaxy.com
If this isn't your first time diving into the wild waters of a BDSM experience, FetishGalaxy is probably one of the best kink-centric live cam platforms out there. Every room on this site specializes in one form or another of BDSM. From dominatrixes to submissives, teachers to slaves, this site is filled experts in every class.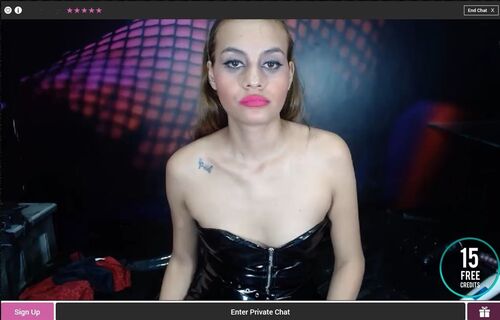 Generally expect to see around 150 BDSM caves online and as you scroll through the dungeons, it's easy to see at a glance which niche you're looking at. On the previews snapshots of each model's room it's indicated whether your potential partner is an Expert or an Educator, a Professional Dominatrix or a Professional Submissive.
While you may want to be a grateful paypig to a deviant dame, FetishGalaxy itself isn't looking for you to be its human wallet. Prices are low (but then again - so is the streaming quality in the majority of the rooms). Private BDSM cam chat costs kick off at just $1.00 a minute, with the average (the only thing that is average on this site) rate standing at $2.25 minute - then climbing to a still very reasonable high of $5.00 a minute. All the private show rates include the use of cam2cam and 2-way audio, whether you employ the features or not.
In order to get you coming back for more, many of the latex-covered ladies will give out discount codes for use in future private chat sessions and on top of that - check into the site on a Monday when many of the madams host a 10% off day.
---
LivePrivates.com
LivePrivates is all about living the dream. This site is an aspirational live cam platform filled the most talented and sexy models that can fill your every deviant desire and open you up to many new dark and desirable dreams. If you're looking for an empress of the extreme, streaming from an HD throne room, then let LivePrivates fast-track you inside her kinky kingdom where everything different is the norm.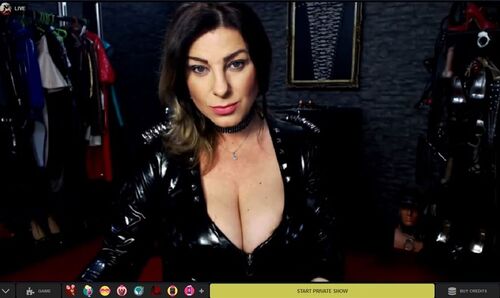 The route to the dommes and subs at LivePrivates is just a click away from the site's homepage. On the left of the screen there's a vertical menu bar with the most popular search options. Submissive, role play, dominantix and fetish are all listed among the more ubiquitous categories. If you can't find what you're looking for there, on the top right of the page, enter your specific proclivity in the white search box and every live cam host that specializes in it will then appear. Expect a good number of results, the ladies at LivePrivates love to get their freak on.
Almost all the rooms broadcast in HD and are cam2cam friendly, but the listed private chats in each room don't include cam-to-cam shows. For these, you'll incur an additional dollar or two a minute fee on top of the regular room rate. On average, most queens of kink ask around $3.50 a minute, with many of the newer performers coming in at the bottom of the price range - $1.20 a minute. The seasoned stars of the site are in high demand and can weed out their playmates to those that are dedicated fans of fetish by asking up to $12.00 a minute.
If things are quiet, or the lady is bored, she may open up a time-limited sale, where she'll cut her rates way down - often to the minimum $1.20 a minute. To find these fantastic fetish femmes, select the Sale link on left nav bar. While the results won't be kink-centric rooms, you'll still find many lifestyle practicing lovelies in the snapshots that appear.
---
121SexCams.com
If you want to sexually please a mistress from across the seas or control a sub in a land far far away, then pack a bag of BDSM toys and head over to 121SexCams. Here you'll find at least 1,500 possible playmates looking for an online cam partner and a significant percentage of them are looking for someone to complement their particular proclivity.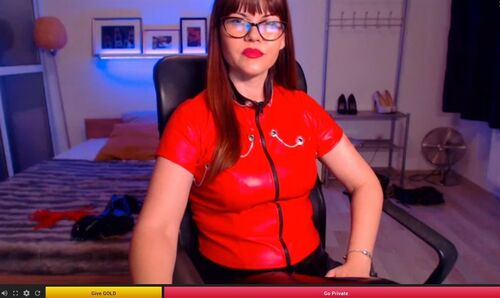 To find the cam girls that are into the more spicy variants of X-rated fun simply click on the green Categories box on the right side of the homepage and choose a suitable option such as Bondage or Leather. An even better way though, which will bring up more accurate results is to do a bit more clicking via the Advanced Search tab located to the right of the white search box. Selecting this brings up more precise results. There's a dedicated Fetish grouping on this page featuring 19 sub-categories including BDSM, Spankings, Stockings, Cuckold and Creampie, etc.
Rates at 121SexCams start at just $1.00 a minute and can rocket up to a whopping $9.00 a minute, though most of the kink themed rooms average out at $3.00 a minute. What makes this site slightly different to the majority of bondage cam sites is its payment system, which is a very painless pay-as-you-go method. Once you've registered a credit card with the site, you're charged at the end of the month for the time spent in private BDSM cam sessions. No stocking up on site credits or tokens. No prepaying for sessions you haven't yet had.
Pay attention to the site's HD capabilities. It's somewhat of a hit and miss affair. If a room is streaming in HD, you may have to manually select this option, otherwise an SD feed comes through. To do this, go to the small wheel icon on the bottom left of the live feed and choose the optimum streaming quality. A word of warning here, some rooms claim to have HD, but when you switch from SD to HD as described above, the quality may not improve.
---
Conclusion
With so many variants in the BDSM lifestyle to choose from, it can be difficult finding the perfect cam playmate who fulfills all of your needs. Strong HD streaming is really a must today, along with a platform that offers a comprehensive selection of cam rooms, a reliable and easy-to-use search interface, and of course, chat rates that won't leave a whip mark.
The best 6 BDSM cam sites listed here have all of the above, but if you have to start somewhere, then LiveJasmin is a perfect kicking-off point. Sexy hosts, great HD broadcasts and if you use all the free bonuses available, you can find yourself paying very little for some top-notch bondage fun.