6 Webcam Sites That Can Replace Skype for Cam2Cam Chats
With the advent of Skype, cam2cam enthusiasts had all the reasons in the world to rejoice. They now had a medium through which they could enjoy interactive nude video chats. However, in 2018, Skype spoiled the party by announcing there would be no more nudity in its chats.
Salvation came soon enough as users began to understand the great potential of webcam sites for cam to cam shows. The following article presents 6 of these sites which can effectively function as Skype sex cam alternatives.
CamSoda.com
400-600 astonishing models available for private shows at any given time, good streaming, and affordable chat rates make CamSoda a viable alternative to Skype.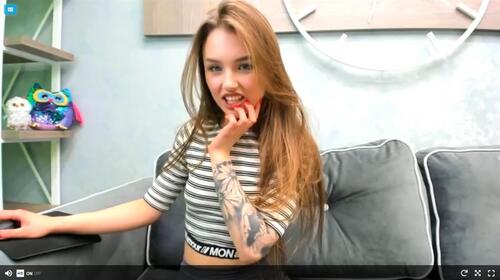 The site has hundreds of tags covering any niche you can imagine. Under each of these tags, you'll finds plenty of chat rooms populated by extremely seductive performers who have no problem whatsoever giving nude shows in public for you to enjoy.
If you feel like taking one of these girls into a one on one chat, you'll need to pay $3.00 a minute on average. Having said that, there are always a few performers who will be happy to entertain you in private for the highly affordable sum of $0.70 a minute. Cam2Cam is included in these rates.
What makes CamSoda unique compared to most of its peer sites is its c2c technology which is responsive to mobile devices. Practically speaking, you can enjoy interactive video chats with hot cam girls anywhere you go. Who needs Skype when you have this great technology at your disposal.
---
LiveJasmin.com
LiveJasmin is a sound alternative to Skype. The site hosts 1,000+ professional cam girls whose beauty will boggle your mind. Most of these angels perform in spectacular HD and HD+ streaming quality.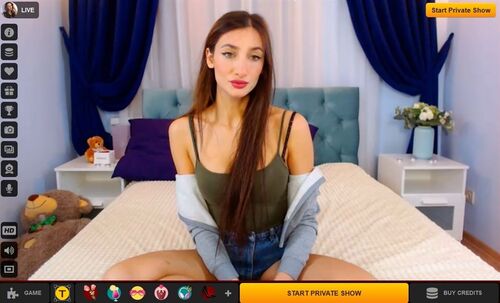 LiveJasmin's advanced search tool enables you to locate the exact type of performer you would like to watch based on her Language, Age, Ethnicity, Appearance, Hair, Region, Chat Rate and Willingness, that is, the special things she will agree to include in her shows (e.g. Close-up, Dominant, Toys, etc.). You can also cross-reference theses parameters to get all sorts of interesting combinations.
A private chat on LiveJasmin costs $3.60 a minute on average. Minimum chat rate on the site is $1.20 a minute. If you want to include c2c and 2-way audio in your chat, you'll be asked to add 1-2 dollars a minute per feature.
The site offers its new users an awesome promotion. The moment they finish registration, a 'wheel of fortune' will appear on their screen. Spinning it results in hefty credit bonuses of up to 100%.
In addition, LiveJasmin enables its users to open a phone's camera and thus engage in cam2cam chats on the go.
---
Flirt4Free.com
Flirt4Free focuses on maximizing user experience through a variety of show options given by its stunning 400-600 cam models always online, hi-def streaming, and unique features, such as its Fetish Community established for people who are into kinky stuff.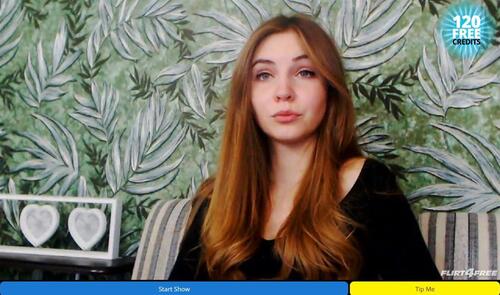 The site's filter enables you to sort out performers according to Categories (There are close to 30 covering all sorts of niches), main Show Types, New Models, performers who give interactive shows and Prices. You can also pick models according to the language they speak if you're looking for specific ethnicities.
The average price of a 1 on 1 sex chat on Flirt4Free is $4.50 a minute. If that's too high for you, you'll quite easily be able to find models who charge much less. The cheapest rate stands at $0.50 a minute.
In addition, you can opt for cheaper Multi-User or Group Shows. In these shows, you'll share the performer with other users and you won't be able to open your cam (unless you're the one who started a Multi-User Show), but the price you'll pay is significantly lower (around 30%). Since these shows are paid for, they include full nudity.
Additionally, the site has a lucrative loyalty program that highly benefits repeat members. It enables them to accumulate points for using its premium services. These points give discounts on credit purchases. They can also be utilized for accessing paid for videos.
Flirt4Free is also one of just a handful of sites that allows you to open you cam on your mobile device, smartphone or tablet and enjoy a cam to cam experience of the go.
---
Stripchat.com
Stripchat has close to 1,500 models online upon any visit to site. Of these, you can expect about half to be broadcasting in high definition. As well, this is the only cam site to offer VR broadcasts.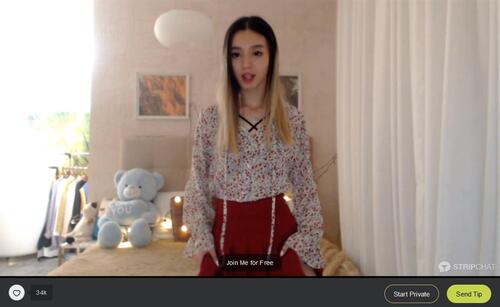 The site has myriads of categories. You'll see all of them on its All Category page. Each model gender (Girls, Boys, Trans) has its own relevant categories that maximize your ability to find a performer that matches your personal preferences.
The site also has a big couples section with close to 70 chat rooms populating models that will be happy to engage with each other right in front of your eyes. You'll also see there all-female couples (and sometimes even threesomes) that will give you girl on girl shows.
The average rate of a 1 on 1 chat with the site's models is $3.40 a minute. The cheapest rate you'll come across stands at $0.80 a minute. Be advised, much like LiveJasmin, c2c on Stripchat demands additional payment. Most performers will charge you 30-50 percent extra for the privilege of opening your webcam.
Stripchat's most unique feature is the virtual reality show. At any given time, you'll find 15-20 active VR chat rooms with models that will entertain you in 360 degrees.
---
ImLive.com
The features you'll find on ImLive go far beyond anything you'll ever get from Skype. We are mainly talking about 600-800 performers active on the site 24/7 and multiple chat options, including Candy Shows and a Multi-viewer through which you can watch 6 performers simultaneously.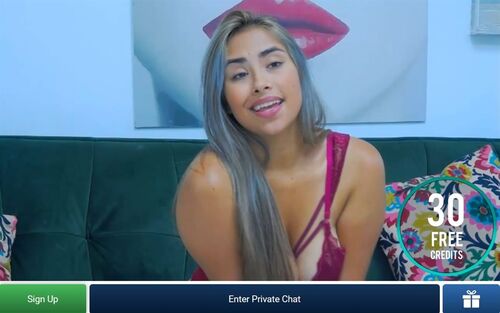 The site's advanced filter will enable you find the models that participate in any type of live show available to users. You can also sort out the performers according to Category (Girl alone, Girl and Guy, Girl on Girl, Trans, and Guys), Age, Appearance, Rating on the site, Prices, Languages and Kinks.
ImLive is known for its affordable chat rates. A private chat will cost you $2.25 a minute, on average. And, there are much cheaper models charging as low as $1.00 a minute. Cam to cam is included.
ImLive's low prices come with a cost you'll have to pay in terms of streaming quality as most of the site's models employ SD webcams. But if you're willing to settle for less than ideal hi-def broadcasting, you'll enjoy longer chat sessions without completely emptying your pockets.
ImLive's best feature is its lucrative reward program, which will highly benefit repeat users. The rationale behind this program is simple, yet effective. The more you use the site's premium services, the higher you membership status becomes. High status brings with it all kinds of perks, among which are free credits with every purchase, free access to models' premium nude video and photo galleries, viewing past celebrity cam girl shows either for free or with a discount (depending on how high your status is), live chat support and more.
---
LivePrivates.com
LivePrivates is the last, but definitely not least, on our list of recommended cam sites which can function as an alternative to Skype. The site is all about stremalined cam2cam chats thanks to its superb hi-def streaming and 1,000+ cam girls always online.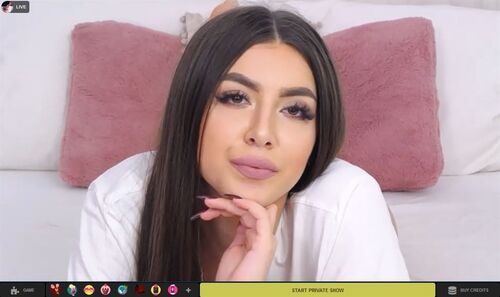 LivePrivate's has one of the best search tools for a cam site. It significantly increases your options for finding performers that match your preferences by letting you cross-reference its search parameters. For example, you can opt for a girl who is a new model, a Milf, Asian in origin, and is shaved. Possibilities are almost endless.
The site search tool also includes a Willingness column which unfolds all kind of explicit acts a model will agree to do in her shows. You can, of course, add it to your search making your choice a lot more interesting.
An exclusive chat with one of LivePrivates' performers costs $3.50 a minute, on average. The minimum rate for a 1-minute show stands at $1.20. Take into account that adding c2c and bidirectional audio to your chat entails additional payment of 1-2 dollars per feature.
LivePrivates belongs in the elite club of cam sites whose cam2cam apparatus works on mobile devises. This enables all the site's users to take part in interactive video chats without being confined to their computer screen.
---
Conclusion
We can't really understand why people interested in c2c video chats opted for Skype to begin with. The features and options offered by cam sites are incomparably more plenteous and varied. When has Skype been able to put at any of its users' disposal hundreds and even thousands of salacious models from all over the world available for private encounters around the clock, group and multi-user shows, VR chat rooms, a loyalty program or a kink community? All these wonderful features and more, you'll find on the cam sites we've reviewed in this article.
And what about security? While using a cam site's platform you enjoy ample security when it comes to your privacy and money transactions. Skype was never been built to support truly safe transactions.
But all of this is irrelevant. Skype doesn't allow any sexual activity anymore and you are left with what should have been your first and best choice years ago - webcam chat sites.
If we had to choose 1 out of the 6 Skype webcam alternatives mentioned in these article, CamSoda would be our choice. The combination of free nudity, good streaming quality, plenty of search tags and, most importantly, cam2cam on mobile, place it above its peers.