The Only Cam Site Where You'll Enjoy Exclusive VR Live Chats
Published
November 03, 2020
Virtual cam shows are the next step in the evolution of live cams. These shows give you a sense of being close to the model on the other side of the screen more than any other type of live chat. In recent years, there were quite a few cam sites which had tried to build a reliable VR interface. All have failed but one - Stripchat.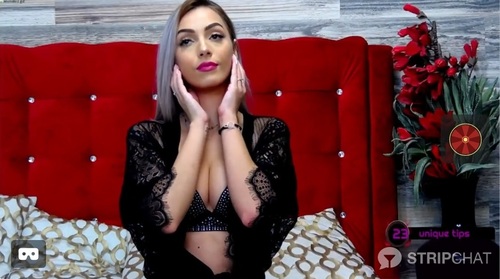 Stripchat is, in fact, the only top cam site today where you can engage in VR chats. Most hours of the day, it hosts 10-15 female performers capable of giving you thrilling high resolution stereoscopic live shows.
Recently, the site has expanded its VR apparatus to models from other gender groups, so occasionally you may encounter a gay or a tranny broadcaster with whom you can start an enchanted VR show. Hopefully in the foreseeable future, there will be more of them.
To launch a VR chat, go to the site's search bar and tap on VR Cams. Then choose a model you would like to watch in private. Enter her room and choose the VR icon in the lower left corner. You'll need to download and install Gizmo VR for Windows or Android, depending on the device you use.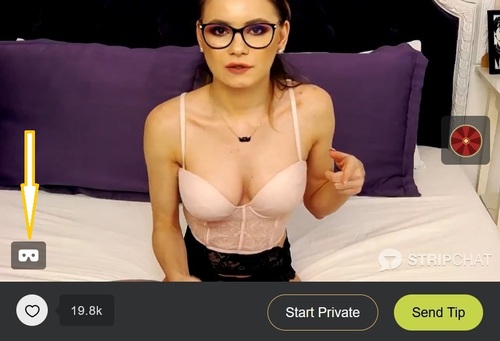 For Windows, you can download one of these two versions: Stream VR or Oculus. For Android, you can download Carboard, Daydream, GearVR or Oculus GO. As soon as you finish downloading, select Watch in VR on the website or launch Gizmo VR and type Stripchat.com in the address field.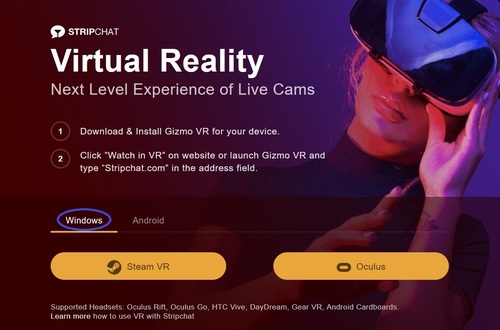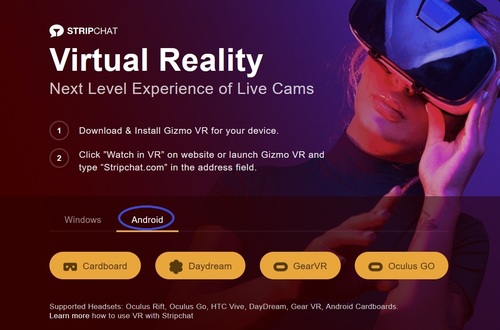 A VR chat doesn't require an additional fee beyond what you'll pay for a standard private chat on the site. Each model has her own rate, the average being $3.30 a minute. However, you'll need to equip yourself with a headset, which can cost you (the best ones) a few hundred dollars.