Best Private Cams for C2C Tranny Chat
Published
December 15, 2020
If you're looking for some up close and personal time with a stunning shemale, the following six sites can't be beat. These platforms all offer something slightly different when it comes to enjoying a cam-to-cam show with a gorgeous tgirl. The first four sites listed here all include c2c in their rates (as it should be), the last two don't. However, we couldn't ignore these two mega platforms as they feature the top transgender cam models around. You may have to add on an extra dollar or two a minute if you want to open your cam - but that's a small price to pay for the privilege of partying with perfection.
CamSoda.com
CamSoda is a freemium site which means you don't have to pay to see the t-girls strip and show off their amazing assets. Many of them hang-out in their open chat rooms in nothing more than a pair of heels and risqué lingerie that comes off as the tips come in. CamSoda attracts performers of all levels from amateur live action models who just wanna have fun, to professional players who take extreme niche cam2cam adventures to a new level.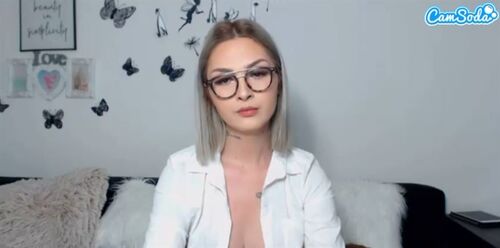 CamSoda may have a more limited number of streaming tranny cams compared to other platforms in this round-up, but even so, what it has covers every genre, look, age and ethnicity. Normally at a freemium site, the broadcasting quality of rooms is lower than at more expensive premium sites, but this isn't the case at CamSoda. Most of the trans are broadcasting in HD and almost all offer C2C as a option in private chat.
In order to view the gallery of transgenders online at CamSoda you simply go to the top menu bar on the homepage and click on the tab for Shemale. The snapshots that then appear featuring GIFS grabbed moments earlier from live feeds so you know what you see, is pretty much what to expect when you click through into the rooms.
Costs for a cam-to-cam adventure at CamSoda are what truly makes it unbeatable. They start at just $0.70 a minute - averaging out at $3.00 a minute. A quick word of warning - some of the girls will ask extra for C2C as opposed to a regular cam chat show, so be prepared for the odd request for an upfront tip of even slightly higher per minute rate.
On the upside, CamSoda is one a handful of webcam platforms that offers mobile cam2cam shows. Another benefit that pushes CamSoda ahead of the rest is that you can record your paid-for show and it's stored in your account where you can re-watch it as often as you like for no extra charge.
---
ImLive.com
When it comes to cam-to-cam shows, low prices and a large selection of babes with benefits, ImLive probably heads the list of premium cam sites we'd recommend. Selection wise you can expect to find at any one time between 50-80 trannies looking for a new pal to play with. This may not be the largest gathering of tgirls, but each one of them is at minimum, a semi-pro model, with several celebrity cam shemales calling ImLive their online hangout.
ImLive has some of the lowest chat rates around and all of them include cam2cam usage with no room asking for a tip or extra. Unfortunately, in order to keep the rates so low, there is a compromise and that's in the site's broadcasting options. The majority of shemales are still streaming in SD (albeit high-quality SD), with HD an exception.
In order to filter out the trans from the girly girls, you have to go to the tag box located on the top left of the photos and click on the downward arrow symbol. In the menu that drops down you can select from the gender options including Trans Alone or Trans Couple.
C2C prices with one of the stunning shemales start at just $1.00 a minute - with the average rate hitting $2.25 a minute. Several of the celebrity cam cuties with an extra package like to offer repeat play pals some incentives to keep the game going. These babes host their own Discount Clubs where $16.00 a month gets you, among other perks, a $0.60 per minute reduction off private chat dates with them.
If you're looking for something specific in your see and be seen show, ImLive is there to fulfill your fantasies - literally. The site hosts a feature they simply call Fulfill Your Fantasy. You write in as much detail as you want, exactly what you're looking to get up to in a private cam encounter, you note what type of model you want it to be with and let the models fight it out between themselves to get your dream date. The upshot of this, is that often they'll cut their regular cam2cam rates in order to be your partner in pleasure.
---
Flirt4Free.com
Like ImLive, Flirt4Free considers C2C as an integral part of private cam chat with all rates inclusive of usage. What sets Flirt4Free apart from other sites is that it's somewhat of a crossover platform bringing niche activities into the mainstream. So, if you're looking for a tgirl that's going to bring the spice (or perhaps the ropes, toys and other playthings) to the date, she's probably online at Flirt4Free right now.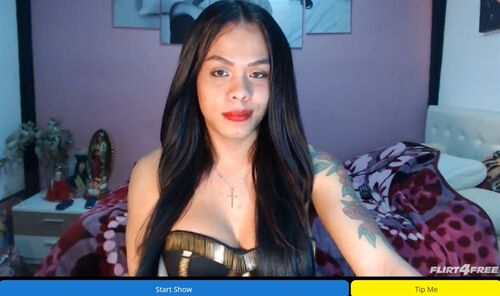 Most rooms at Flirt4Free are HD enabled and feature all types of trannies from amateur ladies with an extra-load to professional burlesque style babies. Now while they shouldn't, according to the rule book, let it all out in their free chat rooms, you'll soon find Asian, Latina and European performers showing off their cut and uncut wands before a penny has been paid.
To get to the hostesses with the mostest you have to go to right of the homepage and select the Transgender link at the top of the screen. The photos then appear, sorted by price (low to high), however when it comes to price - not all is at it seems.
If you're lucky, you can find the occasionally TS streaming room that's open for a C2C chat at the site's minimum of just $0.50 a minute but generally expect to be faced with rates around the $4.50 a minute mark. But, as we mentioned - all is not as it appears to be.
At Flirt4Free you can negotiate the per minute rate with your preferred princess via the site's Show Offers feature. You let her know how long you'd like your cam-to-cam session to last and ask her for her best rate. Remember, the longer you want to spend with her, the lower her price tends to be. Not all t-girls will reduce their rates, especially if you only want a quickie so to speak - but it's always worth a shot.
---
BongaCams.com
If you're in the mood for an amateur performer and prefer European chicks with sticks, then BongaCams is most definitely worth a visit. This freemium site may not have the spit and polish of the premium sites but the models make up for this in not only their passion for performing, but also their passion for pushing the boundaries. This isn't a site for shy girls that are into vanilla - quite the opposite.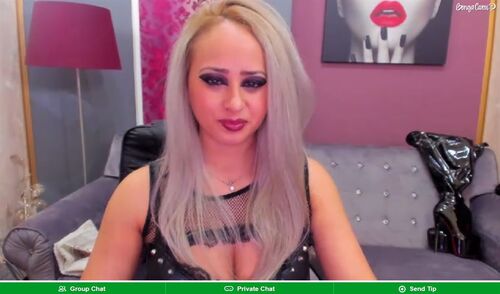 While you can see anything and everything for free, until you register (which won't cost you a penny and takes just a few seconds), BongaCams will inundate you with a call-up to register. After that - they'll be nagging you to buy tokens. If you can get pass these annoying pop-up ads, you'll be in a world of mainly HD streaming trans temptresses with around 50 or so to choose from 24/7.
To get to the t-girl lounges, all you do is click on the Transexuals link in the middle of the top part of the homepage. This brings up the static snapshots, but hover over them for a split second and a live feed from the rooms comes in, without you having to click through. This is a great time-saver as you can see in an instant what's taking place and whether it's worth closer inspection.
Now, unlike all the other sites listed here, prices for a cam2cam show at BongaCams are the same across the board. Every girl comes in at $4.50 a minute regardless of her status, streaming quality and popularity. But, all shows are open to other paying users, which means voyeurs can pay the same amount and join in your show (albeit as a silent spy). If you want to lock out others, you'll need to pay extra for a Full Private Chat - but bear in mind that's going to get the cost skyrocketing up to $7.50 a minute.
When it comes to promotions offering free tokens to use in private chat shows, or reduced token packages, BongaCams usually has several special offers at any time, and they change frequently. For example, sometimes new members get free credits just for signing-up. Other promos include up to 100 free tokens when you buy tokens from your mobile device or 10 free tokens on your first purchase at the site.
---
LiveJasmin.com
Unlike the previous four sites listed here, LiveJasmin charges extra for cam2cam shows. Is it worth it? Well considering the platforms hosts the top trans models in the business, each one a stunner in her category and everyone of them broadcasting in HD or HD plus, we'd say yes. LiveJasmin carefully curates it's library of luscious lovelies ensuring they represent all ethnicities, ages, proclivities and body type. The only thing they don't include is amateurs. This site is uber-sleek with professional performers only.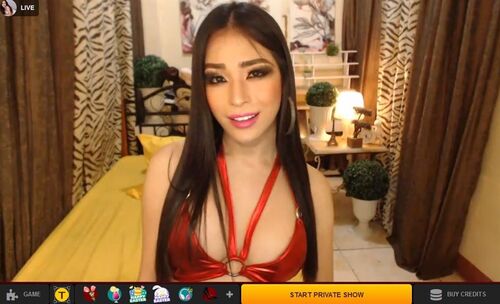 There's no naughty business or even a hint of it in the trannies' open chat room. Everything here is pay-for-play only but if you're expecting the damsels to remain as demure and flirtatious in a private show as they do in a public one - think again. Once the curtain comes down and the 2-way cams kick off, so do their kinks. Almost all of the babes practice one, or several, specific niche games and they're no amateurs when it comes to controlling with cuffs or submitting to your whims.
To find the females with the extra attributes you just go to the vertical menu bar on the left of the main page and in the Categories grouping select the link for Transgirl. Now you're faced with the impossible task of narrowing down the 80 or beauties that appear to a more manageable selection.
As we mentioned their advertised rates don't include cam2cam usage or 2-way audio. Each of these features incur a surcharge of between $1.00-2.00 a minute more. The cheapest rooms at LiveJasmin start at $1.20 a minute and can go as high as $12.00 a minute, but most come in around $3.50 a minute (without the extras).
While the site doesn't host one-off specials, what it does host is a Spin The Wheel option. Before any purchase you can try your luck at spinning the wheel and win extra credits including a jackpot that'll double the number of credits you get in your chosen bundle. This ultimately reduces your costs by 50%.
Like CamSoda, LiveJasmin is also one of the few webcam platforms that is set up for cam2cam chat on smartphones and mobile devices.
---
Stripchat.com
Similar to LiveJasmin, if you want your private tranny cam date to be a C2C one, you'll have to pay a bit more than a regular cam date. However, the huge selection of shemales, the option to record your show and re-watch it at no additional cost, along with the incredible virtual reality (VR) rooms that you can occasionally find make Stripchat worthy of a visit.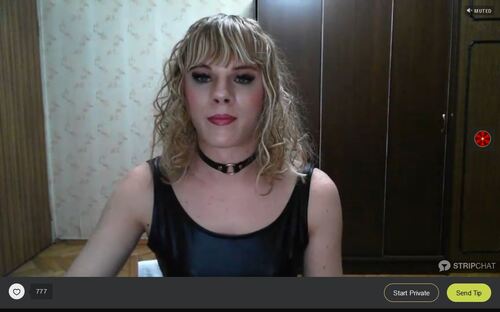 If you don't find the trans of your dreams from the 150 or so broadcasting babes that are online 24/7 at Stripchat, chances are you won't find her anywhere. The mega-gallery of gorgeous t-girls at Stripchat is incomparable. There's every ethnicity, skill-level, appearance, age and kink on offer here. And Stripchat has something no other platform has - and that's VR shows. While only a handful of the shemales are set-up to stream in VR, if you have a headset and come across a tranny VR room - you're in for an experience you'll never forget or regret.
It takes just one click to get to the home of the babes with balls. On the homepage you go to the top left of the screen and select the link for Trans. If you're looking for something specific, the menu bar on the left then lets you filter the results by body type, price, age and a few of the major kink categories.
Broadcasting quality is all over the place here. There are SD rooms, HD hang-outs and even those VR vixens. Prices are the same - all over the place. Some include cam2cam in their rates - others don't. Generally a show comes in at around $3.60 a minute, but you can always find rooms asking for the site's rock-bottom rate of $0.80 (though this rate rarely includes the option for cam2cam).
Stripchat also a feature in common with CamSoda and that's the option to store a video of your private cam2cam date in your online account. You can re-watch it as often as you want without paying a penny more. Not all transgender models allow this though. To find those that do, use the left hand menu bar and click on the Recordable Privates link in the Private Shows group.
---
Conclusion
All the sites listed above have a few things in common. They all feature hot transgender cam models, a range of streaming options, are all verified as secure, safe and discreet - so what goes on between you and your t-girl remains between you and her and all have easily accessible private cam2cam shows.
Payment options at the sites vary, most will take major credit cards, pre-paid cards, PayPal and cryptocurrencies (ImLive only takes one type of cryptocurrency though). Three of them (LiveJasmin, Flirt4Free and Stripchat) also accept brand / retailer gift cards allowing you to trade in the value of many major gift cards for site credits or tokens. So, when it comes to paying for the pleasure, you've got a whole variety of options to choose from.
The number one spot in this list though goes to CamSoda. Not because it has the largest selection of shemales online day and night, rather it's got a manageable number covering all preferences. But it has everything on tap, for example: cam2cam rates are low, you can record and enjoy your show over and over, it's fully mobile optimized so you can host a cam2cam chat on the go and best of all... there's a lot of explicit, full-on fun to enjoy in the open chat rooms that won't cost a penny.