6 Best PayPal Accepting M4M Video Chat Sites
Published
November 24, 2020
From musclemen to twinks, bear to pups, seductive students to sensual silver foxes, the following live cam sites feature hundreds of amateur, semi-pro, and professional male cam models performing every type of non-PG act you can think of. But, more importantly, every platform listed below lets you pay for private live video chat sessions using PayPal.
LiveJasmin.com
LiveJasmin should be the first stop on any live cam adventure. This site features a carefully curated, yet extensive selection of the hottest guys from all over the world. All the dudes are semi-pro if not pro models covering every body type, age, ethnicity, and of course each has their fave kink (or two). However, if you're looking for some free fun, LiveJasmin should be down at the bottom of your list of live cam bookmarks, as this platform it's all strictly pay-for-play.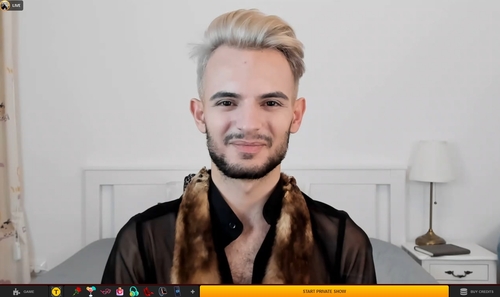 While LiveJasmin hosts some of the most in-demand guys, it's not all about the dudes. Once you enter the site, you'll have to click on the Boys link on the top left of the homepage. What's great about LiveJasmin is that they feature a selection of men that are exclusive to the platform. These exclusive hosts are the top performers from all cam sites and shouldn't be overlooked, even if they don't at first tick the boxes of your particular preference list. Take a chance and click-through into their open chat rooms and check them out. After all - you deserve the best of the best.
How To Use PayPal at LiveJasmin:
Select the Get Credits link on the top right of the homepage
Click on your preferred credit bundle from the options that appear
Continue by clicking on the PayPal sticker underneath the credit package boxes
Complete the payment instructions as detailed on the PayPal page
When it comes to choosing a package of credits, you need to take into account more or less how long you want to spend in a private chat mode with your new cam pal. On average, it costs around $3.63 a minute, but this doesn't include cam-to-cam usage or dual-audio. If you want to open your webcam that'll set you back another $1-2 a minute, and if you want to talk to him via your microphone, it's another $1-2 a minute extra.
However, you can score deals. Check out the Newbie category. This group features new performers to the site who generally charge the cheapest per-minute rates of just $1.20 a minute. And, before every purchase, you can use the platform's promotional wheel which can bring up savings of up to 100% extra credits on a purchase.
---
Flirt4Free.com
If you're more into the muscular, oiled-up type of guys, then Flirt4Free is the place to be. This premium cam site features all the usual bells and whistles you'd expect from a leading platform; HD feeds, affordable multi-viewer cam shows, and of course an easy-to-use interface and search engine. But more than anything, it's got one of the best selections of gym rats and musclemen online. There are of course other types of guys streaming 24/7 but without a doubt, the hunks are the kings of Flirt4Free's men-for-men cam rooms.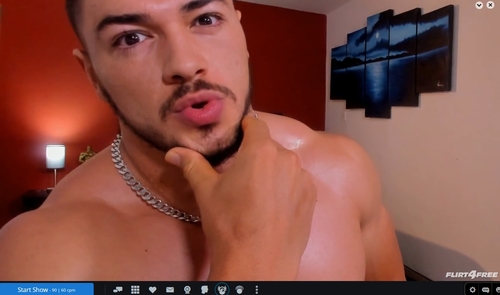 To get to Flirt4Free's men, you simply click on the Live Girls Cam link on the top left of the homepage and select Live Guys Cams. As it's a premium site, the dudes are meant to keep their assets out of view, but many of them are proud of their parts and have no qualms in showing for free why they deserve a few minutes of your time exclusively. If a snapshot has a pink circle before the host's name, it means the guy is hosting a Party Chat. This show mode is where the adonis will perform certain acts every time he receives a set number of tips. It's a crowd-funded show that can get very wild if viewers collaborate and tip enough. These shows are totally free to enter.
How To Use PayPal at Flirt4Free
Click on the large green Buy Credits box on the top right of the homepage
Select the Change Payment Method link that appears at the bottom of the pop-up box
Click on the PayPal option
Choose your preferred credit bundle
Complete the payment as detailed on the PayPal page
The rates per-minute for a private cam session with a hot hunk vary wildly at Flirt4Free. The cheapest rooms kick off at just $0.50 a minute with the most expensive performers pulling in over $10.00 a minute. On average though, most male hosts ask around $4.50 a minute. All the prices are inclusive of cam-to-cam and 2-way audio usage.
Quite a few of the performers offer Deals. To find out who's giving away free minutes in a private show or a discount off their regular rates, click on the Deals link that appears at the very bottom of the page under the Live Chat category in the bottom menu bar.
---
ImLive.com
When it comes to low-cost private cam-to-cam-shows with hot male models, ImLive's semi-pro and pro-gay models have some of the cheapest rates of any site, freemium or premium. There are normally around 20-30 performers online at any one time but the site ensures the variety is comprehensive featuring both twinkies and muscular men of all ethnicities. There is a downside though to the rock-bottom rates and that is the streaming quality which veers towards SD in most rooms, with only a handful using HD feeds.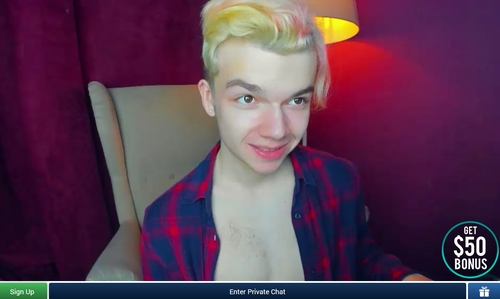 To get to the guys at ImLive, click on the downward arrow in the Girl Alone box. Then you can choose from Guy Alone (Gay), Guy Alone (Straight), or even the occasional Guy on Guy. Imlive has a great feature which makes searching for a cam pal to partner with a joy in itself. If you select the Multi-Viewer link at the top of the gallery of photos, the page refreshes showing six live feeds. You can then scroll through the rooms, six at a time, with windows opening up showing a real-time video of what the dudes are up to in their open chat rooms.
How To Use PayPal at ImLive
After you log-in as a member, click on the Get More link at the top right of the homepage
Select the Change Payment Method link that appears at the bottom of the box, then select PayPal and click on the Continue button
Click on the green Buy Credits button on the box of your chosen bundle
Complete the purchase as instructed on the payment page
ImLive is all about keeping costs down. The cheapest private gay cam dates kick off at $1.00 a minute and you'll always find plenty of guys asking the site's minimum. On average, expect to lay down around $2.25 a minute. Whether you want to open your webcam and microphone or not, all rates include the usage of these features, so no hidden extras if you want to make a 2-way video session.
If you find a guy you really like and intend to make a repeat visit to his room it may be worth joining his Discount Club if he has one. They cost just $16.00 a month to join and give you up to 40% off the performer's private chat rates, free access to all their Host Videos, and 20% off all their past live video shows.
---
Stripchat.com
If you're into horny amateur exhibitionists who love nothing more than being watched as they pleasure themselves in every which way, Stripchat is worth checking out. The site has around 250-300 men broadcasting live shows day and night, men who aren't shy about performing a variety of wild acts in their open chat rooms.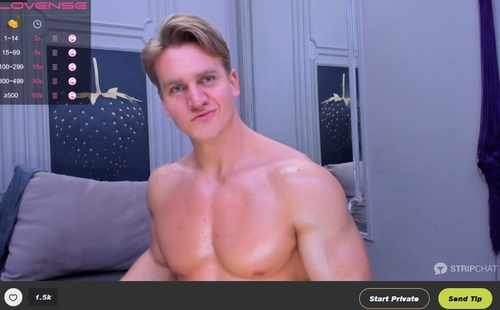 By selecting Guys from the options on the top left of the homepage, the homepage will reload showing images grabbed moments before from a room's live feed. Many of the performers tag themselves as Bisexual at Stripchat, but it really makes no difference whether you look at guys in the bi, gay or straight category. They're all looking to partner up with a like-minded cam aficionado, and usually want a dude to dance with. One thing to bear in mind though is that not all of the performers are willing to go into a private show mode. So, even if you see someone you like, there's a chance he won't make it a 1on1 session. And, even if he does, not all are willing to make it a 2-way visual show.
How To Use PayPal at Stripchat
Press on the green circle by the tokens icon on the top right of the homepage
Choose PayPal from the payment options
Select your chosen token package and then click on Continue
Proceed to PayPal to validate the transaction.
Even though Stripchat is a freemium site with most of the performers skilled amateur hosts, private chat show rates aren't cheaper than those found at premium sites. For example, on average you'll be paying around $3.35 a minute for a 1on1 session. Some of the boys will also ask for a higher per-minute rate if you want them to see you in a c2c show.
One thing Stripchat has that no other site currently offers is virtual reality (VR) feeds. If you own a VR headset, you can sync it with the site's software and enjoy one of the most fully-immersive video chat experiences there is. Unfortunately, very few of the guys have VR capabilities (it's mostly found in the girls' cam rooms). If you do have a VR headset and come across a VR enabled room - it's without a doubt a must-try, even if just for a few minutes.
---
121SexCams.com
121SexCams is a unique live video chat site, but not in terms of models, streaming quality or private show prices, rather in terms of how you pay for some raunchy 1on1 fun with a hot hunk. The site usually attracts around 150 guys streaming 24/7, including a significant number of guy-on-guy rooms and fellas having fun with multiple friends. Every age, body-type, ethnicity, and fetish can be found here though if you're looking for a boy-next-door type, this is where the pickings get slim. However, it's the site's pay-as-you-go system that makes it worthy of some PayPal account usage.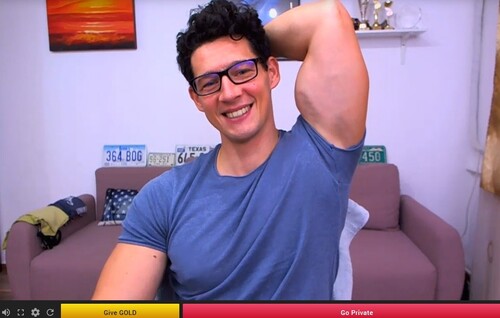 Once you click on the Guys tab on the top left of the homepage, the site refreshes showing all the dudes online. However, these options include mixed-gender couples and transgenders, so you'll need to then narrow down your results to Gay, Straight, or Bisexual by using the left-hand menu bar. By hovering over a photo for a couple of seconds a live video feed appears showing exactly what's going on in real-time. When you do this the audio feed automatically kicks in, even if you don't click through to the room. So, if you don't want anyone nearby to hear what you're up to, make sure you've turned down the speakers on whichever device you're using
How to use PayPal at 121SexCams
First register as a member by click on the yellow Free Account button on the top right of the homepage
Fill out the required registration details and select Continue
Click on PayPal and then press the Proceed to PayPal button
Enter your email or phone number on the PayPal page and click Next
At 121SexCams you don't need to purchase any site credits or tokens prior to tipping a performer or starting a private cam session. How it works is once you've completed the registration process and linked your account to either a credit card or in this case a PayPal account, you can enter any paid-for show mode. You're only charged for the exact time you spend in a private show, or for the amount you've tipped a performer. The great benefit of this pay-as-you-go system is that you don't have the headache of running out credits/tokens mid-show.
The site does have a maximum daily limit you can spend so there's no risk of unwittingly running up a huge charge. You can increase or decrease the limit by contacting the site. On average, a private session comes in at around $3.00 a minute, though most of the boys will ask a higher fee (around $1-2 a minute more) if you want to make it a cam2cam date.
---
xLoveCam.com
XLoveCam only just made it into this round-up of the top PayPal accepting gay cam sites. The site has a very limited selection of guys online, normally no more than 20 can be found broadcasting at any one time. Prices are cheap and include cam2cam, but there are other sites listed here that have just as competitive rates and a much larger showing of studs. What XLoveCam does have is a free zoom feature that lets you magnify the live image by up to 300%. You can also watch the free shows in a large theater mode. This is something that most other sites only offer for a fee.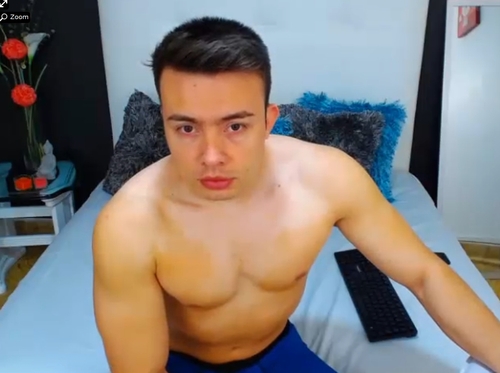 At xLoveCam you'll need to use the menu bar on the homepage to find the hunks looking for a homie to party with. Under the Categories group, you have to click on Male or Male Couple in order to get to the boys. Don't expect a huge number to choose from and those that do host from the site tend to be just one step above an amateur. However, most of them use HD feeds or superior quality SD streams and almost all are fetish-practicing exhibitionists. You don't really need to use the menu to filter down your choices as there's normally no more than 20 online. The easiest way to check out the guy is to hover over his photo. A live feed comes through, along with flags indicating which languages he speaks.
How to use PayPal at xLoveCam
Press on the Add Credits on the top right of the homepage
Choose the PayPal option
Select your preferred credit package
Enter the required PayPal info to complete the purchase
Prices for a private show with a kinky king at xLoveCam are extremely reasonable and all rates are inclusive of cam2cam. There are two show types most models offer. You can choose from a Private Show or an Xclusive Show. In a Private Show, other users can spy (for a fee) at the action whereas if you take the deviant dude into an Xclusive Show, no-one can peek in. To be honest, an Xclusive Show can be up to 100% more expensive than a Private Show and you won't notice any difference. Save your cash and stick with the cheaper Private Show mode which costs around $2.00 a minute.
---
Conclusion
PayPal is one of the most popular ways to buy credits or tokens at cam sites as it acts as an iron wall separating the user and the site. When you use Paypal, the business, or in this case the live cam platform, has no record or access to your personal financial information. In addition to the added layer of security and discretion, PayPal is also a much quicker way to make an online purchase. When you purchase cam credits or tokens via a credit card, you have to not only remember the card's 16 digit number, but also the 3 digit CVV number and billing address connected to the card. With PayPal, all you need to do is activate the email and password linked to your PayPal account and the payment process begins.
It's always a great way to circumvent restrictions that some credit cards suffer from. For example, if your card of choice is American Express, only 3 leading cam sites will let you pay with Amex. And only then, if you're based in the USA. What you can do though with PayPal, is to link your PayPal account to your American Express card and then you can purchase credits/tokens from almost all of the leading cam sites.
However, there is an occasional downside to using PayPal at cam sites. Some of the webcam platforms implement a premium or additional service fee to purchases made using PayPal. Even at the recommended 6 gay cam sites listed above, you'll see that if you choose PayPal as your payment method, the price for a credit/token bundle may be slightly higher than if you were to use a credit card or other form of payment.
As you've read, each site has its own strengths and weaknesses. The best option all depends on your particular preferences and requirements. Some offer rock-bottom per-minute rates for a private cam experience with a hot guy, though you pay the price with lower quality feeds. Others have great broadcasting options, but the prices are slightly higher. If though you're looking for an unbeatable selection of male models, HD feeds, fetish-friendly performers and competitive rates, LiveJasmin would be our top recommendation. But don't just take our word for it, check it for yourself and see if you agree with us.