5 Best Private Chat Cam2Cam Sites With Male Models
Published
October 20, 2020
So you're looking to have some cam fun with a hot guy. On one hand you want to easily find a bloke that ticks all your boxes. On the other hand though you don't want to pay a fortune on your private cam2cam session and waste time trying to work out how to get a 2-way visual session working. Well, we've got all the answers listed below. The following are the top 5 cam sites hosting gay and straight cam models with great cam2cam features. Each mini-review shows you in a few easy steps how to turn on your cam in your 1on1 virtual date, what to watch out for at each platform, and even how to get a few extras that not many people know about.
Flirt4Free.com
Flirt4Free has everything for everyone and a lot of it. All the models at this premium cam site have been vetted and verified by the platform ensuring if a bloke catches your eye here, he's going to be a really good guy (or bad, depending on your taste). And, when it comes to the cam-to-cam feature, you're not going to find a more c2c fella friendly site than this one. All advertised rates are C2C inclusive and most of the rooms here know that HD streaming is a must, not a plus.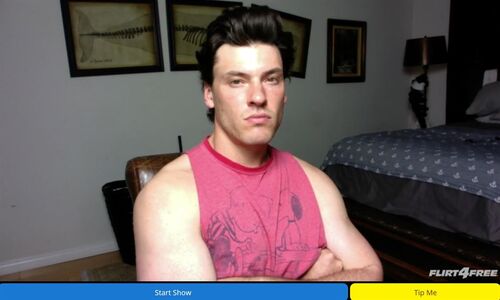 At any one time you'll find over 150 guys broadcasting at Flirt4Free, probably the largest selection of any non gay-centric site. And when it comes to sexual preferences, it's not only homo homies that appear here, there's the usual grouping of bi-curious and always a handful of straight cam models looking to experiment online with another guy or girl.
First of all, as mentioned, Flirt4Free isn't only about the men, so make sure you select the Guys link on the top far right of the home screen to filter your results to dudes only, if you end up on the girls side of the site. If you're into a genre, then head straight over to Flirt4Free's kink micro-site which is devoted to all things non-vanilla. In addition to a community-powered forum where ideas and opinions are freely discussed between models and members themselves, there's also a a great selection of infotainment to bone-up on so to speak, as well as over 50 dedicated search groupings of various naughty niches.
So about those added extras... Firstly, go to the bottom of the homepage and under the Live Chat on the lower menu bar, select Deals. This link brings up all the guys that are offering coupon codes which you can use to get extra minutes on private cam sessions with them. For example, 20 minutes for the price of ten minutes etc. Many male models also accept Show Offers. You can submit a request to them noting how long a show you want and how much per minute you'd like to pay. The longer the show you commit to, the more likely the guy is to accept your offer of a new lower rate.
Prices for a cam2cam date kick off at just $0.50 a minute, pay attention though that the cheaper the room, the lower the broadcasting quality tends to be. On average, for an HD broadcasting boy, it'll set you back more in the region of $4.50 a minute. C2C is also available on mobile devices.
How to start a cam2cam show at Flirt4Free:
Start a private cam session by selecting the large blue Start Show button under the live video feed
On the far right of the screen select the mobile eye cam icon on the menu bar
This will enable your webcam and turn the session into a c2c show
---
LiveJasmin.com
LiveJasmin is all about the best of the best. They have the hottest homies. Almost all the rooms are HD enabled, if not HD plus. Every performer offers a cam2cam option, although there is a premium to pay for this, and the user-interface is one of the most friendly and easy to use around. And, if you're looking for something slightly more deviant, most of the performers specialize in at least one, if not more, grown-up games.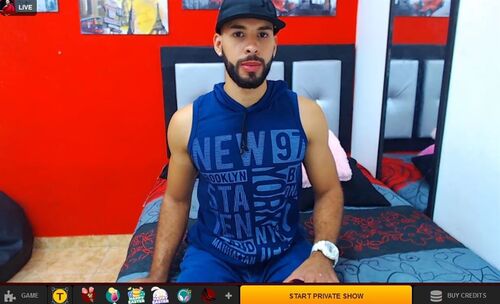 LiveJasmin doesn't have the 100 plus gay/straight male models online like Flirt4Free does, but there's always at least 30 or so rooms online 24/7. Most are gay or bi-curious with only a handful of straight sirs performing, however even though they identify as straight, they're all extremely fluid and open-minded.
On the top left of the homepage you'll need to select the Boys link to get to the male models. Though, this also brings up all the transgenders as well. To filter further you have to go to the left menu bar and select either Gay or Straight. The snapshots show stunning guys in highly stylized photos. To see the real deal you'll have to enter into the room. If there is a red circle on the photo, this means the curtains are closed as the performer is already engaged in a private date. Only if the circle is green can you see what's happening in real-time.
On to those tips that'll cut your costs. Before you purchase any credits to use on the site, make sure you Spin The Wheel. You can win prizes including a jackpot of double credits on your chosen bundle. Basically this means reducing the price of credits by 50%. Also, if a guy has a Promo sticker on his photo this means he's holding a time-limited sale where he's reducing his per minute rate to the site minimum. This can mean up to 70% off his regular price.
The lowest rates you'll find for a cam date with a dude is $1.00 a minute, though most of the rooms charge around $3.30 a minute. However, none of the rates include cam2cam - for this you'll need to factor in an extra $1-2.00 a minute. If you also want 2-way audio, that's another $1-2.00 a minute surcharge. And LiveJasmin is among the few cam sites making c2c available on smartphones.
How to start a Cam2Cam show at LiveJasmin:
In the guy's chat room select the large yellow Start Private Show button
On the left of the live feed window select the small mobile webcam icon
This will start your cam with the model now able to see what you're up to in real-time
---
ImLive.com
While ImLive has a limited selection of bears, pups, twinks and musclemen online at any one time, you know that no matter what your preference, if he's on ImLive, he's at the top of his game. All the cam models here are seasoned and skilled cam performers and provide some of the best bang for your bucks. Show rates are low, extremely low, and all include cam2cam usage, but this comes with a price - and that's the streaming quality of most rooms.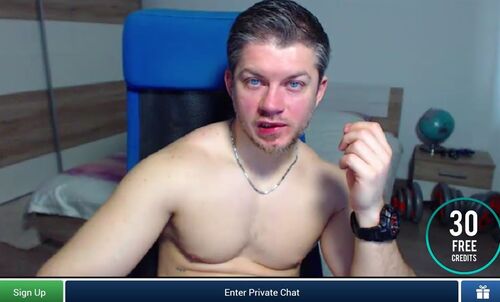 If you're looking for a significant selection of male models to choose from, ImLive isn't the place. Generally, expect to find no more than around 30 guys looking for a new cam pal. And if what you're looking for is here, you're in for a treat. These studs are smart, seductive and extremely open-minded when it comes to taking things up a notch.
To get to the boys, you have to go to the filter button adjacent to the Live Cam Girls heading on the top left of the homepage. Tap on the downward arrow and scroll down the menu that appears until you can select guys options. Here you can choose between Guy Alone (Gay), Guy Alone (Straight) or even Guy on Guy. When it comes to the straight sirs, these are not necessarily dudes looking for dames. They tend to be less straight and more bi-curious looking for some experimental fun with a willing cam partner.
On to those added incentives that'll get you chatting on cam at ImLive. Firstly, the first time you purchase credits at the site, you'll get 30 FREE credits added to your account as a welcome gift. Secondly, and even better, the site has a Fulfill Your Fantasy feature. You simply write in your most deviant desire - select which category you'd like to do it with (straight guys, gay guys, 2 guys, etc) and let them pitch for the pleasure. Not only are you guaranteed a cam show exactly how you want it, but often at a lower cost as the models compete against each other in order to get your patronage.
As we mentioned, the streaming quality at Imlive is low, but so are the prices. For example, you can find a cam2cam show with a handsome hunk for just $0.70 a minute, with the average cost standing around the $2.50 a minute mark. All rates include cam2cam and some of the blokes also give out discount codes that you can use on your next cam date with them (and if you're lucky, some will even let you apply them retroactively to the show you're already in). ImLive is another site enabling c2c over phone and tablet devices.
How to start a Cam2Cam show at ImLive:
Once you're in the model's chat room, select the Enter Private Chat button under his live video feed
A pop-up box then appears, usually cam2cam is automatically opted-in. If not, select the small cam2cam option.
Your private time then becomes a 2-way visual date.
---
Stripchat.com
If it's choice that turns you on, then Stripchat is a great destination with around 150 male models streaming 24/7 (even more at peak times). Unlike the other sites listed above, at Stripchat the guys can go as far as they want in their open chat rooms, and go far they do. Tips fuel the action, so if you're looking for some voyeuristic free fun, you're going to find loads of it here without having to pay a penny. However, when it comes to a more personal experience with cam2cam, then you must pay for the privilege.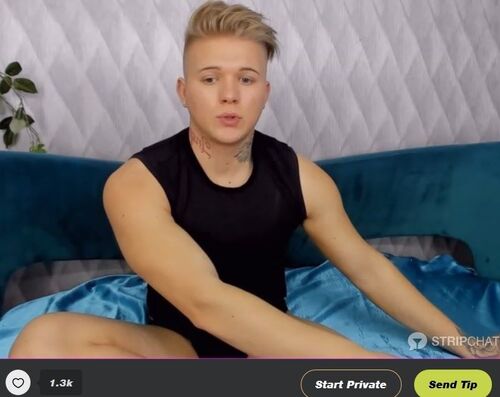 Stripchat has one of the largest selection of gay, straight and bi guys online, which means when it comes to age, appearance, ethnicity and niches, they are all here. From older men that like to pleasure themselves with toys, to twinks that obey your command and bears that break the norms. And, it's not just the guys that are all encompassing, so are the streaming options, going from SD to HD plus. And, at Stripchat they've taken it one level further and offer VR (virtual reality) shows. While there aren't many guys that host VR shows, there are usually a couple online that do. So, if you own a VR headset, you're in for a show like no other.
On the top left of the main page there are four links to the major categories: Girls / Couples / Boys / Trans. Make sure you've selected Boys. The left menu bar lets you easily filter down the results to specifics: Age, Body Type and Price are just some of the selections. If you want to get really specific, scroll down to the All Categories button and an alphabetical search listing page appears, though most of the guys are grouped by the languages they speak and where they're located.
When it comes to getting more for your money, Stripchat has what they call Recordable Privates. Some guys let you record the show and keep it in the archives in your Stripchat account where you can watch it as often as you like at no extra cost. Also every hour the sites gives away 500 tokens (50 to 10 lucky online members).
Cam2cam rates vary as much as the standard of the guys do. Some offer shows for as little as $0.80 a minute, though most come in around the $3.40 a minute level. When it comes to paying a premium for c2c, some include it in their flat rates, others ask for an additional tip, while others will double their regular rates. Generally, the cheaper the room, expect to pay extra to make it a 2-way visible encounter.
How to start a Cam2Cam show at Stripchat:
Under his live video stream select the Start Private button
To make it a c2c session, simply choose the cam2cam show option that appears in the pop-up box
The show then starts and you can see him and he can see you
---
121SexCams.com
121SexCams is similar to Stripchat is as much as there's a huge selection of all types of gentlemen that call it their cam quarters. They range from celebrity cam guys to older guys looking to kick up their kinky side while they're home alone. What makes this site worthy of inclusion is not just it's large load of lads streaming in HD, but it's unique payment system which means you'll never run out of credits just as the action heats up. We'll explain more in a moment...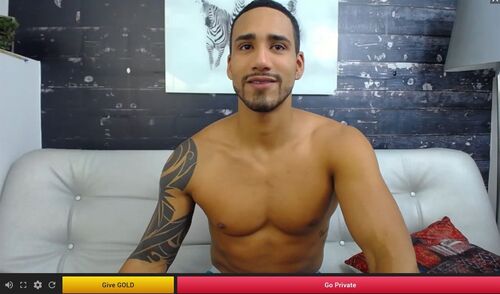 The snapshots you browse through at 121SexCams as you look for a new potential playmate feature a image grabbed from the guy's live video feed just seconds earlier. Before you choose to enter his room, you can see from his photo whether he's an HD homie, how old he is, where he's from and how highly (or low) others have rated his performance capabilities.
To find the guys you'll have to do a few moves from the homepage loads. On the far right of the screen, select the large green Categories button, then select the top tab that says Guys, and from here you can scroll down to choose your preferred type or just select the All Guys Cams to see everybody who's broadcasting.
Added benefits aren't the major draw of this site, it's payment system however is. As opposed to making you purchase site credits/tokens prior to starting a show and you wondering if you have enough in your account for the time needed, 121SexCams takes a different approach. Here you just put a payment method on file and the site bills you just for the time you've spent in a private cam session. In order to make sure you don't overspend, you're given a daily cap of either $25.00 or $50.00 and if you want to go over that limit, you just contact the site and ask for a higher max.
The rates are 121SexCams don't necessarily include the use of your cam, some guys do include it, other will ask for an additional upfront tip, while others have two rates, with cam2cam being higher, if not double their regular per minute charge. On the bottom end of the scale, some rooms start at just at $1.00 a minute, though the average is more in the $3.00 a minute area.
How to start a Cam2Cam show at 121SexCams:
After confirming with the guy that he's cam-to-cam friendly, select the red Go Private button in his room
When the show starts, hover over the video window and select the small webcam icon
Once you select this, the session then becomes a webcam to webcam meeting
---
Conclusion
If you're looking for a hot guy to have a cam2cam private session with, these five sites, without a doubt, have the best models around at some super-competitive rates. There are few basic musts when it comes to camming with a new friend with benefits. HD streaming is must, or at a minimum high-quality SD. You don't want to waste time and frustration on a hard-to-navigate user interface - all these sites have great search capabilities, meaning you can find exactly what (or who) you're looking for in a few moves. And every single platform we recommend has been verified and checked to make sure it's safe, discreet and uses top-rate security software protecting you and your computer from any malevolent forces.
Our tip pick out of the above 5 platforms has to be Flirt4Free. It has a huge gallery of online guys covering every inclination. In addition, if you're looking for something out of the ordinary, you're going to find it on its niche micro-site which brings spicy into the mainstream menu. And all this is in addition to it's low cam2cam rates.