Webcam Sites That Offer C2C on Phones & Tablets
Published
November 16, 2019
There are many great cam sites out there, but not all of them offer you the option to activate your phone's camera for a c2c session. If you're a mobile-focused user that enjoys private shows, then the option to c2c is pretty much a must. These are the top 7 webcam site offering private cam to cam on a mobile device. Find out what each of them has to offer.
CamSoda.com
CamSoda was the first cam site to develop the technology necessary to cam to cam on your phone. The site has a fantastic selection of cam girls at cheap prices. That being said, when looking for other gender options your choices are more limited. Most of the women on the site are South American, but overall it is quite diverse.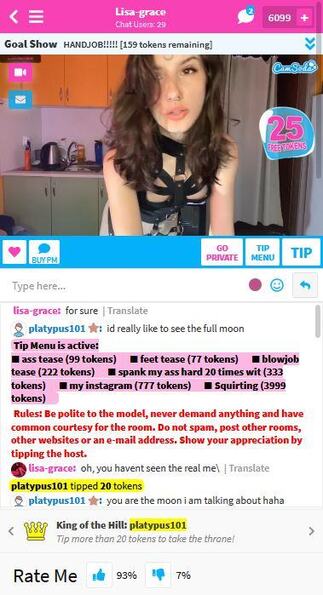 CamSoda is a tip based webcam site. You will find a ton of hot action everywhere you look. Once you have found a babe which interests you, you can invite her to Go Private for an average fee of $3.00 a minute. You will need to pay close attention to what the notification window says. Some cam girls include cam to cam and free show recordings, while others include neither.
In total, CamSoda usually has around 600 webcam models online. When turning on c2c, it is recommended that you hold your phone upright for the best effect. You will find that the keyboard pops up from the bottom, leaving you with plenty of space to see the messages you type.
---
Flirt4Free.com
All of Flirt4Free's hosts are semi-pro or pro performers and many specialize in sub-genres that can be found in the kink-centric microsite. While this is a premium site, many of the models host time-limited Party Shows where they'll get intimate in every way and try to fulfill audience requests if tipped enough in their open rooms.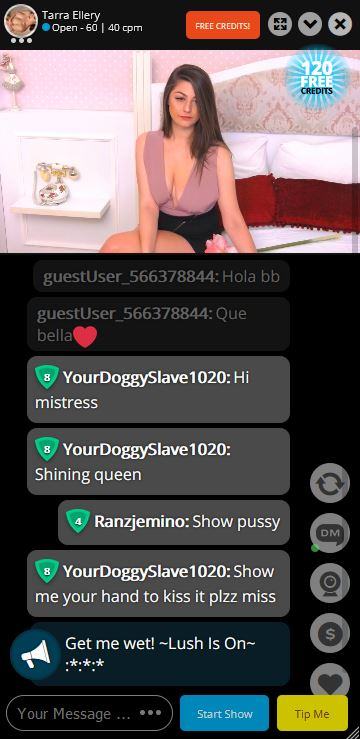 All private cam session rates are inclusive of 2-way video and audio, and on average, will set you back around $4.50 a minute. If you're looking for a cheaper alternative, Flirt4Free allows you to negotiate cam rates with the performers. If you commit to a block of 5 or 10 mins plus, quite often the host will cut you a break on their per minute rates.
The mobile site isn't the cleanest to use. If you're messaging the girl, most of the screen is taken up with the chat box and incoming messages she's receiving from other viewers. If you want to just watch the action, you'll need to turn the phone into a horizontal mode to have a full screen view.
---
LiveJasmin.com
When it comes to the premium experience, LiveJasmin is a site to behold. It has a gigantic selection of webcam models of all genders and nationalities. No matter what kind of webcam model you are looking for, LiveJasmin has it. The site is more expensive than others, but are you paying to get the best experience possible.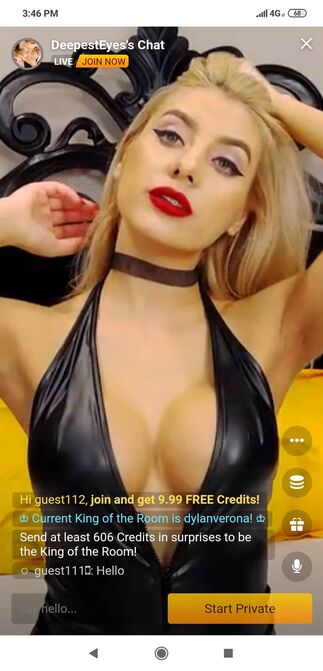 LiveJasmin is geared entirely towards paid private shows. The girls on the site tease and excite in the free rooms, but they won't give you a real show until you've started paying by the minute. Private shows have an average cost of $3.60 a minute. This price is not inclusive of c2c. On average, 2-way video and audio cost an additional $1.20 a minute, for each feature.
During peak hours, LiveJasmin often has over 1,500 webcam models online. You may want to double tap on the screen to zoom out and see the full room, or tap and pan left or right to see it at a different angle. The chat works regardless, but half the screen gets covered when zoomed in.
---
ImLive.com
ImLive is a leading premium cam site focused on low-cost private live video chat shows with semi-pro and pro cam models. The platform also hosts some of biggest names in adult entertainment in exclusive monthly live shows where the celebrity stars get up-close and personal with ImLIve members. When it comes to prices, ImLive's cheap per-minute rates include cam to cam and 2-way audio usage on both the desktop and mobile version of the site.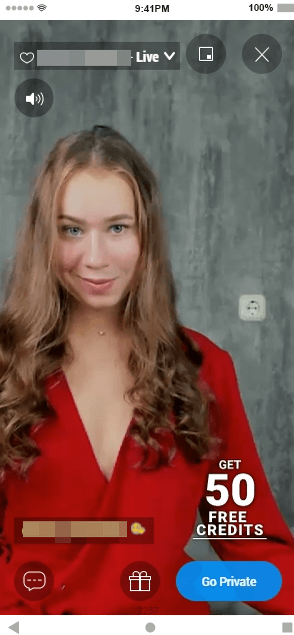 As a premium site, the models are meant to keep their private parts covered in their open chat rooms. However, many of the hosts at ImLive tend to push the limits and take it all off, especially if they're in a preview mode for a multi-user paid-for Candy Show. However, the major attraction at ImLive is it's low-cost c2c inclusive rates which start at $0.70 a minute. The average price per-minute though stands closer to a still very affordable $2.50 a minute.
The site is also one of the few that tempts in new members with totally FREE private c2c shows. If you're a new member who links your Imlive account to a credit card, the site hands out a generous welcome gift of 50 FREE credits (worth $50). You don't need to make any purchase on your card in order to receive the credits which can cover a 1on1 show of around 20 minutes.
---
xLoveCam.com
xLoveCam is a cheap European cam site with a surprisingly diverse collection of webcam models. There are great filtration options, to be able to sort the cam girls easily and efficiently. xLoveCam is especially fantastic for multilingual users. You will find that some of the babes are polyglots who speak multiple languages.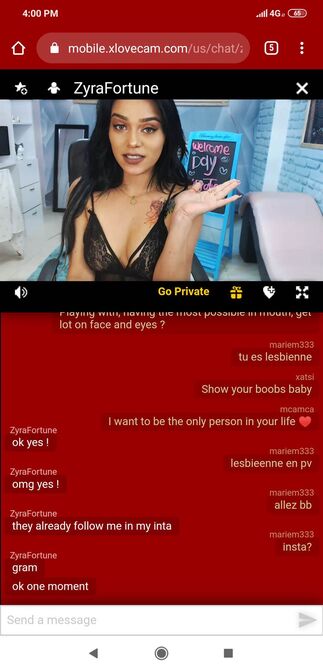 xLoveCam does have the occasional fully exposed webcam model, but most of the girls prefer getting intimate only when alone and in private. You will need to choose between a Private Show and an Xclusive Show. Both are inclusive of c2c on mobile devices. The difference between the show types is whether other users will be able to pay to spy in on the action. Basic private shows cost around $2.00 each, with Xclusives usually increasing the price by 50-100%.
xLoveCam averages at around 500 models online. Flicking left or right will immediately bring you to the next room. Clicking to send a message will change the layout of the chat, but the actual chat experience will not be hampered.
---
SecretFriends.com

Compared to other live chat sites, SecretFriends has a far smaller selection of cam rooms to explore. The site is limited to cam girls only, and there are far less of them online than on other sites. But, the cam girls on SecretFriends are beautiful and nubile and they charge low prices. The site charges a set fee for private shows, no matter which cam girl you choose.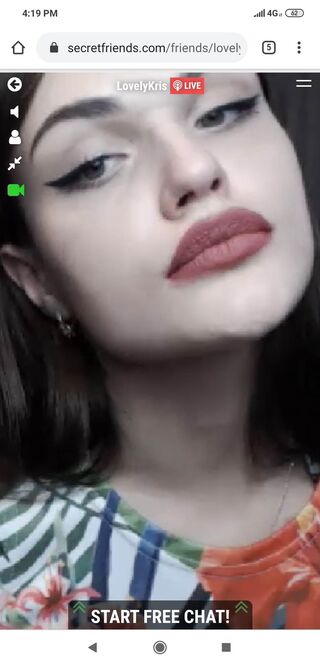 SecretFriends doesn't seem to have cam girls sitting around in the nude in the open rooms. To get the ladies frisky, you are going to have to choose between a Private Show and a VIP Show. It's exactly like on xLoveCam, VIP shows are the equivalent of an Xclusive. The site has a set price of $2.00 for privates and $3.00 a minute for VIP. C2C is included in the base price.
SecretFriends has the smallest number of models, with about 200 online at a time. We recommend clicking the unexpand icon, to get a more normal looking chat window. Otherwise, chatting becomes quite a bit more difficult due to the site's layout.
---
BongaCams.com
BongaCams is a freemium site offering a large number of free shows hosted by mainly amateur models from all continents. When it comes to cam to cam, BongaCams is one of the most C2C friendly platforms around. If you purchase tokens you're automatically elevated to the level of a Gold member and can open your webcam in a model's public chat room.
One of BongaCams major draws is that private show rates are the same site-wide. Every model charges 60 tokens per minute for a 1on1 cam session. However, if you want to block out prying eyes and make sure no-one else can spy on your exclusive date, then you'll have to pay a premium and rates go up to 90 tokens a minute. Some girls will charge extra if you want to open your cam, others are happy to watch you at no additional cost.
Only Gold members can enjoy a c2c show on their smartphone, tablet or other mobile device. But as mentioned earlier, anyone who has bought tokens is considered a Gold member. One downside, not many of the rooms stream in HD.
---
Conclusion
Regardless of the site you end up on, you will need to make sure to update your iOS and Chrome/Firefox browsers to the latest versions.
When looking to activate c2c on your phone, your choices are limited to just these 7 sites: CamSoda, Flirt4Free, LiveJasmin, ImLive, xLoveCam, SecretFriends or BongaCams.
The LiveJasmin, ImLive and SecretFriends user interfaces are very similar to each other, with the option to zoom out making the site much more user-friendly in both cases.
At present, the fastest mobile cam site is xLoveCam. You will find that flicking between the rooms is instantaneous, without a drop in video quality.
Flirt4Free is a great option as long as the room offers 2-way audio. It's a difficult platform to watch if you're having to message the performer at the same time.
BongaCams is great not only for private c2c sessions, but also lets you cam to cam in a model's free room on your mobile.
And the best value for money can be found on CamSoda. With a little bit of searching, you will be able to find women charging as little as $0.48 a minute.