5 Cam Sites That Let You Record A Private Show
Published
January 12, 2021
Once you finish a live video chat show with a gorgeous model, chances are the memories will live long after the screen goes dark. Fortunately, five of the leading cam sites don't let you rely just on memories alone if you want to relive the magical time you've just spent with the model.
The following 5 webcam platforms offer recordable private shows. Some even let you record the show and rewatch it over and over at no extra cost. If you've ever dreamed of being a director of a non-PG video clip, or simply want to build a very, very personalized collection of videos, then these sites are great at making that happen.
CamSoda.com
CamSoda is freemium platform with around 700 models streaming 24/7. The performers range from fresh-faced newbies starting out in the cam world to talented semi-pro hosts, many of whom have invested in high-quality webcams and use HD feeds. As a freemium cam site, the performers have no limits on what they can get up to in their free open rooms. However, when it comes to recording a show, you'll need to take the girl into a private show mode where all the action is for your eyes only.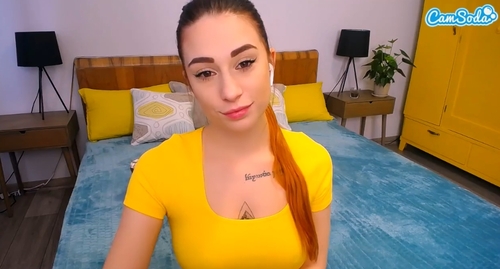 Like all the other sites listed here, not every room offers the option to record a private show, so check before starting any paid-for show session that your chosen cam partner does offer this as a feature. Streaming quality at the site varies but many rooms are HD enabled. On the bottom left of the live video window, if the HD is enabled you'll see a toggle for turning HD on or off. Make sure the On button is highlighted.
On the homepage, the menu bar on the left side lets you filter the results by price (tokens per minute), ethnicity, and a few of the other major search categories. However, if you're looking for a specific niche, age, body type, or kink performed, you'll need to click on the view all tags link located on the top right of the gallery of snapshots and search through the results that appear in seemingly random order.
Private show rates at CamSoda kick off at just $0.60 a minute. However, most rooms that allow you to record the performance will charge more in the area of the average rate, which is $3.00 a minute. Some girls will though ask for a higher fee if you want to open your webcam and make it a private C2C show. Once the show is over, a copy of it is stored in your CamSoda account where you can access it as many times as you want at no extra cost.
---
Stripchat.com
Stripchat, not only features free recordable private shows, but you can also see at a glance which rooms let you do this without having to go into each room individually and ask. There are usually around 600 models online at any one time and even though this is a freemium site which means anyone can broadcast from the platform, most of Stripchat's performers are skilled and experienced amateurs or semi-pro models. Not only is HD common at this site, but Stripchat is also currently the only webcam platform that offers virtual reality cam shows.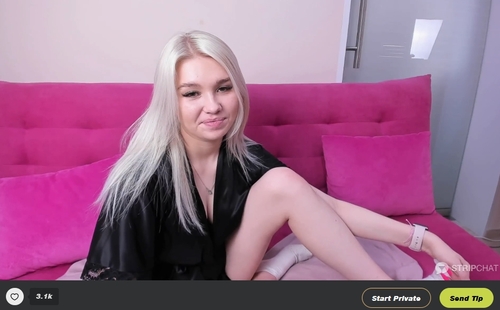 The left menu bar on the homepage of Stripchat has a link to Recordable Privates in both the For You and Private Shows groups, When you click on this link, the screen refreshes showing only those rooms that let you record a show for free. There are usually around 900 plus rooms to choose from. Only a small percentage of models at Stripchat don't offer this as a complimentary add-on.
The next step is to make sure the room is using an HD broadcast. All those hosts that do, have a small HD icon on their snapshot. However, this doesn't mean that if the HD sticker isn't there, the model isn't using an HD feed, just that she hasn't tagged herself with HD as a feature. Once you click on the photo and go through into the live feed, check the video feed icon that appears when you hover over the top right of the window. Make sure the feed is coming through in the highest-res possible. Sometimes you'll have to manually select 1080p or 720p as the video level you want.
Many of the performers at Stripchat will only enter a private recordable show mode if you commit to a minimum time spend of upwards of 10 minutes or more. If you're looking to make a short clip of just a few minutes, many models won't start a private show for such a short time.
The cheapest show rates kick off at $0.80 a minute. However, the average (especially for an HD room) comes in closer to $3.40 a minute. Some will also ask for a higher fee per-minute than their advertised costs if you want to make a cam-to-cam session. Once you finish making your personalized movie staring a saucy cam girl (or two), a copy of it is stored in your Stripchat account where you can access it whenever you want without having to pay extra.
---
Chaturbate.com
Chaturbate is the world's largest cam site. Most major webcam platforms have anywhere between 600-1300 models streaming at any one time. Chaturbate far exceeds this with an average of 4,000 rooms broadcasting day and night. However, not all the models will host private sessions. A significant percentage of Chaturbate exhibitionists prefer to perform for tips in their open chat rooms. On top of that, of those that are private show-friendly, not all will let you record their performances. But, saying that, with such a large pool of performers to choose from, you're bound to find a babe that makes you want to say 'action!'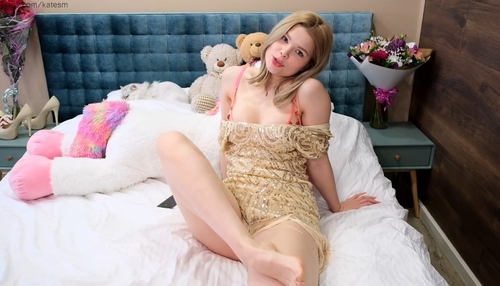 Once you've found your potential starring actress for your private movie, check first whether she is willing to a) enter a private show and b) has the option to record the show. If for any reason you cut the 1on1 session short and end it before 30 seconds have elapsed, no recording will be made.
Chaturbate has a few rooms that stream not only in HD but crystal-clear 4K. Almost all of these hosts are private show and recordable show friendly. So, if you're looking for a large screen collection in 4K, this is the place to be. The major downside of Chaturbate isn't the prices or the quality of the feed - it's the fact that if you're a fan of cam-to-cam, Chaturbate makes it extremely difficult to set-up a C2C session. You first have to register yourself as a broadcaster. And only after jumping through some hoops, can you open your cam.
On the other hand, if you want to solely direct the action and not be seen yourself, the choices are immense. From amateur co-eds streaming from their dorm rooms to verified live stars broadcasting from well-equipped and lit professional studios - it's a casting couch like no other. On average, private show rates come in at $2.70 a minute, with some of the more amateur girls and those building a fan base asking just $0.60 a minute for a private recordable cam date.
---
Flirt4Free.com
Flirt4Free is unlike the previous three sites, in as much as you have to pay to unlock your recorded show after a few days. But, on the upside, it has one of the best selections of cam performers around, all of whom are semi-pro or pro performers, with most streaming from beautiful settings and in HD. It's also one of the best fetish chat sites. So, if you're looking for a niche act to spice up the session, Flirt4Free has 54 dedicated sub-categories of the genre making it easy to find your particular proclivity.
Every Flirt4Free show is recorded so at least you won't have the disappointment of finding a partner, only to discover she won't let her shows be stored for posterity. On the other hand, after a week, you'll have to fork out more money in order to watch your personal video. You only get free access to them for 7 days after that, it's pay to play. However, if you're a VIP member (for a monthly fee), you can watch all your videos whenever you want, for how long you want.
When it comes to streaming quality, HD is the norm (though not yet site-wide). This is a premium site, so while you can hang out as long as you want in a model's open chat room, unlike the freemium sites listed here, there's not much monkey business taking place. The site does have low-cost multi-viewer shows. Most popular are the Party Shows, if a performer is in a Party Show mode, it means she's performing all types of wild acts and often stripping off - with tips fueling the action. As long as the tips are coming in, the action stays extremely raunchy and most definitely non-PG.
One of the best features at Flirt4Free is that you can negotiate a private show rate directly with the model. If you commit to a block of time, normally over 10 minutes, the host will often give a significant discount off their advertised per-minute rates. Some also offer promo codes that give free extra minutes in a private show mode. On average, rates come in at $4.50 a minute, with the cheapest rooms starting at just $0.50 a minute. All prices include cam2cam usage.
---
ImLive.com
ImLive is one of the cheapest C2C inclusive premium cam sites there is. All the models are semi-pro or pro stars, many streaming from stylized studio settings. While all are private show-friendly, not all will let you record their shows. If your chosen partner is happy for her session to be recorded, the site only lets you watch a copy of it for 3 days. After that, you have to pay in order to unlock the kinky clip.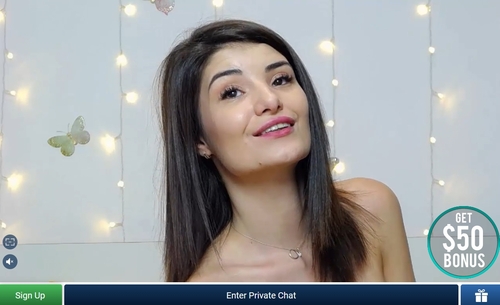 The site doesn't automatically record a performance. Once you enter a 1on1 session and the meter is ticking you'll need to click on the small recording icon on the live feed, and only then will the show be captured. A copy of the session is stored in your ImLive account where you can watch it as often as you want for 72 hours. After that, you'll need to pay a surcharge in order to access it. The longer the show, the higher the fee is.
While the private show rates are extremely low at ImLive, this does sometimes come at the cost of streaming quality. Recently the site has made significant improvements with more rooms now offering HD feeds. Unfortunately, this is by no means the norm here, as some of the gorgeous girls are only using low-quality SD webcams.
The average rate for an exclusive cam meeting comes in at $2.25 a minute, with some of the newer performers or those using SD feeds asking just under $1.00 a minute. Currently, the site is offering a promotion where all new members who verify a credit card at the site receive 50 free credits. You don't have to use your card to make a purchase at the platform in order to get your hands on those credits, which can cover over 15 minutes in a private session.
---
Conclusion
If you've ever considered secretly recording a show without using the site's software and getting the permission of the performer, you may want to reconsider. Not only is it illegal but it could end up costing you up to a $150,00 fine. The Digital Millennium Copyright Act (DMCA) makes it illegal to share, rent, or sell content without the copyright owner's permission. Even if you've paid for the show, the model is the copyright owner of the performance - not you. While you may think no-one will ever know, if you send the show to a friend or watch it with others, you're breaking the law so watch out.
The best site all depends on what you're looking for. If you're into 4K, Chaturbate is the place for you. If you're into gorgeous models streaming in HD, then Flirt4Free has a great selection. When it comes to low-cost C2C show, ImLive is pretty unbeatable. And, if you're a fan of VR or are looking for a skilled amateur - then Stripchat would be your best bet.
But, at the end of the day, we'd suggest you start with CamSoda. This site has a huge selection of HD streaming rooms featuring all model types and niches. And, better than that, recording and rewatching a show won't cost you any extra and you can relive the experience as often as you want, as long as you have a CamSoda account.