Best Asian Chat Sites for Private Cam to Cam Sessions
If you're looking for the best Asian cam girls in which to partner with for a cam to cam experience, these sites have the top models from the Far East who are waiting to join you for an exotic cam experience. We discuss how to access each site's c2c features and cover all associated costs.
LiveJasmin.com
When it comes to finding a stunning girl from the East, LiveJasmin is for many cammers their first stop on an Asian adventure. The girls here cover the continent; from Korea to Singapore, Japan to Malaysia, Thailand to India, and many of them perform exclusively on LiveJasmin. While you'll find around 1,500 cam rooms streaming 24/7, out of this number around 60 rooms will feature Asian beauties.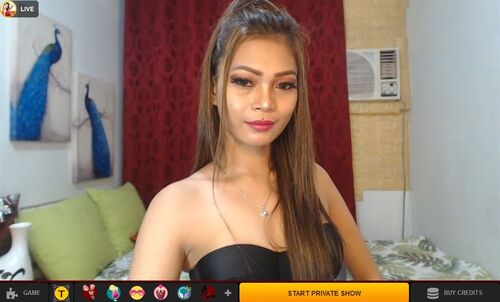 LiveJasmin is all about best-in-class. HD streaming is a given, every room is c2c enabled, and its user-experience is a standard many other sites would do well to learn from. This is a premium site, so if you're looking for glimpses or extreme entertainment without paying, you'll be disappointed. On the other hand, the shows and encounters you pay for are truly worth every cent.
To find the Asian performers all you have to do is go to the menu bar on the left of the home page and under the Ethnicities category, click on Asian. You can narrow down the resultant images not only by age and price for a private c2c show, but also down to specific 'Willingness' preferences (acts the girls like to partake in that are slightly less non-vanilla).
Almost every room is webcam to webcam friendly (a tiny percentage don't allow you to use your webcam, but these are few and far between). Once you're in the girl's chat hangout, you'll see a list of small icons on the left of the live video feed. If there's a small webcam icon, that means she's c2c ready. To turn your private cam date into a mutual see and be seen meeting, all you have to do is select that icon once you've started a private chat.
Private shows kick off at around $2.40 a minute. Activating the c2c features cost another site credit, or about $1.20 a minute for each feature. You can choose to turn on just your camera, or just your microphone, or both. LiveJasmin is also among the few sites that enables cam to cam over a mobile device.
---
Stripchat.com
Stripchat is one of the largest freemium cam sites around, with over 2,000 broadcasting cam rooms online day and night. Demure and discreet aren't necessarily keywords when it comes to describing what takes place in the free chat rooms - full-on action is a more apt way to characterize the happenings. It's no different either when you hop into the hangouts of Stripchat's amazing Asian hosts. The girls are happy to take you on a wild ride for free - but when it comes to being the sole focus of their attention in a cam-2-cam session, you'll have to pay. However, everything they do is personalized for your pleasure.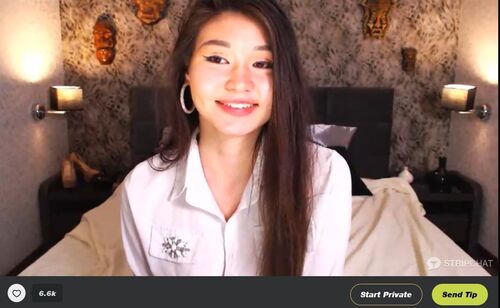 Even though most of the cam hosts are amateurs, or at best, semi-pros, a large number of them broadcast in HD, HD plus (1080p) and some are even set up to stream in virtual reality (VR). So if you have a VR headset, your Oriental experience could be as real as it gets online.
With so many options to scroll through, first thing is to filter out all the non-relevant rooms. There's a menu on the left side of the homepage and a dedicated grouping for the various ethnicities on the site. Asian performers are the first option and you'll usually find a 100 or so waiting to play.
Almost every girl is happy to turn a private cam date into a 2-way video chat encounter. All you have do is select the Start Private button on the bottom of the live video feed window and in the pop-up box that appears choose the c2c option. This will then enable a 2-way cam feed when your session kicks off.
Some of the eastern angels have a flat rate regardless of whether you want her to watch you or not. Others charge extra for the privilege. However, you can expect to pay around $3.40 a minute for a 2-way private show. The site's minimum rate per minute does start at a rock-bottom low of $0.80 - though rarely will this include cam to cam.
---
CamSoda.com
Like Stripchat, CamSoda is also a freemium site, which means a lot of amateur and semi-pro models looking for an online play pal for some cam fun. When it comes to the Asian ladies, the majority are most definitely in the amateur category, but this isn't necessarily reflected in their behavior. If you're looking for a bashful and modest babe - then you're not going to find too many of them at CamSoda.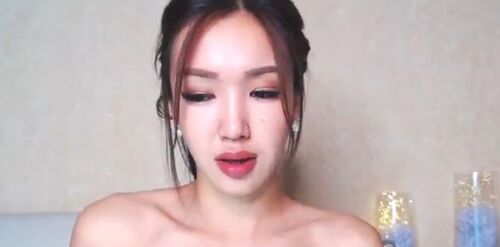 Finding the perfect partner at CamSoda can take a few clicks, so be patient. The homepage loads with static images showing exactly what the room is up to. Let's just say that you absolutely can't describe these CamSoda cuties as introverted, reticent and timid girls.
To filter though the 500 plus outrageous feeds that are usually online and get just to those girls from the far eastern hemisphere, you'll need to click on the view all tags link on the right of the screen above the gallery of photos. Hundreds of pages of search results will come up - but go straight to page #2 and towards the bottom (the 20th category), you'll see the Asian sub-section. Selecting this will bring up all those who have tagged themselves as of Asian ethnicity.
To start a c2c show, you just click on the large pink Go Private box and then when the show starts, select the Share Cam button to enable your webcam. Make sure though before doing anything that you've confirmed with your chosen cam host that she is c2c enabled. Some aren't and you'll only find this out once you've started a paid-for performance.
Prices are all over the place at CamSoda (as is the streaming quality). Some of the rooms with SD broadcasting and/or new hosts trying to get a fix on things, will offer a private webcam to webcam experience for as little as $0.70 a minute. But, you'll find those that are HD friendly and slightly more professional in their capabilities ask around $3.00 a minute for a two-way live video encounter.
---
ImLive.com
ImLive is one of the cheapest premium cam sites around, with their low rates inclusive of 2-way video and audio. While the number of Asian cam girls online is generally limited, around 30 at most, all of them are verified and vetted by the site. Even the amateur girls are skilled and knowledgeable about what is needed to make sure your cam experience is one that'll make you a repeat visitor to ImLive.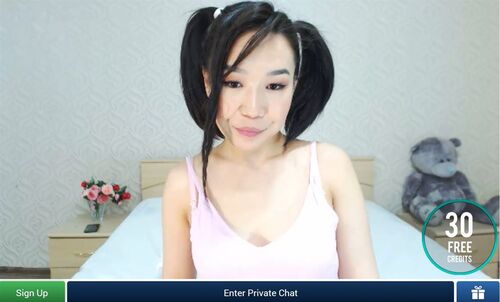 The outrageously low cam rates at ImLive however do come at a cost, and that cost is the site's broadcasting options. Many of the rooms are still SD holdouts, with the minority streaming in HD. On the upside, it's a premium site, which should mean absolutely no monkey business in the free chat rooms, but some of the girls, especially the females from the Far East, will break this rule now and then in the hopes of convincing you to join them in a paid for pleasure cam date.
To get to the Asian cam rooms there's a two click trick. First select the Filter box above the images on the homepage, click on Ethnicity and then scroll across to Asian. If there's a green Free Video Chat button to the right of her info, it means you can click through to see what she's up to in real-time. If the button is blue it means she's already on a cam date with someone else. If you can't wait till she's free, then you can take a quick peek into the room for a couple of dollars or so a minute.
ImLive is one of the most progressive c2c sites there is. To start a cam-to-cam chat with your chosen new friend from the Orient, once you're in her chat room you simply select the huge Enter Private Chat button under the live video window. In the pop-up box, under her image there's an option to opt-out of c2c - as opposed to opt-in. So if you don't want a c2c meeting you'll have to deselect it.
So, onto the low low prices. The cheapest Asian cam to cam sessions start at $0.70 a minute, with the average cost hovering around the $2.50 area. And, if these prices aren't attractive enough, many of the cam cuties will give you a discount code that will make your time with them even cheaper.
---
121SexCams.com
Anyone can be a webcam broadcaster at 121SexCams and this means choice, choice, choice. The site has around 1,500 plus rooms of all types, ethnicities, appearances and skill levels, streaming 24/7. When it comes to finding a girl from the Orient to cam chat with, there's generally around 80 or so streaming from across the continent, almost all of whom are extrovert adventurers looking to party with a guy who's as border-less as they are.
One thing that makes 121SexCams different to the other sites listed here is its payment method. Instead of having to stock up on site credits and tokens before starting an Asian c2c show, all you have to do is put a payment method on file at the site. You're then simply charged for the time you spend in a 1on1 date and if you're worried about accumulating a huge fee - don't be. The site caps your daily spend at either $25.00 or $50.00. You'll have to make a request to get your daily spending limit increased
To find the delights from the Orient, on the homepage you have two options. The first is to click on the Region link on the red menu bar above the photos and then select Asia. However, this brings up only the girls that are currently streaming from that region - not those performers who are of an Asian heritage but live elsewhere. To find more Asian cam models, a better way is to select the green Categories button on the right of the homepage and then click/tap on Asian.
When the time comes to start a private cam-to-cam session, it's always best to check with your new cam partner beforehand and make sure they are set up for c2c - not all of them are set up, or are willing to host 2-way video chat. Next step is simply to select the large Go Private button at the bottom of their video window to start a show. To enable your webcam so that she can see you, all you have to do is click on the small webcam icon in her video feed and let the fun begin.
The cheapest shows at 121SexCams come in at $1.00 a minute, with the average price working out at around $3.00 a minute. Some of the girls will ask for an additional tip or a even a higher per minute rate if you want them to watch you.
---
LivePrivates.com
If you're looking for the girl of your dreams. Someone that not only dresses like an angel from the East, but is sweet, flirty and knows what you want, probably before you do. And someone who believes HD streaming is a must and under her demure demeanor is adventurous and not only open to extreme experiences, but has perfected them, then LivePrivates is the cam site for you.
If you're looking for an amateur or a girl-next-door type, then forget LivePrivates. This platform features not just pro cam performers, but the A-listers from across Asia. You will have to pay a premium for the privilege of hanging out with these remarkable women so don't expect any bargain basement cam to cam rates. What you can expect though is professionally stylized and lit settings. Models that specialize in various predilections and girls with a wide range of toys, accessories, and clothing that'll turn almost any fantasy into a cam reality.
To focus in on the Oriental options out of the 1,500 or so cam room choices you'll be faced with, it's a one click journey. Just select Asian from the menu on the left of the page and all the snapshots you'll then see will be of Asian and mixed race Asian heritage. One downer though is that some of the girls appear under several different names, so while at first glance, the selection may seem numerous, you'll quickly notice some of the same girls appear again and again with a different screen name.
When the time comes to go one-on-one in a c2c meeting all you have to do is start a private show and then click on the webcam icon on the left side of the live video feed. If you want her to hear you, as well as see you, then you'll also have to click on the microphone icon underneath it.
When it comes to prices, expect to pay in the area of $5.20 a minute for a c2c show (add another $1.00 a minute if you want to include 2-way audio). The lowest priced Asian c2c shows start at around $2.60 a minute (with the $1.00 levy to be added if you want to use your microphone).
---
Conclusion
When it comes to enjoying a cam to cam session with a hot Asian model there are several factors that should be integral in the experience.
Choice: Whether you're into Thai girls, Malayasians, Korean, Singaporeans, Chinese or Japanese - a good cam site should be regionally inclusive.
HD Streaming: Every site should have at minimum a percentage of the rooms broadcasting in HD but optimally, HD should be the norm, not the exception.
Ease Of C2C Use: When it come to turning on your webcam, it should just take a couple of clicks to turn a session into a c2c one.
All the sites listed here feature those aspects, but one comes in at the top of the class in all of them and that's LiveJasmin. It's a great platform on which to kick off your Asian cam travels.