Top 6 Private Chat Sites for 2Way Video Activation
Published
November 15, 2019
For the ultimate in an online live porn experience, nothing surpasses the excitement and tailor-made pleasure of a premium cam2cam sex show. The wonder of a webcam party with a gorgeous cam model is something to be savored - but when it becomes a two-way party with both sides enjoying each other's pleasure - it's taken to a whole new level of lust and luxury. Read on to discover which are the Top 6, one-on-one, cam-to-cam chat sites.
CamSoda.com
When it comes to choice - there's one site that leads the cam crowds - CamSoda. With at least 500 plus rooms online at one time, there's no chance that you won't find a cam model that fits your wish list. The girls / boys and trans range from amateur models to professional porn actresses and cover every fetish and kink. CamSoda is a freemium site, so expect to be bombarded with explicit XXX live video feeds on the homepage.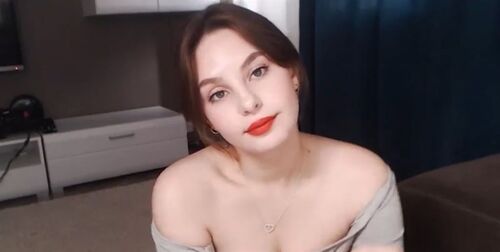 There's a wide discrepancy in the video streaming capabilities of the hosts, from SD amateur style rooms - to professional live cam performers investing in outstanding HD+ feeds. For a freemium site though, CamSoda has a notable amount of rooms that are HD enabled.
In the free chat rooms nudity is encouraged, along with extreme X-rated acts such as pussy fingering, anal action, dildos and so forth. In order, though, to get a cam host to perform a specific act you must tip her, and if you want to enjoy some private cam2cam time - then this is only available if you start a private chat show with the model.
Prices vary as wildly as the video quality of rooms. New webcam models, or those that are doing it for the thrill, can charge as little as $0.70 a minute for some one-on-one sex chat - though, on average, expect to pay $3.00 a minute. Unlike many premium cam sites, CamSoda does not charge extra for cam2cam shows.
To find those rooms that accept cam-to-cam shows, first select the cam2cam tag on the top menu bar at CamSoda's homepage. This filter will then bring up the rooms that feature a cam2cam option. Choose your room and select Go Private. Once the show starts you must manually select the pink Share Cam button under the live video feed to turn on your cam.
---
LiveJasmin.com
LiveJasmin is considered the premier platform for private sex chat cams. The site features a galaxy of A-list cam models with only top cam hosts allowed to perform under the LiveJasmin banner. Many of the amazing cam hosts are exclusive to LiveJasmin, further underscoring the site's leading reputation as the home of the hottest girls online. All chat rooms at LiveJasmin are HD enabled with many streaming in full HD (1080p).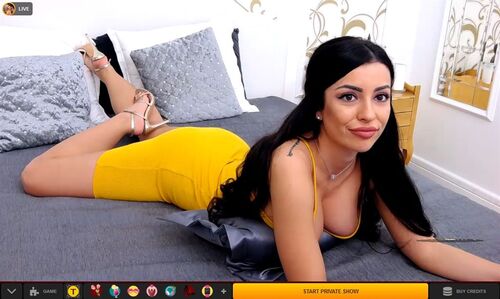 As a premium paid-for adult cam2cam site, all the X-rated fun takes place behind virtual closed doors in private cam chat sessions. The free public rooms keep the talk and sexual antics demure and discreet with no nudity or explicit activities.
While all the girls are stunningly gorgeous and elegant, this isn't reflected in the extreme entertainment that is on offer. The site has a comprehensive Willingness section (another name for fetishes and kinks) in which all types of proclivities are available including BDSM, squirting, findom, spanking, etc.
Prices at LiveJasmin are surprisingly affordable considering the top quality of both the cam models and HD feeds. New models on the site begin with rates at just $1.20 a minute for 1on1 video chat, with the most in-demand girls and verified cam super-stars able to set their rates at the top of the scale - $12.00 a minute. On average, expect to pay $3.60 a minute. (These prices though do not include cam2cam which may have an extra levy per minute).
Inside a chat room, hover over the left side of the video feed where a vertical list of icons will appear. If the girl offers cam2cam in private chat - a small mobile eye camera icon appears. In a private show you must select this icon to turn on your camera, you simply select Start Private Show. Once the show begins you then have the option to enable both cam2cam and two-way audio features.
---
Flirt4Free.com
Flirt4Free isn't just a top cam2cam site, it's a comprehensive webcam platform featuring adult videos, sex-related community powered messaging boards, a wide-ranging fetishes and kink arena, porn-star appearances and of course hundreds of live streaming sex cam rooms.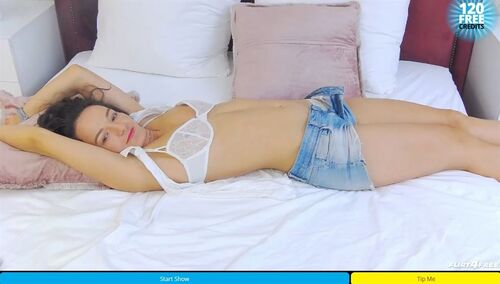 All Flirt4Free models are vetted by the site ensuring every cam host is not only stunning but also performs to the highest standards in paid-for private cam shows. With around 500 rooms streaming (most in HD) at one time, there's plenty of choices in all categories (appearance, age, ethnicity and gender). The site's wide-ranging options also include an impressive fetish and kinks specific home with most models having a penchant for at least one (normally more) proclivity.
Flirt4Free often has special promo events offering discounts or free credits for a limited time. It's advisable before you purchase site credits to go to View Promos (this can be found in the drop-down menu under Live Cams on the homepage's top nav bar) and see what deals of the day can be found.
If you're looking for some hardcore activity, then you'll need to enter one of the site's several show/chat options. There's no nudity (well there's not meant to be at least) in open rooms. New models on the site start off with the extremely low private chat rate of just $0.50 a minute - though most girls (and guys and shemales) charge in the region of $4.50 a minute. On the upside - if cam2cam is available - there's no additional charge for enabling a two-way cam show. You can also enjoy a C2C date on the go using a smartphone, tablet or mobile device.
Flirt4Free's VIP Members can turn on their webcam in almost any show type, (Private Show, Party Chat, Group Chat and even in Free Public Chat). The only exception is a Voyeur Show. Once you're in a private cam session, simply go to the far right of the screen and on the vertical nav bar select the mobile eye cam icon - this will begin your webcam broadcast.
---
Stripchat.com
Stripchat is a top-rated freemium live sex chat site. Visitors to this global live porn cam marketplace are guaranteed a minimum of several hundred (if not a thousand plus) explicit and often hardcore sex streaming rooms vying for their attention. Available in 19 languages with amateur and professional cam models from around the globe, Stripchat's user-friendly layout, advanced categorization features, along with its exclusive virtual reality private live cam sex shows have made this XXX webcam platform a leading player in the online free video sex chat world.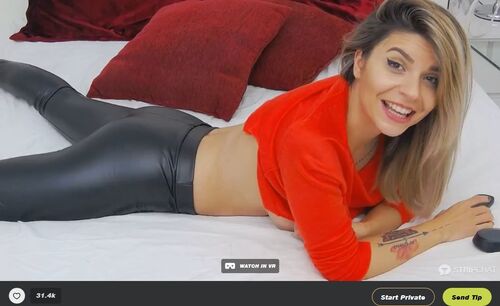 In the free chat rooms anything and everything goes. Nudity and kinky shows are the norm as opposed to the exception. Sex toys, fisting, deep-throat, girl-on-girl action and more, can be found throughout. If though you are looking for something specific you have to either tip the host a set amount in order for them to comply or take them into a 1-on-1 premium private cam session.
While a significant number of the rooms stream in HD - there are still many that have yet to join the HD club. But it's not HD that draws in visitors looking for an outstanding and unique live cam experience, it's the site's exceptional virtual reality (VR) Shows. (You'll need to have a VR Headset to enjoy this unforgettable one-on-one private sex chat show).
Costs for private shows run the gauntlet. On the lower-end of the scale they start at just $0.80 a minute, topping out at $8.65. On average though expect to pay around $3.40 a minute. Some cam performers include cam2cam in their prices - while others will charge more - up to double the cost of their non cam2cam private session.
To start a cam2cam show select the Start Private button on the bottom of the cam girls' live video feed. In the pop-up box that appears select Cam2Cam. This will then enable a 2-way cam feed.
---
LivePrivates.com
LivePrivates is one of the most exclusive, premium cam-to-cam sites attracting visitors looking for the ultimate in private sex video chat meetings. In the site's luxurious looking private room enclaves, a curated selection of leading adult cam performers show why a model at LivePrivates is considered to be at the pinnacle of live porn performance capabilities.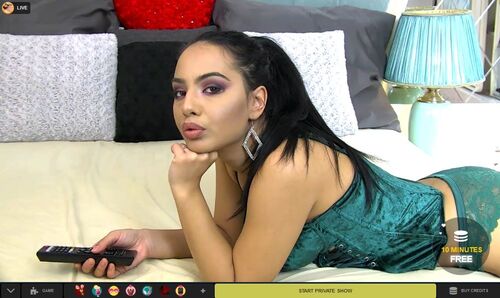 The free public chat rooms showcase the model's stunning looks and open friendliness, but there is strictly no nudity, sex acts or X-rated talk permitted. This all happens once you invite the chosen performer into a premium private chat session. As you would expect from a premier adult webcam platform, HD broadcasting is standard throughout, with many offering full HD (1080p) feeds.
While the outward appearance of LivePrivate's girls / guys and trannies is high-class, what goes on behind the virtual curtain once you go private is a different story all together. This is a sex cam site and as such, fetishes are part and parcel of the experience, if you so choose. Almost all models specialize in one form or more of sexual kinks and the site has a user-friendly search engine and categorization grouping making it quick and easy to find a partner for your particular porn pleasure.
What is surprising at LivePrivates is its prices. For the best of the best in every aspect you can expect to pay just $3.50 a minute on average for 1-on-1 cam chat. If that's out of your price range, new models to the site charge just $1.20 for the same. But, be aware that if you choose to enable your webcam, most models add an extra $1-2 a minute if the session is cam2cam.
To start a cam2cam show, just click on the Camera button under the model's video window during a Private Show and enjoy your two-way cam party.
---
121SexCams.com
121sexcams is about one thing, and one thing only, live porn fun. The site is officially a premium live sex chat site - this means in theory that there's no (or little) nudity in the free chat rooms and all the extreme hardcore entertainment takes place solely in private one-on-one chat sessions or paid-for live shows. In practice, many of the cam girls strip off to some extent in their open rooms and happily flash and tease as far as they can in the hopes of drumming up business for the main attraction - a sexy private cam show.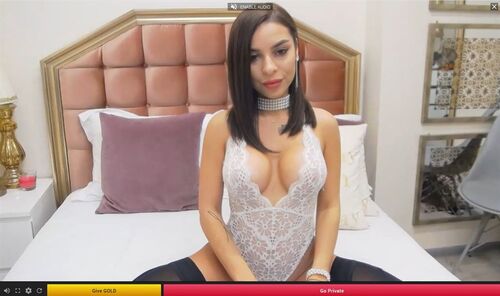 If you don't know what type of cam partner you're looking for then 121SexCams can help you out. There are more than 40,000 girls registered as 121SexCams hosts, with an average of a thousand plus live at any time. They cover every look, ethnicity, age and body type, from young petite Asians, to mature runway model type Europeans. And of course range from amateur girls next-door to professional adult pornstars. As for kinks and fetishes - the site has it all, BDSM, anal, pussy licking, blowjobs and dildo play of every size.
Depending on your preferences, you'll either love or hate the payment system at 121SexCams. It's incredibly simple - instead of pre-purchasing credit or tokens and having to constantly refill them or even worse, have a show cut off in the middle because you've run out of them - 121SexCams operates a pay-as-you-go system.
You just put your payment method on file and then are charged in your local currency. You're charged only for the time you spend in private one-on-one cam shows or other paid-for shows. The site isn't greedy - in fact it has a Daily Spending Limit that will automatically cut you off once the limit has been reached. On average, private chat at 121SexCams stands at $3.00 a minute, with the lower-end of the sliding scale starting at just $1.00. (This doesn't include cam2cam tips that may be applied by the cam host).
The only way to know if the cam host allows cam2cam in a private session is to message them and ask before starting a paid-for video chat show. Some of them that do facilitate cam2cam chat, request an additional tip in addition to their regular chat rates. This though is entirely up to the individual performer.
After checking that your chosen model will allow cam2cam (and for what price) - you simply start a private chat and click on the webcam icon that appears in their video feed.
---
Conclusion
The above listed sites take the top six spots for the best cam2cam sex platforms for differing reasons. LiveJasmin, for example, has an unparalleled selection of the gorgeous cam hosts of all genders - somewhat akin to an international model agency's look-book of their top beauties.
Flirt4Free has an outstanding fetish and kinks area guaranteeing, that if you're into it - you'll find many more online that want to play with you (and 'it'). Stripchat has one of the largest online streaming selections of cam 2 cam rooms. LivePrivates is probably the most luxurious and sophisticated private cam site you'll come across. And 121SexCams has great rates and a simple, yet ultra user-friendly payment system.
At the end of the day though, CamSoda takes the top spot because it simply has it all, A huge selection of HD broadcasting rooms, every type of webcam performer you can imagine, low one-on-one private rates and the cherry on the cake - cam2cam isn't extra - charges are all inclusive.