Top 5 Private Cam Sites like FanCentro
Published
February 09, 2021
There are several subscription-based sites like FanCentro where, for a monthly fee, you can join a model's elite fan club and get access to exclusive racy photos and videos. But, did you know you can get similar benefits at many of the leading live cam sites, and also get the opportunity to live video chat with your favorite star? And when we say live video chat, we mean you, and you alone, get to enjoy a 1on1 cam session with your favorite model or influencer.
The following 5 leading cam sites are great alternatives to FanCentro. You get the same benefits that are available at FanCentro, as well as a whole basket of additional perks. From exclusive recorded shows and adult-themed photos to private cam shows and the ability to chat for free to your favorite content creator and show her just how big a fan you are.
The models and influencers who host live cam rooms and exclusive fan clubs at CamSoda range from amateur beauties building up their fan base to highly sought-after stars who appear live on the site and often give free shows to their favorite followers. There are around 600 stunning models broadcasting 24/7 at this freemium webcam platform, many of whom use HD feeds both in their live video chat rooms and in their very spicy recorded shows that their fans can access.
Not all of the performers at CamSoda have images and videos you can access. This is a freemium cam platform, which means alongside the more professional influencers, there are also several true amateur exhibitionists that take it all off and get naughty for their own kicks. Once you're in a model's chat room, under her live video window you'll be able to see if there are images and videos available for purchase.
All of the gorgeous girls that have media posted on the site let you unlock their albums on an individual basis for a set number of CamSoda tokens. Many also offer an all-access pass to all their adult images and videos for a global fee. There are those with links to their Instagram and Snapchat accounts that you can follow for a fee and see everything post both on their CamSoda profiles and on their social media profiles.
One of the main benefits CamSoda has over FanCentro is that you can not only live video chat with your favorite model, but you can invite her into a 1on1 cam show where it's just the two of you and all her attention is on you. Many let you record these sessions for no extra cost. This way you can create the most exclusive library of videos staring you fave babe. Videos that you and you alone can see. On average, a private cam date comes in at around $3.00 a minute.
---
Flirt4Free.com
Unlike CamSoda, Flirt4Free is a premium site which means only semi-pro and professional models can host a chat room on this platform. You can enter any live chat room for free, and check out the images most of the performers post under their video window for no extra cost. There are usually around 600 live streams to choose from 24/7 and the site features a great search engine that lets you quickly find the perfect performer for your preferences in just a couple of clicks.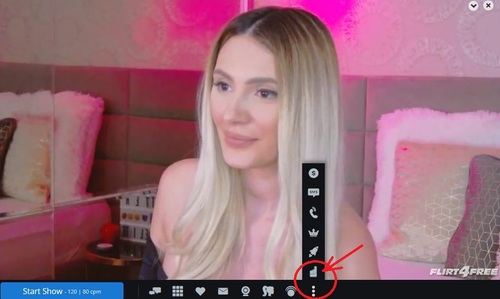 The top performers at Flirt4Free have their own dedicated fan clubs which give members a host of exclusive benefits. When you are in the live chat room of a model click on the three small vertical dots that appear below her video window and then press on the hand icon as shown in the image above. This will bring up the cam hosts private fan club which you can then join for a monthly fee.
Benefits of joining a host's fan club at Flirt4Free include a 5% discount off paid-for show type including Group Shows and Private Shows, 5% off access to their non-PG videos, as well as access to fan club member content. However, if you join Flirt4Free's own VIP club you get a great basket of perks including; access to 200 free videos a day, free access to feature shows, and unlimited access to recorded shows. The main difference is that you don't get discounted per-minute private show rates.
If you do want to cam-to-cam private chat with your favorite content creator, show rates generally hit the $4.50 a minute mark and include webcam usage. You can also record the show for free and watch it for a week without paying any surcharge. But, after that week is over, you'll have to pay an additional fee in order to access your private recorded cam date.
---
ImLive.com
ImLive is a low-cost premium cam site where cam-2-cam usage is a given in almost every private show. It's also a site where some of the world's biggest names in non-PG entertainment make exclusive live appearances allowing their fans to get to know them up close and personal in a very unique and intimate way.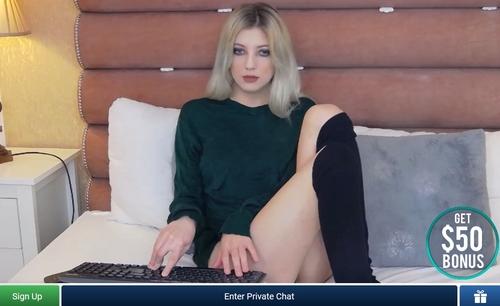 ImLive is also a great substitute for FanCentro as many of the 600 or so streaming models also offer some of the most beneficial fan clubs online. Here they're called Discount Clubs and give not only exclusive content to their members but also significant discounts to members who want to live video cam chat with them.
The perks of each model's Discount Club can vary but almost all include member special private chat rates, as well as access to all of their Host Videos. If though you live in Europe, check that you can access their recorded videos. There are some European countries that are blocked from accessing recorded shows on the site so before you pay for anything - make sure your country isn't one of them.
Without a discount, the average cost of an exclusive 1on1 cam session that includes cam-to-cam comes in at $2.25. And, similar to CamSoda and Flirt4Free you can record your private cam show and build a library of very personalized videos starring your favorite model. However, after 72 hours, the video is locked and you'll have to pay extra in order to watch it again.
---
LiveJasmin.com
The hosts and influencers at LiveJasmin are the top adult performers around. They greet you from highly stylized settings, with each and everyone looking as if they've just stepped off the pages of a high-fashion glamor magazine. And, if you're looking for exclusivity, these babes are as exclusive as can be, with many of them only appearing at LiveJasmin and only posting images and videos at this premium cam platform.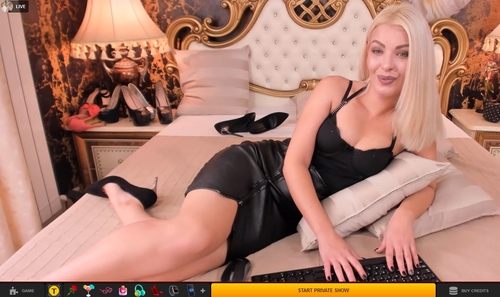 Like FanCentro, all the 1000+ always online cam models at LiveJasmin feature premium content in their chat rooms that can be accessed 24/7. All their non-PG photos and video clips can be accessed for a small fee. However, after 90 days, the material is locked again so make sure you maximize your 3-month pass.
When it comes to being one of a privileged few, LiveJasmin is an even better option for fans compared to sites like FanCentro. A select few of the most in-demand performers on this live chat platform give their most devoted fans access to their daily goings-on outside of their online persona. You can subscribe to their Story option on the site. This gives you an inside look at what your favorite influencer does on and off cam. She posts images and updates on where she is and what she's doing.
When it comes time to having a really intimate experience with one of these A-list personalities an exclusive HD video chat show is the way to go. Now these girls are so in-demand that their time comes with a premium. On average, if you want just you and her to spend some time together, it'll set you back an average of $3.65/min. It may not seem so bad, but if you want her to see you, a C2C chat will cost an additional $1-2/min and if you want her to hear you, opening your microphone will incur the same surcharge.
---
Stripchat.com
This freemium cam site is similar to FanCentro in as much as anyone can set up a profile as a model/influencer, but this site makes sure you never get lost amongst the 1,000 plus online performers by giving you access to one of the best search engines around. It also has something not available at FanCentro and that's models that you can video chat to in virtual reality (VR) mode.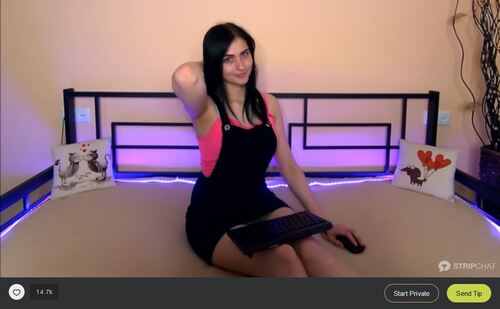 While it's a freemium cam site attracting a huge number of amateur performers, it also hosts an equal number of semi-pro and pro adult models, many of whom have fan clubs that you can join for a small monthly fee. To be honest, most of the clubs don't provide a lot of exclusive media and videos for their fans, but what some of these girls do have are virtual reality cam rooms. If you own a VR headset you can have a unique immersive private date with your favorite influencer at a very cost-effective per-minute rate.
Many of Stripchat's top models also let you record your 1on1 video chat session with them and store a copy of it in your Stripchat account where you can access it as often as you want with no limitations and at no extra cost. Stripchat is also a great option instead of FanCentro if you're a fan of the spicier side of non-PG entertainment. By using the site's search engine you can quickly find niche artists who practice a variety of proclivities and aren't shy in showing off their personal pervs.
Prices for a live video chat session where it's just you and your favorite influencer getting intimate with each other come in at around $3.30/min. Many of the performers here ask for a minimum time of at least 10 minutes,. Very few will go private with you just for a few minutes and fan club members don't get a discount on rates.
---
Conclusion
All of the above sites offer many of the same benefits you get when you pay to follow a FanCentro model, but they all offer something extra that you don't get at FanCentro, and that's the ability to interact in a 1on1 way with the girl. By live video chatting with your icon not only do you get to know her in a far more personal way, but she also gets to know more about you and will often create media tailored for your specific desires.
One of our top-recommended sites that's a great substitute to FanCentro is CamSoda. Not only does it feature a huge variety of performers, but also cost-effective fan club membership packages, and a wide variety of totally free exclusive media and videos created by the adult entertainers on the site.