C2CPorn Review - Cam Model Aggregator
Last updated
January 17, 2021
C2CPorn is quite unlike any other website we've reviewed. It's an aggregator of 8 of the top webcam platforms, meaning it brings together thousands of the hottest cam models to one destination. There's generally around 10,000 streaming rooms featured on the site, and by using the platform's intuitive search and filter options, you can find your perfect cam partner in just a few clicks.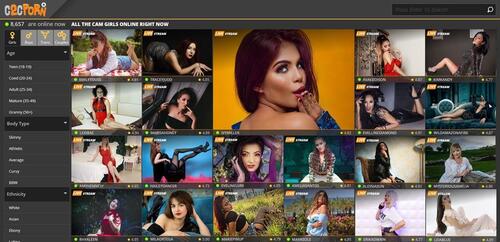 C2CPorn is about one thing and one thing only, and that's helping the user find their dream date. There are no annoying pop-up ads or calls to action as you'll find on most cam-sites. Here you simply use the smart search and filter engine to whittle the 10,000 plus options to exactly what you're looking for. Think of it as a bespoke tailor making a suit to your exact measurements and taste.
You tell the site exactly what you're in the mood for, by age, looks, ethnicity, body shape, and kinks, and the site trawls through 8 major webcam platforms in nanoseconds. Almost immediately the gallery of preview photos reloads showing only those models that'll fit you like a tailor-made suit.
In Brief
C2CPorn is a newcomer to the webcam world and luckily for us it's here. The site is basically a service provider for anyone looking for a private cam date from a secure and safe website. How it works is that it collates all the online models from the top private cam sites and merges them together in one place.
Currently the site hosts all performers streaming at: Cams, CamSoda, Chaturbate, BongaCams, Flirt4Free, ImLive, LiveJasmin, and Streamate.
This mean you no longer have to go from site to site hunting for the perfect partner, as C2CPorn features them all in a clean and user-friendly layout. With it's multi-filter search tool you can layer on preference after preference, so in the end, only the performers that match every one of your chosen facets will appear.
How To Choose A Cam Model
As a default, the homepage will first appear showing only the girls, but it's not just the cam babes that appear at C2CPorn. The site also collates feeds from all the Boys / Trans or Couples (Groups) from the platforms it pulls from. If you want to change the gender options, simply go to the top left of the screen and change the category from the automatically selected Girls to either of the alternate options.
Now that you're with the right cam partner group, the fun part begins. There's two ways to start narrowing down your choices. You can either use the left menu bar which offers 8 major category tags ( Age / Ethnicity / Bust Size / Hair Color/ Hair / Body Art / Kinks and Video Quality). Alternately you can use the search bar and write in a keyword.
As opposed to many webcam search engines, C2CPorn doesn't restrict your options to just one search group at a time. Here you can add more and more filters on top of each other.
You can choose as many options as you want from each of the categories. For example you could choose brunettes as well as red-heads and add ebony or Asians into the mix. If you get too many results or decide you're just not in the mood for big breasts, select the filter again which removes it.
The other way to search is to type in a keyword in the upper right search box. The photo below shows just a few of the hundreds of results that come up if you input (as an example) BDSM. From these results you can now filter down further by using the left menu bar and adding as many, or as few tags as you want from any of the groups listed.
Cam Rooms Features at C2CPorn
When you hover a photo a small transparent label appears showing the gender (F or M), as well as the age of the model and a flag which indicates which languages she speaks.
Some photos feature a Live Stream sticker on them. This means if you hover over these photos a live video feed of the room comes through so you can see what the babe is up to in real-time without having to click through into her open chat room.
However, if the circle next to the girl's name is red (not green) - no video feed will appear. The red circle means she's in a private cam chat date and the curtains are closed. If a grey circle appears it means the girl has only recently gone offline and obviously no feed is accessible.
Other useful features in C2CPorn's chat rooms include a schedule of when she generally comes online, a short bio about the performer and search tags indicating what she is willing to do in private cam chat dates. Some also include their price per minute chat rates, while others insist you click through into the relevant site to get pricing info. (Later in this review you can see a pricing table round-up showing average cam rates per minute for each site).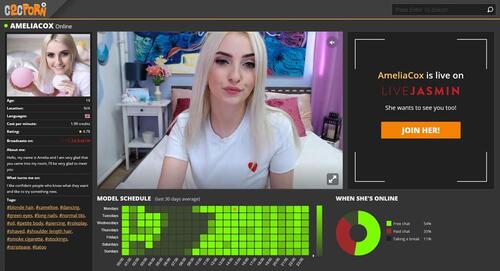 C2CPorn also has a unique feature showing the model's habits when she's online. You can see at a glance what percentage of her online time is spent in paid chat shows and how much is spent in her free open hang-out.
Webcam Broadcast Quality
As it's an aggregator site, the broadcasting quality varies according to each site. However that doesn't mean you have to wade through SD rooms if you're looking for some crystal-clear HD plus action. Or, if SD suits your internet speed better, the site can take away the HD hotties.
On the left menu bar you can select the streaming quality you prefer. In addition to SD and regular 720 HD - you can also filter your choices for rooms with HD plus (1080) or HQ (high-quality standard definition).
Mobile Device Interaction
When accessing the site from a mobile device or smartphone, the mobile version automatically loads. The layout is clean, easy-to-use and features the same facilities as the desktop version. You can scroll through the snapshots on the homepage, or use the menu bar which appears when you tap on the search icon on the top left of the screen.
The keyword search bar is accessible by clicking on the magnifying glass icon on the top right of the screen.
When you go into a chat room, you'll seem the same features as you would if entering the site from a desktop browser. On the mobile site you simply scroll down to see the girl's bio and schedule etc.
Registration
No registration is required to browse through the thousands of models at C2CPorn.com. However, each site has it's own requirements (or not) when it comes to signing-up and chatting to the cam performers. Some will only let you message the girls if you've signed up. Other rooms will be closed to non-members and some will kick you out after a few minutes if you're a not a registered member of the site they're performing from.
Every platform that C2CPorn covers offers totally free membership options and all have a quick and easy registration process.
Private Cam Chat Prices
The table below features the cheapest and the average 1on1 chat rates per minute for each of the webcam sites C2CPorn features, as well as the platform's policy on cam2cam and 2-way audio rates if applicable. Prices may vary according to your geographical location.
| | | | | |
| --- | --- | --- | --- | --- |
| Site | Cheapest Rooms | Average Price | C2C Included | 2Way Audio Included |
| Flirt4Free | $0.50 | $4.50 | ✓ | ✓ |
| ImLive | $1.00 | $2.25 | ✓ | ✓ |
| CamSoda | $0.70 | $3.00 | Depends on the Model | Depends on the Model |
| LiveJasmin | $1.20 | $3.60 | Extra Fee | Extra Fee |
| Cams | $2.50 | $3.00 | Depends on the Model | Depends on the Model |
| Chaturbate | $0.60 | $2.70 | Depends on the Model | Depends on the Model |
| Streamate | $1.00 | $3.00 | ✓ | ✓ |
| BongaCams | $3.00 | $3.00 | ✓ | ✓ |
Customer Service and Security Measures
As C2CPorn is a totally FREE platform. The site doesn't ask for any personal or financial info. All the sites featured on C2CPorn are major players in the webcam world. As such, they take online security extremely seriously and use multi-layer encryption technology to ensure all details are protected and secure.
If you have any questions regarding C2CPorn's aggregation or just want to query something on the site, there's a contact page for the platform's admin located at the bottom of the homepage.
Positives and Negatives
Positives
An unparalleled selection of over 10,000 cam performers
Super-charged search and filter options
No registration required
Mobile optimized
Clean, ad-free layout
Performer schedules and availability habits
Negatives
In order to chat to the model you have to go to their host site
Not all rooms have video previews available
Not all rooms feature pricing in their C2CPorn cam rooms
On The Whole
C2CPorn is a great site if you're focused on finding the best webcam playmate for some fun and games and aren't interested in the bells and whistles that many webcam platforms feature.
If you're looking for a particular type of performer and/or a certain type of kink for a private cam date, C2CPorn has them all. On the other hand, if you're focused on price and want to keep your search in a specific cost bracket, then at C2CPorn you're out of luck as there's no option to filter rooms by pricing.
The site is totally free to use, and takes out the frustration that so often occurs when you're trying to find a specific cam girl. If, for example, you had a great cam2cam date in the past with a certain someone but now can't remember which site she was streaming from, just go to C2CPorn, input her basic attributes and if she's online - up she'll pop, saving you visiting 8 different sites trying to find her.
With no registration required, total anonymity as you browse the online babes and an incredible smart and fast filtering engine, C2CPorn is a win-win webcam room aggregator that we highly recommend as your first stop on your next cam girl quest.