Enjoy Exciting Asian Cam Sessions at Prices You Can Afford
You're among those many people who think that Asian girls are the manifestation of female beauty. Obviously, you're dying to start a live chat with an oriental model, but grave concerns about the price of such a chat encounter deter you from doing so. No need to give up your desires as there are quite a few cheap Asian cam sites available to you on the web. These are the 6 best sites where you can watch hot Asian babes performing live for you without going broke.
CamSoda.com
400-600 beautiful and liberal performers from any corner of the world available on the site 24/7, free lives shows in which clothes are rare items, and, above all, reasonable chat rates make CamSoda an ideal site for users looking for cheap Asian cams.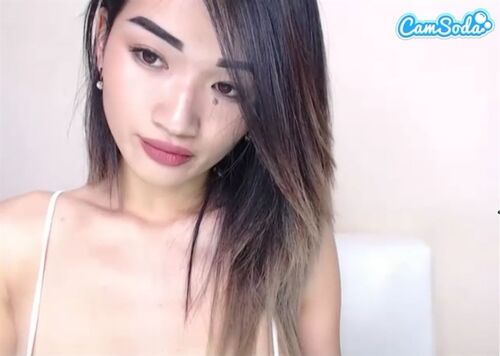 CamSoda's performers are arranged under tags and there are hundreds of them covering any niche you can think of. Since there is no filter to help you sort out these tags according to specific themes, you'll need to go over them manually looking for the ones related to Asian cam girls.
Don't worry, you'll find what you're looking for in no time. After a very quick search, we came up with Asian, Japanes and Thai. You'll surely be able to find more if you exert a little effort.
A 1 on 1 chat on the site will cost you $3.00 a minute on average. The cheapest models will charge you as low as $0.70 a minute. These are highly affordable prices taken into account that you won't be asked to pay extra for cam to cam.
CamSoda has a unique feature you won't find on any other cam site. The models' preview galleries on the main pages simultaneously present on video what is currently happening inside the public chat rooms giving you a all-encompassing view of the live action on the site at any given moment.
CamSoda also has a great VIP program. For only $19.95 a month, you'll become a Premium member and enjoy an ad-free interface, be able to change tip volume, send models private message and chat and tip anonymously. Signing up for the VIP program gives you a onetime bonus of 200 tokens (which are worth around $20.00).
Last but not least, CamSoda is one of the very few sites allowing you to open your cam on your mobile device and, thus, engage in interactive c2c chats on the go.
---
LiveJasmin.com
LiveJasmin is a top-notch cam site with more than 1,000 models who are online most hours of the day waiting to entertain you. The large majority of them are professional cam performers who broadcast at superior HD and HD+ quality.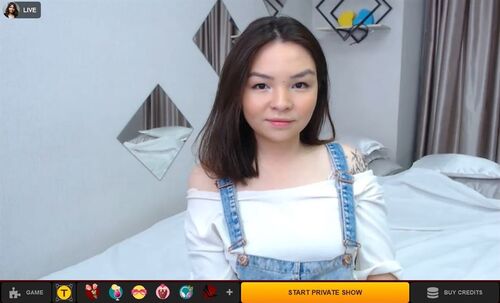 By tapping on Asian under Ethnicity on the site's advanced filter, you'll reach a couple dozen breathtaking Asian models you can take to a private chat. This filter lets you add additional parameters to your search so as to find a specific type of performer that matches your preferences. For example, you can look for an Asian girl at the age of 22-30, with an A cup, and a petite body, who speaks English. The Willingness column contains some kinks you can incorporate into your search like Close up, Dominant or Toys.
A private chat with one of LiveJasmin's performers costs $3.60 a minute on average. Minimum chat rate stands at an affordable sum of $1.20 a minute. The Price column on the filter tool lets you sort out girls according to their rates, so you won't have a problem tracing the cheapest ones.
Be advised, if you want your private chat to include cam to cam and 2-way audio, you'll be required to add 1-2 dollars a minute per feature.
LiveJasmin's greatest plus, apart from its impeccable hi-def streaming, is its mobile c2c, which - like CamSoda - enables you and your model to watch one another while you are using your smartphone.
---
Stripchat.com
With a huge selection of 1,500+ models on the site day and night, free explicit shows with undressed performers, hi-def streaming and tons of chat categories, it's highly recommended that you include Stripchat in your cam sites portfolio.
To find the Asian performers press on All Categories beneath the search bar. You'll be directed to a page displaying all the categories at your disposal indexed in alphabetical order. Under the letter A, you'll see Asian and related subcategories like Asian Granny, Asian Milf, Asian with piercing or Asian Young. All in all, we're talking about close to 170 Asian performers active on the site around the clock.
A 1 on 1 chat with these performers averages $3.30 a minute. There is no shortage of performers with much lower chat rates. The cheapest ones charge $0.80 a minute. However, adding cam to cam to your chats entails an additional payment of around 30%. On the bright side, a c2c chat is also an exclusive chat as it bans other users from spying on your show.
If there is a performer you're fond of, you may choose to join her Fan Club as a Soldier, Lord or Prince for a monthly fee of $9.99, $19.99 and $49.99 respectively. Apart from the status these titles invoke (You'll get a special badge indicating your level), there is no difference between them in terms of the benefits they give you, which consist of private messaging the model and spying on her private chats for free.
Stripchat is the only cam site today which has virtual reality chat rooms. Most of the time it hosts 10-15 models capable of giving you exciting VR live shows. If you're lucky enough, you'll run across an Asian girl among them.
VR shows don't come with an extra cost, but you'll have to equip yourself with the necessary hardware and download a special application.
---
Cam4.com

At any given moment, Cam4 operates around 1,500 chat rooms populated by stunning models from almost any place around the world. Quite a few of them perform in their public rooms while wearing their birthday suits letting you enjoy their hot shows for free.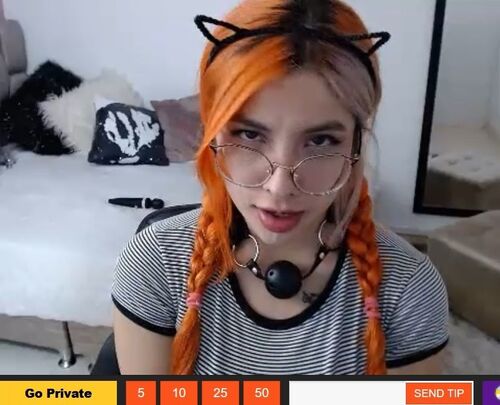 There are consistently 30-40 Asian models on the site. To get to them, you just need to select Asian under the Ethnicity category on the search tool.
This search tool does much more than sorting out models based on their ethnic background. It has a search category based on a specific country, so you can look for performers from any nationality in the Far East, such as Japanese, Chinese, Vietnamese, Filipino and even Malay or Indonesian girls. Not all countries have representatives on the site at all times, but if you keep trying, you'll eventually find your oriental jewel.
For 1 on 1 chat on Cam4, you'll have to pay $3.00 a minute, on average. The lowest rate stands at $0.60 - one of the cheapest you'll find on any cam site on the web. You won't be charged extra if you open your cam. However, most models have a 60 seconds minimum charge. Some of them have preset time blocks of 5, 10 and 15 minutes.
The site has a good VIP program. For $19.99 a month, you'll become a Gold member and unlock special benefits comprised of exclusive bonus token offers, an ad-free interface, automated chat translations and free monthly Gold Gifts.
---
xLoveCam.com
Although it mainly focuses on European and, to a lesser degree, Latin performers, xLoveCam maintains a strong oriental base of 15-20 performers active on the site during most times of the day. Its highly affordable chat prices certainly justify its place on this list of cheap Asian cams.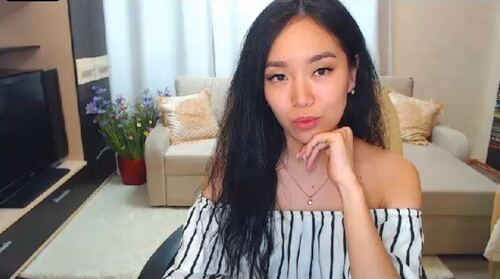 A private show with an Asian or any other performer will cost you no more than $2.00 a minute. If you're still looking for cheaper models, you'll find quite a few who charge $1.10 a minute. Cam to cam is included in these rates.
Take into consideration that a private show on xLoveCam is not fully private as other users may join in as active participants or (for a smaller fee) as 'spies'. To enjoy exclusive time with your model without unwanted intruders, you'll have to opt for an Xclusive Show. Yet the price for such a show is usually 30% higher than a regular private show. The top models may charge more than 30%.
With exceptions here and there, the site's models perform fully dressed in their private rooms. However, every Monday they tend to take off their blouses and bras for what is called Topless Monday. You shouldn't miss these days.
xLoveCam lets you become a VIP member of each model individually. Some models will charge you as low as $3.00 a month. Others will demand a monthly sum of up to $20.00. As a VIP member you'll get unlimited access to the model's premium videos and photos. Not all models have uploaded media files, and so they don't offer the option of a VIP membership.
---
LivePrivates .com
LivePrivates is all about professional live shows given by more than 1,000 models active on the site any hour of the day. Close to 100% of them are adept performers who employ HD and HD+ webcams.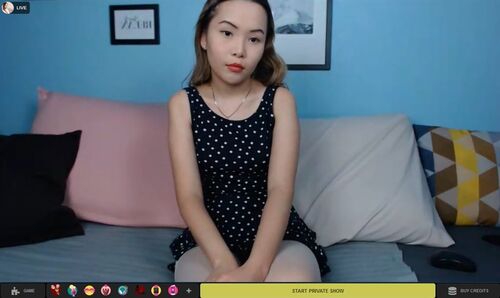 The site's Asian section numbers around 40 online models. The filtering tool lets you sort them out by a variety of parameters you can cross-reference to refine your search and find the one that will match your preferences. The Willingness category comes with all sorts of kinks you can add to your chat, for example Role Play, Love Balls, Oil, Dom/Sub and Toys.
A 1 on 1 session with your favorite oriental cam girl averages $3.50 a minute. The lowest rate charged by the site's models is $1.20 a minute. If you want to open your cam and audio to let the model on the other side of the screen see and hear you, you'll need to pay 1-2 dollars extra per feature.
LivePrivate's c2c technology supports most mobile devices available on the market today. This technological innovation allows you to enjoy bidirectional video chats no matter where you are any time you want.
---
Conclusion
There is no reason to deny yourself the pleasure of watching Asian live shows just because of being worried about the cost of such shows. As demonstrated above, there are sites where you can chat with oriental beauties at reasonable prices. Some of the sites are a little more expensive, but for the extra buck or two, you get plenty of benefits, such as excellent HD streaming.
CamSoda offers the best of both worlds. On the one hand, you'll enjoy plenty of theme tags, beautiful Asian performers always online, an advanced interface and, most of all, mobile cam to cam. On the other hand, the price you'll have to pay for a 1 on 1 show, including c2c, is highly affordable compared to other cam sites with similar features. This combination of high quality and low prices make CamSoda an ideal site for cheap Asian video chats.