Top 6 Fetish Cam Sites for Private Chat
Published
February 18, 2020
Fetish is a world unto itself. From bondage and whips, doms and subs, to gags and SPH, CBT to humiliation - what's one person's fetish is another person's norm. The following sites know that finding the perfect porn partner isn't a one-size fits all solution. These 6 premier live sex cam platforms provide the best cam models performing to the highest standards in HD, low-cost, secure and safe private cam shows.
LiveJasmin.com
LiveJasmin is one of the leading cam platforms across all categories. With over 1,000 rooms streaming 24/7 featuring the world's leading cam hosts, you're guaranteed that whichever room you land in, the host is going to be at the top of her game. Expect to hook-up with an A-lister in the genre that knows exactly what you want - even before you do.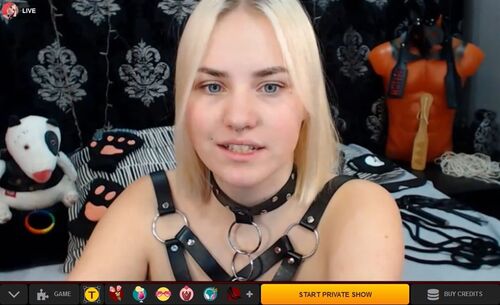 To get to the queens of kink is just a single click from the homepage. All you do is go to the left side of the homepage screen and click/tap on Fetish on the left hand vertical menu bar. This brings up all the spicy seductresses waiting to take you to the next level in a cam adventure. If you want a specific fetish you can also write the genre in the search bar that appears when you select the magnifying glass on the top right of the screen.
HD streaming is pretty much site-wide and if the room isn't HD enabled, then at the very minimum it will be streaming the bondage/BDSM/fetish private live cam show in high-quality SD.
Before you start a show...
Know that prior to making any purchase you can Spin The Wheel and win extra credits - up to 100% double credits in your chosen package. If you're not sure if the fetish femmes at LiveJasmin are what you're looking for, you can always register to the site (free, quick and secure) and receive 10 free sneak peeks of 20 seconds into on-going private shows. This way you can see what the model is up to behind her online closed doors.
Prices for a private fetish cam show start at just $1.20 a minute, averaging out around the $3.60 a minute mark. If you're looking for a cam2cam experience, be aware that this is an additional one to two dollars a minute on top of the advertised chat rate the kink-experienced model sets for herself.
---
FetishGalaxy.com
Just by the title you pretty much know what to expect from this site - a world of fetish live cam entertainment. Every cam model on this site is a skilled and practiced professional at their designated fetish. From world-class dominatrixes and slaves, to expert teachers in orgasm denial and bondage, this is a leading premium webcam portal for those whose sexual tendencies veer to the darker side of deviancy.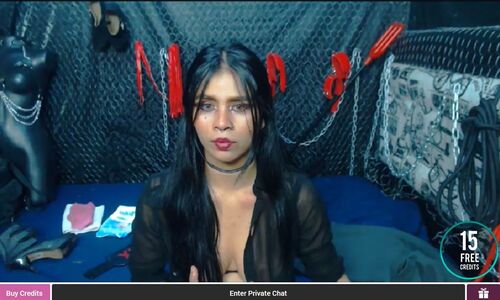 Unlike the major premium private cam sites that feature all types of live sex performances, FetishGalaxy is solely about the caves and dungeon experience, and as such, there are generally around just 150 streaming rooms, as opposed to the thousands of broadcasting rooms online at other sites 24/7. You don't need to click through to the fetish category, it's all there in front of your eyes.
One way to find a model that interests you is to choose a category from the top nav menu, another way is to click on the search icon on the far right top of the homepage and select one of the 27 designated kinks. And, a far more inclusive and interesting way is to simply scroll through the online rooms, that are all labeled as a Professional Dominatrix / Professional Submissive / Professional Educator or Expert (an expert generally is a switch and flexible in her fetish focus).
Before you start a show...
Know that Monday is a great day to take a trip to FetishGalaxy as many of the models slash their private cam show rates by 10% in order to kick the week off with a kink. Also, it's possible to ask the cam performer for a discount code. Many will give a discount that can used for future performances or even retroactively to a show you're already in, if you commit to set block of time.
Prices for a jerk-off instruction (JOI), bondage or BDSM private cam2cam shows start at just $1.00 a minute, with the majority coming in around $2.25 a minute. These rates include cam2cam if you so wish. While the prices are extremely affordable, there is often a pay-off in streaming quality. Not all rooms are HD enabled or even high-quality SD broadcasting - so make sure the room you have chosen is streaming in a resolution that suits your needs.
---
Flirt4Free.com
Flirt4Free is a top-rated premium cam site that has an all-inclusive fetish community where live cam hosts, viewers, educators and devotees of the art gather to swap ideas, information, post educational articles and of course meet-up to arrange one-on-one fetish, bondage and BDSM live webcam shows.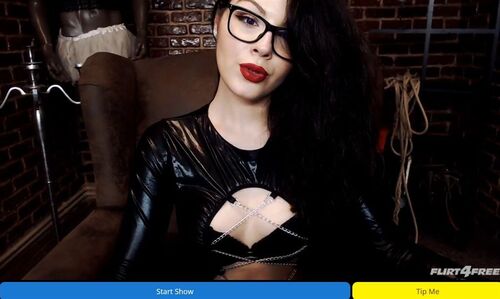 To focus on the fetish at Flirt4Free you have to go to Live Cams (a link on the top menu bar) and then select Fetish from the short drop-down menu. Once you've done this you're in a fetish land where everything goes and ideas are freely discussed between all participants in the community. You'll also find 52 categories to choose from that lists the online experts in each field. Groupings include; cum eating, corporal punishment, anal training, spanking, findom, CBT, and many more. There's also a forum where users and models can interact posting demands and asking questions related to different topics, along with a large library of informational kink-themed articles.
While it's tempting to look at just the models listed in the relevant category to your particular proclivities, you may be missing out on many amazing cam hosts who also specialize in the kink but prefer not to brand themselves as a fetish model. If you go into a model's open chat room, click on the small photo icon of the hostess appearing on the top right above her live feed. This brings up her bio which lists, among other things, her fetishes, fantasies and turn-ons.
Before you start a show...
Flirt4Free is constantly offering deals and promotions that give discounts on chats, extra minutes (even double) on some girls' shows and bonus credits on packages for sale. On the very bottom of any page there's a menu bar with different categories. The first group, Live Chat, features links to Promos / Show Offers and Deals. Check these out before buying credits or booking a show. They can cut your rates significantly.
Private fetish webcam chat prices are somewhat like the kinks themselves, wide and varying. On the lowest end of the scale they start at just $0.50 a minute (though these are few and far between, especially if the cam babe is designated as a fetish expert). Generally they come in at $4.50 a minute and include cam2cam and dual audio. You can also enjoy a kink cam-to-cam date on your mobile device or smartphone.
---
Cams.com
Cams is the top pick for a freemium cam site on this list of the top 6 fetish webcam platforms due to its performers - everyone of whom is an extreme exhibitionist who loves the naughtier side of porn play. With HD streaming prevalent throughout the 500 plus online rooms, along with competitive private chat rates, Cams is freemium fetish stand-out star.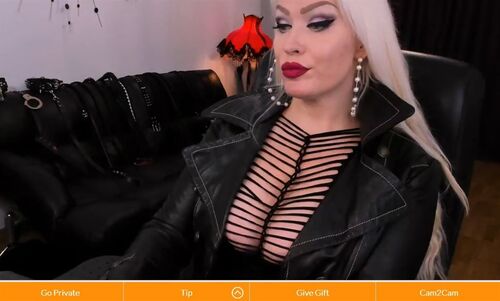 When it comes to finding a kinky BDSM live chat playmate you simply go to the left of the screen and look though the vertical menu until you come to kinks. Bondage, vibrators, foot fetish, heels - they're all listed and more - along with the number of cam partners in each group that are currently online. If your particular perv isn't listed you just go to the top of the screen and click on the magnifying glass icon located to the right of the Cams logo. This brings up a search box. Type in your fave fetish and enjoy the results.
It's worth pointing out though that if you do it the latter way, the site brings up every model that's tagged themselves with the relevant word, whether they're online or not at that moment. Regardless of how you find your fetish cam girls, it's worth checking out her bio in the open chat room (available even if she's offline) and seeing what kinks she's into and types of role play.
Before you start a show...
Cams doesn't host special offers and promos like many of the other sites or even have a significant VIP membership program, but the girls themselves can give you a great price break on their live BDSM/fetish chat. Once you've found a partner, it maybe worth your while to join her Fan Club. This costs between $10.99 to $14.99 each month, and among many other benefits, it can give you up to 70% off private chat rates for that model. If you're looking to have several encounters with her or even just a one-off one of 15 mins plus - it may be financially smart to join up beforehand and get that mega discount.
Before a discount, rates generally stand around $3.00 a minute though there are many rooms available at the cheapest price of $2.50 a minute.
---
LivePrivates.com
LivePrivates is a kinky kingdom filled with sovereigns of live sex chat. The cam hosts at LivePrivates are the Olympians of private cam performances, so if you want gold-medal winners that'll take your fetish fantasy to heights you've never ever dreamed of - then LivePrivates is going to be your porn paradise.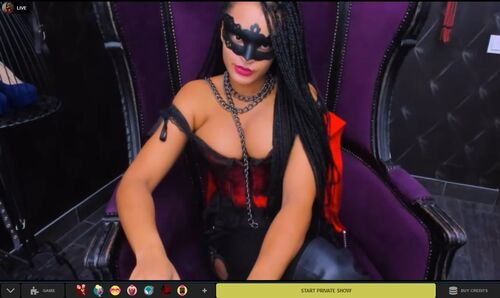 If you manage not get too distracted by the gorgeous girls on the homepage and want to go directly to the fetish loving femmes (which most of them are), a quick trip to the left vertical menu bar shows different categories of kinks including; dominantix, submissive, role play and the more generic cover all - fetish.
Obviously they don't list every porn penchant on the menu, but if you go to the top right of the page and in the white search box type in your particular predilection, the results then feature all the glamour girls that are so inclined. When it comes to narrowing down these results by streaming quality - you don't have to. Almost every room is HD enabled (if not HD+) and the rare few that aren't yet, will be broadcasting in high-quality SD.
Before you start a show...
Don't dive into a show without first checking out the rooms that are hosting a time-limited pop-up sale. Some of these extreme empresses slash their regular private chat rates for 24 to 48 hours. You can find these rooms by clicking/tapping on Sale in the main page's left menu bar. And, before any credit purchase, Spin the Wheel to get your hands on additional free credits.
Prices at LivePrivates come in at an average of $3.50 a minute, with the lowest rooms edging in at $1.20 a minute. These rates though don't include cam2cam and 2-way audio. If you want these two features, you'll need to add an additional $1-2 a minute for each.
---
XLoveCam.com
If you're looking to play online bondage with a Brit, or maybe you're more into a Dutch dominatrix, a Spanish sub or a Hungarian humiliator, then without a doubt XLoveCam is the top recommendation for a continental buffet of live cam fetish options.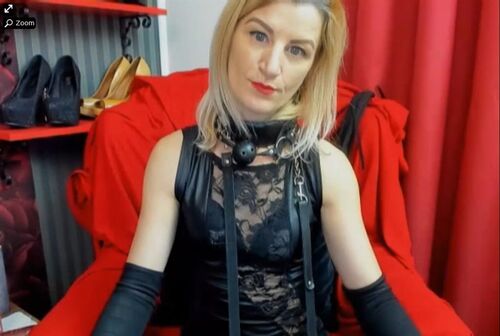 To get to the ladies with the love of spice and all things nice, simply go to the left menu bar on the homepage and in the Categories group, select Fetish Females. While this certainly brings up a fair share of dungeons and caves, it doesn't necessarily show you which fetish the porn princess practices. To find that out, you'll have to go into her room and check out her info (bio).
The best way to find your perv partner is to simply go through the rooms and if one catches your eyes - click through and select the small info button in her room. This gives you all the details you'll need including what she likes to do in her show and which are her fantasies.
Before you start a show...
Like FetishGalaxy, Monday is a great day to head over to XLoveCam. While the bondage and BDSM loving babes aren't giving special one day discounts, many of them do perform topless on Monday in their free chat rooms. Also - if you sign up as a member to the site (which is free, fast and safe), you get a X-rated video to view as a welcome gift.
Prices are low at XLoveCam, expect to pay around $1.80 a minute for a fetish webcam chat - with many rooms starting at the lowest rate of just $1.10 a minute.
---
Conclusion
The sites above cover the range of private sex cam sites, from premium platforms to freemium sites and of course fetish-centric hubs. Each has different strengths and prices vary wildly for a one-on-one BDSM cam session - it all depends on what you're looking for and where (and if) you're prepared to compromise.
If you're the type that doesn't want to compromise on anything and will only settle for the best of the best - then the cream of the fetish cam crop is undoubtedly LiveJasmin. Amazing models, top-notch streaming, easy-to-find kink and fetish-focused performers, and some deals and specials that can make an unforgettable live sex session affordably pleasurable.
As for what comes next - well that's in your hands...