Cams Review – Interactive Sex Chats with Stunning XXX Models
Last updated
January 03, 2021
From the moment of its inception, Cams has striven to provide its members with a true interactive live porn experience. Its unique features were all designed to increase your involvement in either public or private sex shows. We are especially referring to the HD broadcasting quality which is a standard on the site and the Connexion features that gives the model control over your sex toy.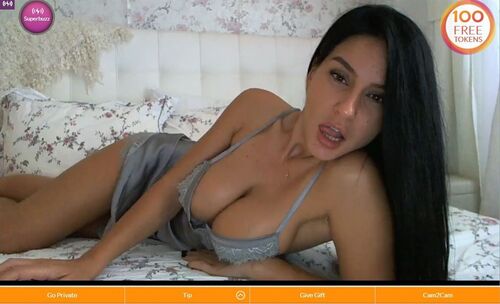 Cams is a premium website, which means you won't get to see much nudity in the public show rooms. Most of the action on the site happens behind the curtain, in paid-for private sex shows.
In Brief
If we were asked to describe Cams in no more than a few words, we would probably say 'multiple and unique chat features'. Apart from a variety of chat options, the site offers the Connexion through which a performer can stimulate you, considerably upgrading the show by turning you into an physically active participant. You'll also be able to go on cam to cam in public rooms, not just during 1 on 1 chats.
The large majority of the performers broadcast in HD (720p) and some even use +HD (1080p) cameras promising that you won't miss even the tiniest spot on their body.
The galleries on the site's main pages don't display a video preview, or even a recent snap shot of the action in public chat rooms, so you won't be able to know what is currently happening in these rooms without actually entering them.
What we did like about the models' galleries is the option to move them to the bottom of the page by using the arrow sign. This will help you get rid of the ones that don't interest you by simply removing them from view.
The Webcam Models
At every given moment, there are 500-600 active models on Cams waiting to chat with users either in public or in one on one sex shows. To find exactly the type of model you're looking for, you can make use of a filter that sorts out shows based on type, a model's features (age, ethnicity, body type and hair color), specialty (e.g. couples, threesomes, girl on girl, milfs, etc.) and kinks, for the fetish lovers.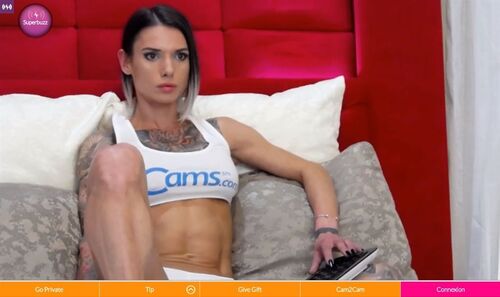 In addition, the site contains more than 150 tags with most of the sex themes you'll be able to come up with - from #ass, #cum and #teens to #squirt and #role play. Each category and tag appear with the number of performers affiliated with it.
The Females
Female models constitute the majority of the performers on Cams. At any given moment, there are hundreds of breathtaking xxx girls in the site's hi-def chat rooms. All are dying to entertain you in cam to cam sex chats.
In the Girl on Girl and Threesomes Cams categories, you'll be able to find lesbian and three-girl live porn shows. Take into account that these categories may also contain single models, so don't be disappointed if at a specific point in time, you won't come across dyads and triads. You just need to be patient until the couples or threesomes you'll want go into private with, appear online.
The Males
Cams takes seriously the aspect of adult male entertainment with more than 70, always online, good looking bears, otters, cubs, circuit queens, gipsters, daddies and wolves made available to you in its chat rooms. With so many six pack abs all over the place, you'll definitely feel you have reached a gay live porn paradise.
The Trans
The trannies section on the site is relatively small with around 30 models always present, ready for chatting. But they're all really lovely and extremely enthusiastic about the prospects of meeting users online and performing for them.
Chat Room Features
Most sex action on Cams starts in the open chat rooms from where you'll be able to move on to 1 on 1 shows. The open rooms allow any registered user to publicly chat with the models and, of course, send tips. The site makes it much easier to deal with tips with Buzzmode, through which a user can send the performer Cams Tokens by just tapping on the live show window. As awesome as this feature may seem, when you use your smartphone, you should be careful not to press the window accidentally as you may find yourself spending site Tokens sooner than you had planned.
Each room contains the model's profile (with important details like age, height and weight, ethnicity and country, the languages she speaks, sexual preferences and bra size), her free and paid-for nude photos, Connexion tipping rates, her kinky attributes (e.g. trimmed pussy), information about her fetishes, users' feedbacks, access to her Fan Club (see below), wishing list and a collection of virtual gifts she'll be happy to get from you in the form of Tokens.
Going Private...
Once you press on Go Private in a model's public chat room, you enter a solo area where it's you and her alone. Occasional peeks from other users may happen, but the peekers won't be able to see you, only the performer.
A private live porn show requires Tokens and each model has her own rate. Take into account that activating your webcam for a cam to cam sex chat will require an additional rate on top of the regular room rate.
As mentioned earlier, on Cams, the Connexion feature makes it possible for the models to control your sex toy (in case you use one) and, therefore, draw you into a truly interactive one-on-one porn show. Cams is not the only adult cam site that has this technology, but it's the only one where you'll find dozens of models applying it.
Show Types
Cams offers other show types apart from public and private cam chats.
Group Show
These are multi-user shows where all participants can fully interact with the performer. Nudity is included.
Tip Shows
Marked as Free Tip Shows on the models' preview galleries, these performances resemble free chat with extra emphasis on tipping and higher chances to see nudity. Some models will request an entrance fee to start watching them perform (usually around 20 Tokens). The models may also present their tip goal. Cam to cam is not possible during this type of show. Neither will you be able to take the model to a private sex chat during this time.
Voyeur Shows
If you're into spying on others, Voyeur Shows will let you peep at private sex shows on the site at the same price a minute of the model's regular room rate. All adult cam sites enable this feature, but on Cams it is much more expensive.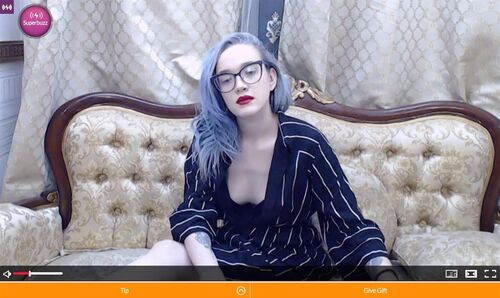 Webcam Broadcast Quality
Streaming quality on Cams is just great. Almost all models on the site broadcast in HD. We are now looking forward to the new phase of webcam technology - 4k sex cams. Today there are already adult live porn sites who have started deploying these high resolution cameras. Hopefully, Cams will follow suit.
Mobile Device Interaction
Cams' interface on mobile presents as well as it does on a desktop computer screen, with all features visible to users. This excellent responsiveness promises improved user experience.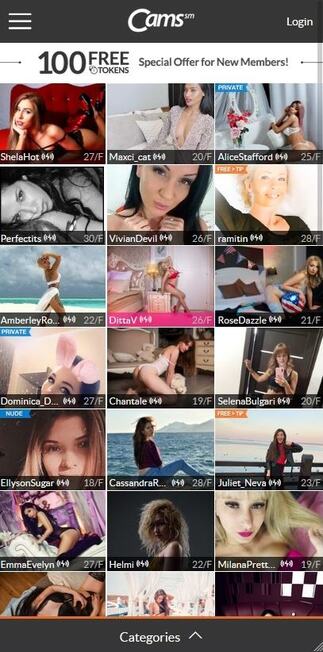 However, upon entering into a model's cam room, the text chat space takes up a lot of the screen. Other sites use a text overlay on the video feed when in portrait mode. If you turn the chat room into landscape mode, you may enjoy the experience more.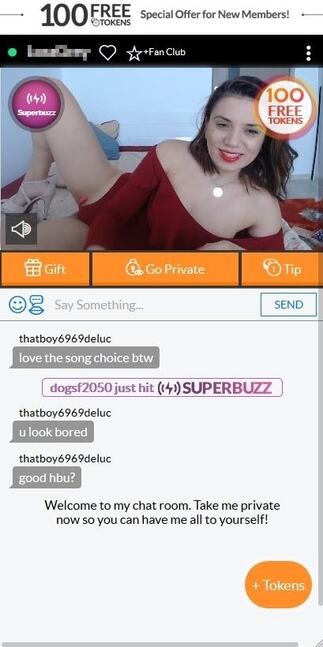 Moreover, Cams does not have c2c on mobile. That makes its mobile apparatus inferior to sites that do allow you to carry out cam to cam chats on your smartphone.
Registration
Cams is open to guests. You can enter any public room you want and even chat with most of the models with no need for signing up. However, the models will tend to prefer registered guests. In addition, if you want to start using the site's features, engaging in private sex chats in particular, registration and purchasing site Tokens are a must.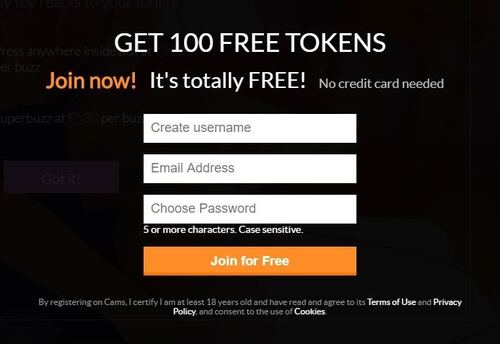 Signing up for Cams is simple, fast, and as anonymous as you would like. You just need to provide a user name, a password and an email address, and you're in. As shown below, upon signing up and making your first purchase, you'll get 100 Tokens for free, as the site's current promotion.
Cams Tokens Packages
Cams offers 4 basic Tokens packages. 1 single Token costs around ¢10. The more Tokens you buy, the cheaper the per Token price becomes.

The sites enables Token Autoload, which will automatically re-up your account with 200 Tokens at a price of $20.00 every time it goes below 100 Tokens. To get unused Autoload Tokens back to your credit card, you'll have to turn to customer support.
Payment Methods
Cams offers users fewer paying methods compared to its peers. They include:
Credit card (Visa and MasterCard)
Bank transfer
Paying via post mail (mailed checks)
Prices
The following are Cams' chat rates, not including special offers and discounts
| | |
| --- | --- |
| Sex Chat | Cost |
| Average rate/minute | $3.00 |
| Cheapest rate/minute | $2.50 |
| Most expensive/minute | $5.00 |
| Voyeur show/minute | $2.00 - $4.00 |
The site's advanced search tool doesn't enable users to sort out models based on their chat rates. You'll only know the model's price when you invite her for a one on one sex chat as rates are presented before you choose to start a show.
Cams' Premium Membership
Cams offer its members two types of premium membership. The first, Premiere Membership, will cost you $19.99 for 1 month or $41.97 for 4 months and it includes substantial benefits like 10% off all live sex chats, 5 free recorded shows of any model on the site, free access to thousands of webcam galleries, free emailing to any model (by tapping the Contact Me on the model's chat room), a special tag to differentiate you from regular members and help you gain the model's attention and priority customer support 24/7.
The second, a VIP Membership, is a free upgrade a member can request by sending the site a copy of a credit card for verification purposes. VIP members have unlimited daily spending privileges (Other members cannot exceed a limit of $750 a day), free access to 25 free recorded shows, 5% on every purchase made by a bank check or money order and 6 free months of Premiere Membership.
Members can choose to show their loyalty exclusively to a model by joining her Fan Club. On each performer's room you'll see a link that will take you to that club. For a price of $14.99 a month or $32.97 for three month, you'll reap special benefits among which are 70% off private nude sex chats with the model, free access to the model's recorded shows, her fan club videos, nude show photos, and email tools that will allow you to initiate a passionate correspondence with your beloved model.
A user may also become a model's top admirer by surpassing the maximum tip amount she has accumulated in the last 30 days (You can see the tip amount on each performer's chat room). By becoming an admirer, you get some special perks, such as a special icon next to your name, free Access to the model's nude show photos and recorded shows and unlimited messaging options.
Customer Support
Cams doesn't have online support. Instead, they offer technical and billing support through email or phone. If you scroll down the homepage, you'll reach a link to the site's Help/Contact section. On that section, you'll also find an elaborate FAQ with valuable information that will definitely assist you in understanding many of the site's operational aspects.
Postives and Negatives
Postives
Most public and private sex shows are broadcast in hi-def
Hundreds of performers are online at any given moment
A big gay section with plenty of male performers
Advanced search tool enabling users trace the specific type of model they wish to chat with
The Connexion feature allows a genuine interactive sex experience
Premiere and VIP Membership give members great benefits
Safe and trusted payment processors, and discreet billing
Users can express their loyalty directly to their most favorite model
Negatives
When models do a public nude show, no option to take private
Users have to pay extra for cam to cam
Models galleries on the homepage are static with no video preview
Buzzmode may cause mobile users to spend Tokens accidentally
No c2c on mobile
No live customer support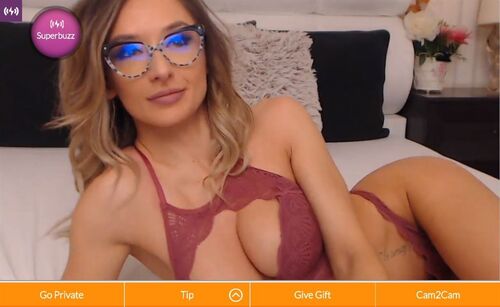 On The Whole
Cams lays strong emphasis on interactive live sex. Its Connexion feature enables users to take an active role in private sex shows beyond just being a spectator. Through a model's Fan Club, fans can get more personal with a favorite model by directly showing appreciation for the model without the site standing between them.
True, chat rates are a bit high, especially if taking into account that operating cam to cam demands additional payment. However, all things considered, the myriad of beautiful girls the site hosts, the improved streaming quality and the options for an interactive chat experience, it is in our opinion that Cams is a good cam to cam site worth the extra buck or two you'll have to spend to privately watch a hardcore performance.
Adding certain features, such as mobile c2c and live support, would turn Cams from a good live porn site to an excellent one, maybe the best in the field.