xLoveCam Review - Euro Babes Host Private Cam Chat
Last updated
January 09, 2021
xLoveCam is all about cam chat. There are no bells and whistles at this site to detract viewers from the site's main premise, which is hooking up cammers with some of Europe's hottest live sex performers. The site doesn't host a variety of different cam chat shows, here's it's either a free public hang-out where you can get to know the continental cutie - or a private chat show between the two of you. If you're looking though for a low-cost 1on1 X-rated cam date with a foreign femme, xLoveCam is a great place to kick off your European tour of totties.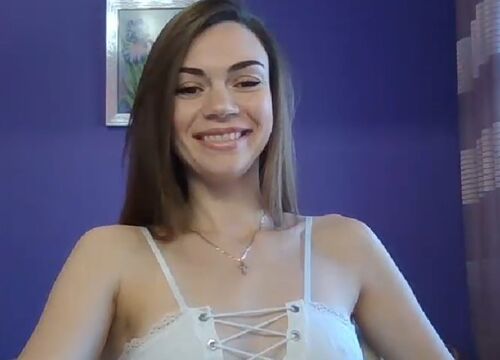 xLoveCam doesn't have a huge selection of models to choose from like other sites, but what it does have is a carefully curated selection of some of the sexiest amateur and semi-pro European cam sex exhibitionists. There's normally around 300 hosts online 24/7, but don't expect great broadcasting quality. Prices here are super-low at the expense of the streaming quality. So, if HD or HD plus is a must for you, there's an extremely limited choice of these rooms.
In Brief
xLoveCam has been around since 2006 as a platform focused on bringing together hot girls from across Eastern and Western Europe with cam users worldwide looking for some cheap cam2cam fun. The site can be viewed in 27 languages which makes it a great option for those whose mother-tongue isn't English.
Most of the model's are bilingual, if not tri-lingual with almost all speaking a high level of English. While the site only allows you to search for models speaking the major European languages (German, English, Spanish, French, Italian, Dutch and Portuguese) many are also fluent in Eastern European dialects. If you hover over the static snapshot of a girl's room in the homepage gallery, small flags appear on the top right of the photo indicating which languages she speaks.
The moment you land on a photo a live feed automatically comes through showing what the babe is up to in real-time in her online bedroom. If you like what you see and decide to click through into the room, the video window appears immediately, but sometimes it takes a few seconds or more for the resolution to settle down into the best quality available.
The Webcam Models
If you're looking for guys or transgenders, xLoveCam doesn't have a great selection - this platform is all about the pussies. And when it comes to the ladies, they cover every appearance, fetish, age and body type. You can narrow down your selection with options such as shaved or hairy pussy, bust size, MILFs, interactive sex toys and those that are into all types of kinks.
So, if you're in the mood for a Portuguese bondage babe, a French findom mistress or Russian student just starting out as a live porn performer, there's a good chance she's on xLoveCam right now.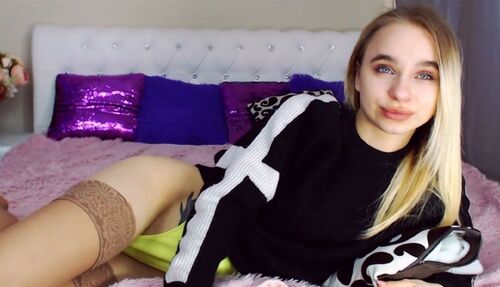 On the left of the homepage the menu bar lets you narrow down the rooms to those that tick your boxes. You can see how many babes are streaming in each sub-category. For example, if you go to the bottom and select Ethnic Group, you can choose from Arab, Asian, Black, White and Latin. As a Euro-based site, there's usually a few hundred that categorize themselves as white with just a handful in the Arab, Black and Asian groupings.
A useful feature many of the cam girls use at xLoveCam is an online availability schedule. Once you click into their chat room, at the top of the live video feed are links to a variety of features including the girl's bio, additional media she's uploaded and a calendar showing when she's normally online. So, if you've gotta fave femme and want to time your visit with hers, check out her schedule and you can see when she opens her cam and hangs out on the site.
If you are in a room and decide to leave, unlike most sites you don't use the back arrow button on you browser, you instead have to close the room by clicking on the small x button on the top right of the room. But, if you want to see more girls and don't want to take your eye off the action, you can instead select the icon next to the x button which turns the video feed into a pop-up window and takes you back to the gallery of girls without closing the live video.
Chat Rooms Features
The photos of the cam host on the homepage automatically appears as the profile photo the girl has chosen. However, if you would prefer to see a more up-to-date image, go to the left menu bar and scroll down to Profile Photo. By selecting this, the site will bring up Webcam snapshots. These are images grabbed moments before from the live feed - so you know what you're seeing is what you're going to be getting when you click through to the room.
If there's a small red box on the bottom left of the image it means the girl is engaged in a private cam show. In this case no live feed will appear when you hover over the photo.
Going Private
If you're a boob boy, then Monday is a great day to log into xLoveCam. Every Monday the site starts the working week off with a bang with most cam models performing naked from the waist up in their public hang-outs.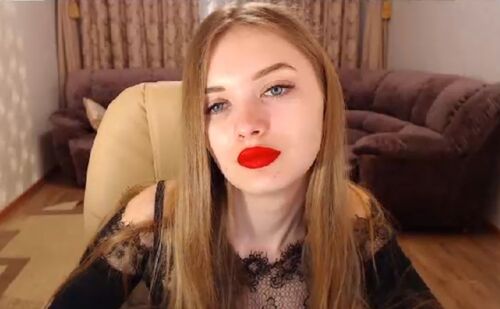 xLoveCam is a premium cam site, which means officially no nudity or explicit acts are meant to take place in the free rooms. Unofficially, many girls tends to break this rule. While you won't see the amount of hardcore shows that take place in the open rooms like you will on freemium sites, many girls do push the boundaries using sex toys and flashing tits, ass and vaginas if they think it'll be the push needed to get you to invite them into a paid-for private cam session.
Show Types
xLoveCam offers one type of chat - and that's1on1 cam time. There are different ways at different rates to see the action - but unlike other sites, there are no group powered shows or multi-user events.
Free Chat
Once you're in a room, you can zoom in on the action for free. On the top left of the video there's a small magnifying glass icon. If you click/tap on this you can enlarge the video up to 300%. However, it doesn't always work, but when it does, it gives a great close-up of the body part that you've got your eye on.
If you are in a room and have yet to register or log-in as a user, the site will log you out of the room after a minute. If you've taken advantage of the platform's quick, easy and free sign-up process, then as a registered member you can spend as long as you want in the room.
You can also tip the girl, or as xLoveCam terms it, you give her a Bonus. This is simply acknowledging that you're enjoying your time with her, it doesn't necessarily mean she'll perform a specific sexual act. Most won't and will ask you go private for that.
Private Video Chat
To start a private 1on1 cam show you simply click/tap on the large yellow Enter a Private Show button located to the left of the video window.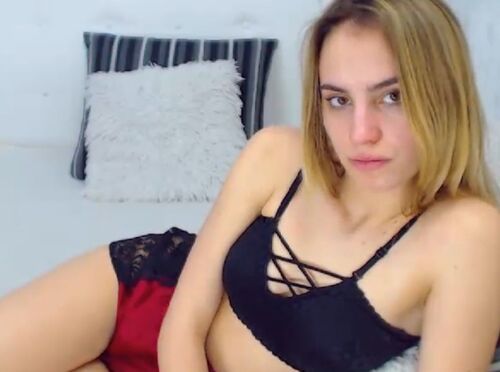 A Private Show is just between you and the cam girl, however others can take a peek into the action, though they can't communicate with the performer. Most girls include cam2cam in their rates and happily will turn the session into a c2c, but check with them before going private as a small percentage aren't cam to cam friendly. To open your cam, you just click/tap on the small webcam icon that will appear on the bottom of the message box once the private session begins.
Xclusive Shows
The difference between a Private Video Chat and an Xclusive Show is that no other users can take a peek at the action. The virtual curtain is firmly closed and everything that takes place is exclusively between you and your Euro cam model. This does come at a premium, with some girls charging double the rate of a Private Video Chat and others adding a 50% increase. It's up to each girl how much extra she'll ask for.
SneakPeek
A SneakPeek is the cheapest way to see some X-rated action. For just under $1.00 you get a 20 second look at an on-going Private Video Chat.
Webcam Broadcast Quality
Unfortunately, xLoveCam is still suffering from streaming issues in many rooms. While an increasing number of the continental cam hosts are broadcasting in HD and HD plus, they are still in the minority, most of the girls broadcast in SD.
To select only those rooms that are HD enabled, you have to go to the first group in the left hand menu bar - Sorting - select this and then from the drop-down menu choose HD videos.
Mobile Device Interaction
If you are accessing the platform from a mobile device or smartphone, you'll be in for a smooth and user-friendly experience. The mobile version provides pretty much all of the same options as the desktop version, with an added benefit.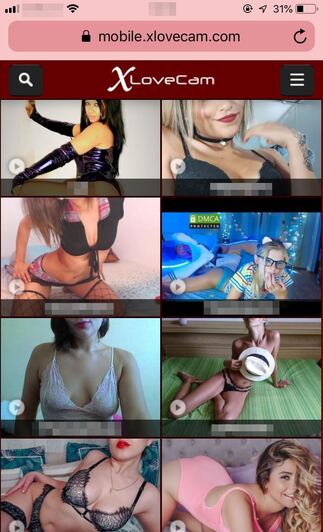 If you click or press a snapshot a full screen video immediately appears of the open chat room, with the message box coming up as transparent. This enables you to chat to the cam girl, without missing a moment of the action.
Cam2cam and 2-way audio features are both available when accessing XLoveCam over a mobile device.
Registration
Membership to XLoveCam is free, secure and the sign-up process only takes a moment to complete. It also provides members with extra perks and benefits that don't cost a penny. To sign up all you need is an email address, a username and password of your choosing.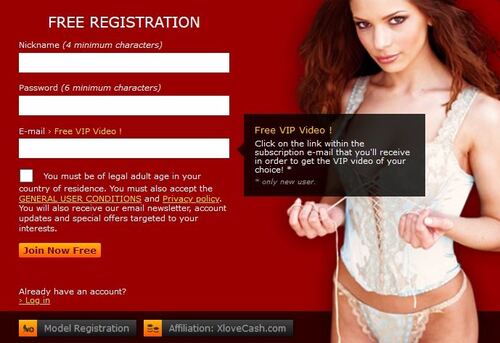 As a welcome gift for new members, the site awards a free VIP XXX video that you can choose from one of the thousands of naughty movies performers have uploaded to the site. It's worth taking the time to go through the videos and before you select one, see how long it lasts for. Some are short clips of no more than a minute, others are lengthier, lasting ten minutes plus.
If you sign up and verify your email, you receive a free VIP video (A recorded video of private session of your choice) worth 15 USD.
xLoveCam's Credit Packages
Before you start a private live sex cam chat session at xLoveCam you'll need to stock up on site credits. One credit is equal to one dollar.

Packages vary depending on where you're located. For example, if you're in Europe the pricing will appear in Euros and may offer different value options.
Payment Methods
The site offers a wide variety of payment methods including:
Credit Card: Visa, MasterCard, Discover, Diners Club, Maestro, JCB
Paysafecard
Bank Wire Transfer
Options vary depending on where you're geographically located.
Prices
The following table gives an indication of the prices for a private cam chat encounter at xLoveCam. All rates include cam2cam and 2-way audio usage.
| | |
| --- | --- |
| Sex Chat | Costs |
| Average Rate/Minute | $1.80 |
| Cheapest Rate/Minute | $1.10 |
| Most Expensive/Minute | $3.40 |
xLoveCam's Membership Program
Unlike most cam sites, there's no global membership program at xLoveCam. Some of the performers offer their own VIP packages for a monthly fee. Prices vary with some performers charging $17.00 a month and others hitting a high $40.00 a month.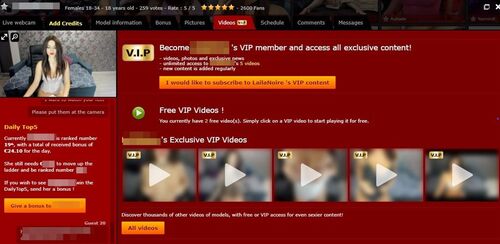 Your monthly subscription basically gives you access to all their media and some will host VIP shows where they'll perform exclusively for members of their VIP club.
Customer Support
The site provides 24/7 customer support through it's live chat support room. You can also message the xLoveCam team via a contact box. At the bottom of the homepage there's a Contact Us link that you select and a messaging box will appear.
There's also an extremely comprehensive FAQ section that covers all major questions.
Positives and Negatives
Positives
Great selection of amateur Euro cam models
Topless Monday in free chat rooms
Cheap private live sex cam chats
User-friendly search features
Site available in 27 languages
Cam2cam included in all rates
24/7 customer support
Negatives
No site-wide VIP membership program
Limited number of HD rooms
Not many Asian, Ebony or Latina cam models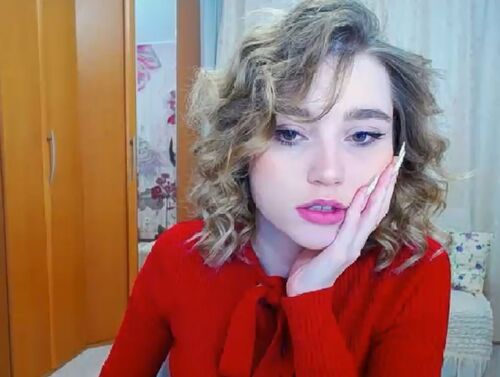 On The Whole
xLoveCam is a great site if you're looking for a low-cost 1on1 cam2cam sex chat show with an amateur European babe. This is not the site to go to if you are looking for a sleek, professional live sex performer streaming in HD from a highly stylized studio backdrop.
Almost all the models are conversational, if not fluent in English, and genuinely enjoy chatting to new friends from across the ocean. While many will push to start a private cam show, just as many seem to be happy to hang out in their open rooms and get to know a new foreign friend, with potential sexy benefits.
So, if you're into angels with accents and have a yen for a sexy señorita or a fetish femme, xLoveCam has them online right now, looking for a chat mate.