LivePrivates Review - Premium Private Chat
Last updated
January 10, 2021
LivePrivates is an exclusive, luxury adult cam to cam site that appeals to users looking for a premium one-on-one sex chat encounter with A-list cam models. The site provides top in class features in every aspect of its capabilities. From private cam girls that must pass a stringent vetting process in not only appearance, but personality, performance and languages - to HD and full HD streaming throughout and of course a user-friendly search engine and sex categories (kinks and fetishes).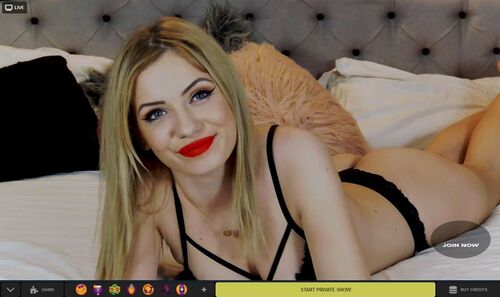 LivePrivates is focused on providing its guests with a five-star experience that sets itself apart from many of the more generic crowd-populated cam sites. LivePrivates only allows the most in-demand live private sex cam performers to stream under the site's brand name. While it most certainly is a sex video chat platform, the seduction that takes place in publicly accessible chat rooms is refined and discreet. The girls do not engage in full nudity or sexually explicit talk. The models perform in private and their performances are erotic and explicit.
In Brief
LivePrivates is a veteran in the arena of live cam to cam sex chat sites. Since its inception in 2004, the site has kept strict adherence to its premise that only the best models, the highest quality of streaming and a deep learning interface and search engine will power its mission to bring an unparalleled quality of private cam chat to a sophisticated audience. It doesn't attempt or seemingly want to attract the masses of adult chat voyeurs, rather it appeals to a select contingency of people looking for only the very best in live cam private video chat.
Whilst it enforces strict requirements that all cam performers must pass in order to qualify for inclusion in the site's gallery of models, this doesn't mean the site has a limited offering of adult entertainers on its books - quite the opposite. With so many clamoring to be admitted as a LivePrivates' host - the site enjoys an unprecedented number of online private sex cam rooms compared to many other premium X-rated live video platforms. At any one time you'll find around 1,000 babes engaged on the site, with tens of thousands more registered, but offline at that moment.
It also has a strong showing of both gay and bi men (with a handful identifying as straight), along with a small number of transgender girls. One of the first things you notice when looking through the gallery of photos is that all of the women are bona-fide models with online look-books featuring a bio, photos and even HD video clips. These are no fly-by night performers, they've invested time, effort and have experience - and it shows.
The Webcam Models
The site has the three major sections of cam models grouped under the relevant titles - Girls, Boys and Tranny. The search filters then enable you to narrow down your searches depending on the focus of your preference, be it Ethnicity, Language, Willingness (specific fetishes and kinks), Appearances, etc.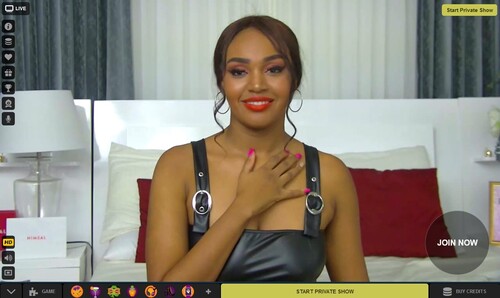 As you enter into a gender type on the site, the category choices for the online models will present relevant choices for that gender.
The Girls
LivePrivates' cam girls run the gauntlet of looks and features, ensuring a comprehensive selection geared to all preferences. Performances take place in highly stylized studio settings representing luxury boudoirs and are professionally lit to optimize all viewpoints. The models use the camera angles to their full advantage, ensuring very little off-camera action. And of course, the cam performers themselves are stunningly dressed and glamorously presented.
The Boys
The overwhelming majority of the male cam hosts are categorized as gay, though there are some bi and straight identifying performers. It is not, though, LivePrivate's strongest section. Search filters for the men include groupings such as Build (twink and bear), Willingness (fetishes), Penis Size and more.
Tranny
LivePrivates has one of the highest rated transgender categories in the world of premium webcam platforms. They cover all ethnicities (Asian, Ebony, White and Latin) but as with most sites, the majority, though by no means all, are either Asian and Latin. These performers are generally male to female trans.
Chat Room Features
It's free to enter a model's public chat room. Her chat room provides a brief overview of her background, along with glamour photos (some of which are free and other, more explicit nudes, can only be viewed with payment). You can message the cam girl in her room, but only if she is online and not otherwise engaged in a private session or show. Features in these rooms include the option to send a model a Surprise (a way to tip the performer), the ability to rank her performance, and add her to your list of favorites.
Going Private..
Once inside a public chat room, you simply select Start Private Show. Once the show begins you then have the option to enable both cam2cam and two-way audio features, if applicable. These features appear at the bottom left of the video feed and must be manually selected.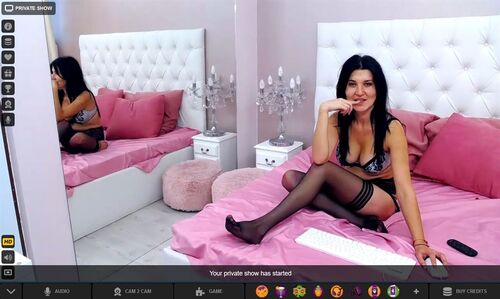 Show Types
There are a variety of ways in which to interact with the cam host. These range from public messaging in the open public chat rooms, private chat sessions, along with a VIP Show and Peeks (the latter two are voyeuristic options that let you look but don't permit interaction between the cam model and the audience).
FREE CHAT
If a girl is online but not taking part in a private sex cam performance or a VIP show, she'll be entertaining in her open chat room. Here you can message them and get to know them and whether they're in line with your preferences. While the girls are adult cam performers, there is no nudity or explicit acts and talk in these rooms.
PRIVATE CHAT
Private Chat is the best option if you're looking to enjoy some X-rated moments with your chosen model. Once in a private mode, the clothes come off and the show truly begins. Full nudity and sex acts are under your direction. But, first check before starting that the cam babe agrees or has listed in her bio that she's inclined to perform whatever specific sexual kink you're looking for. Cam2Cam can be operated in private shows with some women (not all) allowing 2-way audio communication for an additional charge.
VIP SHOW
VIP Shows are a cheaper way to view xxx live sex performances. The cam host determines how long her show will last for (anything between 3 to 15 minutes). Once a girl decides to host a show it appears in both her feed and under the VIP Show category. She has a limited time frame in which to reach a targeted number of tips. If you decide to watch the show - you tip her the amount she has stated an entry will cost. If, though, by the end of the time frame she hasn't reached her target amount - the show is canceled and your money refunded.
PEEKS
This unique feature lets the visitor silently enter a private chat session for 20 seconds. You have no cam2cam, 2-way audio or messaging capabilities - it's a purely voyeuristic glance at what is going in a model's ongoing show. These generally cost just one credit and are a great way to preview what to expect if you are considering going private with the selected cam girl.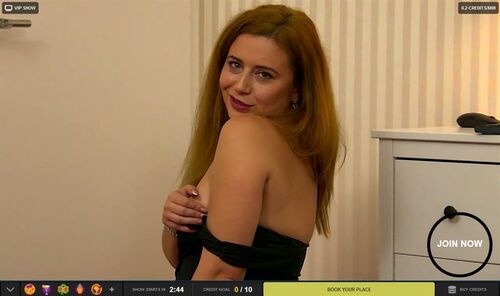 Webcam Broadcast Quality
As a premium award-winning X-rated webcam platform, the streaming is in the upper leagues. Expect to see most of the rooms providing HD 720p or even in Full HD 1080p broadcasting. Saying that - it isn't quite yet standardized site wide. In the search categories you have the ability to filter down your results to only those rooms that have Full HD streaming. Sometimes you'll have to manually switch on the HD quality by selecting the HD icon that appears on the left side of the girl's video feed. If no HD option is available, the icon won't be visible. Lower priced chat rooms and new performers (Newbies) at Live Privates may not yet be Full HD activated.
Mobile Device Interaction
It will come as no surprise to know that LivePrivates' mobile version is far superior to any of the crowd-powered live cam sites. If you're accessing the site from a smartphone, tablet or any other mobile device, the site intuitively loads according to the mobile specifications and not in the general PC desktop version.
The opening page features scrollable snapshots of online models. To view more models you simply continue scrolling until someone catches your eye. The only text on the photo is to indicate if the webcam babe is currently in a private sex chat session or starting (or has started) a VIP Show - otherwise nothing else obstructs the image.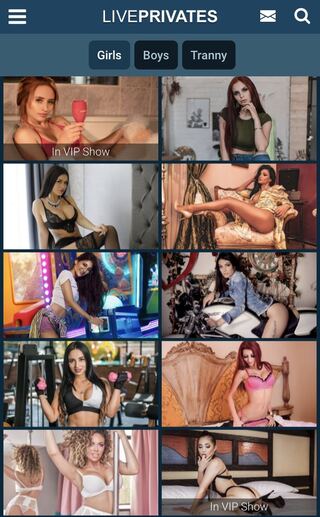 Mobile private chat is well integrated with both cam2cam and 2-way audio. And, just like on desktop, these features do cost an additional credit or two per minute to use them on mobile devices.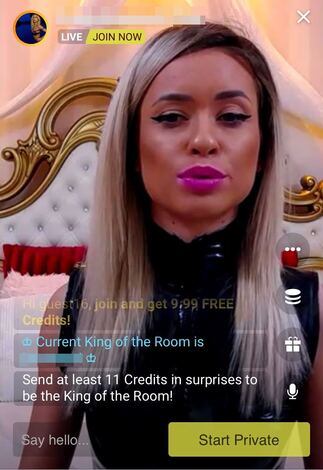 Once you are in a chat room, the messages appear as a user-friendly transparent overlay on the image rather than totally cutting off a third of the video feed, like you'll see on other sites.
Registration
It doesn't cost to register as a LivePrivates member, but this doesn't give you any additional access to site features. Registration requires a username and password of your choice and a valid email address. The site will send an automatic validation email with a link that must be activated and only then will your details be logged as a verified LivePrivates member.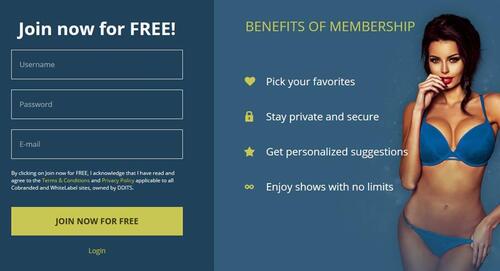 Once you register, the site offers a complimentary 9.99 free credits if you provide credit card details. No purchase needs to be made and the site credits are gifted upon validation of the card. The free ten credits can be used however you choose including one-on-one cam2cam private chat and VIP Shows.
The site takes security and discretion as a major focus and features multi-faceted encryption layers to ensure all details are secured and kept private.
LivePrivates Credits Packages
The site offers a variety of credit bundles. In addition to paying by credit card, you can also pay by cryptocurrencies (over 50 types are accepted), along with PayPal, a wire bank transfer or even redeem brand / store gift cards into LivePrivates credits.
The decision is yours depending on your priorities. Some prefer the anonymity of using PayPal or cryptocurrencies. Others prefer to go offline with a bank transfer. Once you determine your payment method - the site offers differing pricing packages.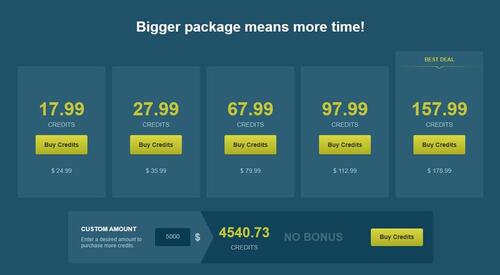 You also have the option to create an automatic top-up of credits if you pay by credit card. The Smartbuy feature is available if you choose to purchase credits on your credit card. If your account falls below 7 credits, the site will automatically charge to your card the 27.99 credit bundle, ensuring you never find yourself with 0 credits in your account.
PAYMENT METHODS
The site brings up the pricing box shown above when you go to buy credits. To choose other payment options as mentioned above, you simply go to Payment Method in the bottom of the box and choose your preferred method.
The options are not globally available, so depending on your location, not all the choices listed below may be offered:
Most major credit/debit cards (except American Express)
Paypal
Store / brand gift card redemption
Over 50+ types of cryptocurrencies
Bank wire transfer
Skrill
Webmoney
ACH - Online Checks
Pay by Phone
On the bottom nav bar of the homepage there is a comprehensive FAQ section that lists in detail all the payment options, along with billing information. In order to ensure complete discretion, the site name will not appear on your billing statements, instead the charge appears under the name of the payment provider used.
Prices
The below table gives you a broad outline on how much to expect to pay for your one-on-one private webcam sessions. These prices don't include the use of c2c and 2-way audio, which is an additional $1.20 to $2.40 per minute.
| | |
| --- | --- |
| Sex Chat | Costs |
| Average Rate/Minute | $3.50 |
| Cheapest Rate/Minute | $1.20 |
| Most Expensive/Minute | $12.00 |
| VIP Shows | $2.40 - $6.00 |
| Peeks | $1.20 |
The cam girls also hold time-limited sale. They occasionally discount their private chat rates for 24 hours to just $1.20/min (the lowest price available). You can browse the models on sale by using the search filter of Sale on the left hand nav bar.
LIVEPRIVATES' CLUB ELITE PROGRAM
The rewards program for frequent users at LivePrivates is probably its least attractive offering. You simply unlock a higher rank in the program by spending site credits anyway you choose.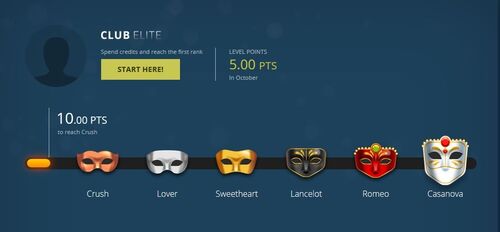 There are no concrete benefits or rewards related to your status - well apart from a feeling of superiority and receiving more attention from the cam girl if you're in her open chat room. Once she sees you're a big spender you'll hopefully find you're getting more attention than others.
Customer Support
LivePrivates has a 24/7 online support chat room, as well as being able to email any questions. The online chat room usually sends an immediate response with emails answered within hours. If there's an issue related to charges - there's a US based phone call center to contact.
Positives and Negatives
Positives
An overwhelming number of Hi-Def streaming rooms
Free open chat rooms
Cam2cam enabled on mobile devices
Models are all glamorous and professional
Free credits for credit card validation
Large and well grouped fetish and kinks search categories
Multi-faceted encryption software ensuring discreet, safe and secure transactions
Negatives
C2C and 2-way audio cost extra
Weak member loyalty program
Few amateur style performances
No free nudity or sex acts in public rooms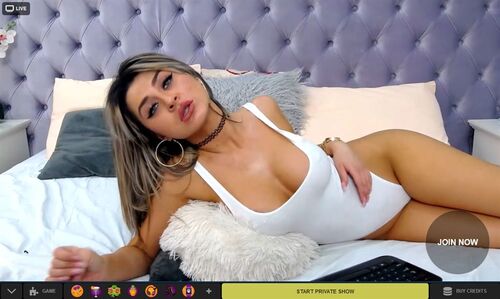 On The Whole
LivePrivates offers the ultimate adult private webcam shows for connoisseurs of the genre. This is the address for those of you who won't settle for anything less than the best - the best cam babes - the best broadcasting - the best cam2cam functionality and the best fetish and kinks categories.
Surprisingly though, considering all of that - the prices for 1-on-1, c2c chat are extremely affordable, even the most in-demand verified porn stars that appear on LivePrivates sometimes host a sale, slashing their rates for a day or so making sure everyone can afford their 7 minutes (plus) in heaven.
If it's your first visit to a sex cam video chat site - you'll be setting a high bar - but then again, why shouldn't you. Regardless of your intentions and budget, this site demands a visit and it'll be a visit you won't regret.