Top 5 Freemium Cam Sites
Published
January 26, 2021
Though there's fun to be had on premium sites, it usually comes with a pricey, even hefty price tag. On freemium sites, however, you can find the most unadulterated pleasures, for the lowest rates, and even for free.
The five sites below offer the best of the freemium world: amateur, exhibitionist ladies, low rates, and free rooms with nudity and sex. In addition to that, though, they offer some great premium perks at no extra cost, such as free cam-to-cam and two-way audio, free recordable private chats, and even free exclusive videos.
CamSoda.com
CamSoda has been recently chosen as the best live cam site for 2021. This is no ordinary freemium site, but a giant free-for-all cornucopia of open rooms, all displayed at once in real live streaming time. It also offers some of the lowest prices, even for a free site, and includes an outstanding mobile platform with free two-way video and audio.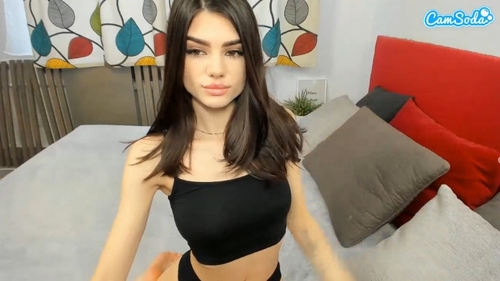 One great benefit CamSoda offers is what happens once you do find that lucky lady - You can record your sessions, any and all of them, for free. This sounds like a minor boon, but most sites either don't have the option at all, or charge for it. By recording your shows and saving them in My Media, you can rewatch them at any time.
Going into said private chats will cost $3.00 a minute on average, but will start with the lowest price of $0.70 a minute. Keep in mind that because CamSoda is a huge freemium site based on tipping, there will be ladies without the private chat option, or conversely, some will charge extra for cam-2-cam. The site i also among the few cam sites that offer free credits when you register, giving you 200 credits when you validate your credit card so that you can try out the site. This is despite the fact that you can spend hours and days on it without spending a dime.
CamSoda is one of the very few freemium sites allowing you to open your cam on your mobile device and, thus, engage in interactive c2c chat on mobile. As CamSoda itself doesn't offer HD in all rooms, the mobile version is great because it eliminates that issue altogether, with crisp streaming quality and all the great features of the site as well.
---
Stripchat.com
Stripchat is all about the free shows and the private live cam sessions with one of the 2,000 streaming rooms showing at all times of the day. It also offers a host of extra features, some not even available at premium sites, or any other site - Stripchat is currently the only live video chat site that has virtual reality cams.
While many freemium cam sites suffer from a poor tagging system, Stripchat offers a All Categories option, with hundreds of categories that are not just a fun joy ride of fetish, but some you might have never heard of - Colorful Granny, Yoga Colombian, or a dash of Big Ass Ebony. The categories are sorted in an alphabetical order, so finding any and all fetishes is a breeze.
Before you start a private show, take the time to enjoy some of the free live cam performances, with so much hard-core action you don't need to spend a dime on. However, if you want to be the single focus of a model's attention, you'll need to close the virtual curtain and start an exclusive session. Unlike many hosts at other freemium sites, almost all the performers on Stripchat are not only private-show friendly but they are pretty much all set-up to host a webcam-to-webcam show.
The cheapest cams start off at $0.80 a minute. However, on average, expect to pay around $3.40 a minute. Some hosts include cam-to-cam in their rates and others charge a higher per-minute rate. The site also boasts a great mobile interface, though as of yet no option for a cam-to-cam session on mobile.
---
BongaCams.com
At BongaCams, the name of the game is European models, full of continental antics that tend to be kinkier and more perverse than most, in the best way. If the main thing you're after are the free credits and special promotions, then BongaCams will be right up your alley. In fact, it even has a whole section of the site dedicated to limited-time promotions which you can find by selecting the All Promotions button at the top of the site.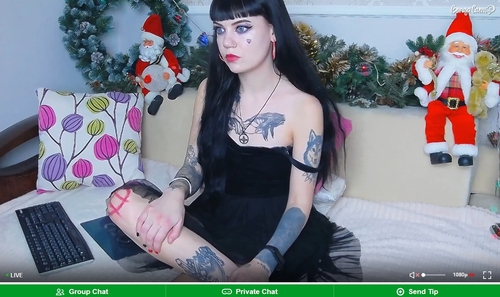 On this freemium site, the free shows are plentiful, but if you haven't signed up as a member and purchased tokens, the site will constantly bug you with obstructive pop-up ads urging you to get those tokens. The site employs a tagging system, but also a filtering system on the left, a Quick Search, with the ability to pick a language, region, category,and more. If you'd like to focus on the HD rooms only, select the #HD+ hashtag that will show you those rooms first, with up to 1080p HD quality.
BongaCams has a set price for all chats, which is roughly $3.40 a minute. However, if you don't want anyone else peeking into your cam adventure, then you'll have to pay about $5.50 a minute for an exclusive private. Having said that, just like all other freemium sites on the list, you can easily get plenty of hot action with either no payment, or tips alone.
The girls at BongaCams are extremely friendly and love to show you their rather pervy passions. The great thing about this site is if a room is tagged as practicing a niche genre, they'll not only be skilled at it, but will also have the necessary toys and accessories needed at hand. Another neat feature of the site is an automatic translation of it to your native tongue (33 languages total), detected by your IP address.
---
Chaturbate.com
If you're looking for an almost endless selection of streaming rooms, then no other cam site comes even close to the choice at Chaturbate. This mega live cam site offers an incredible 4,000 who broadcast 24/7 in up to 4K HD streaming quality. This is the perfect site for the more frugal among you, providing multiple cheap-to-free chats.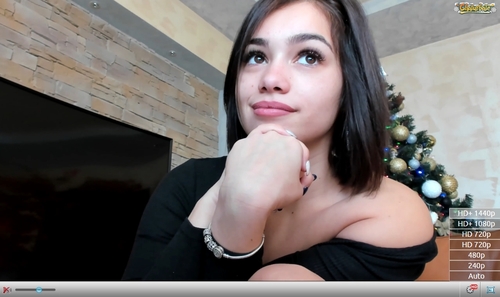 With so much choice it can be overwhelming if you're not looking for a particular type of model or kink. In this case, we'd recommend only checking out those rooms with the HD or HD+ icon on the snapshot. This way you know the streaming quality will be crystal-clear and the host has invested time and money in ensuring the viewer gets the best show possible.
If you're a fan of cam2cam, be aware that at Chaturbate it's not easy to start a cam-to-cam show. More than that, not all the performers will even enter a private show mode, preferring to stay with the crowds and get tipped in their open hang-outs. If they do go private, expect to pay around $2.70 a minute, with the lowest prices starting at $0.60 a minute.
Chaturbate is a great site if you're randomly looking for some free exhibitionism, but not the best if you're looking for c2c chats. Not only do not all the hosts allow you to open your webcam, the site has a cumbersome and time-consuming procedure to complete before you can start showing yourself to the model. A significant number of the performers won't enter a closed private show mode preferring to stay in their open chat rooms where tips fuel the action - Great news for the budget-conscience users.
---
Chaturbate.com
MyFreeCams is one of the most veteran and trusted cam sites around. It also boasts an extremely large amount of American cam babes, so if you prefer girls who speak your language fluently, this is the site for you. The site looks like it was pulled from the 90s movie, and is sometimes complex to a fault. But once you get the hang of it, you'll love its freestyle vibe.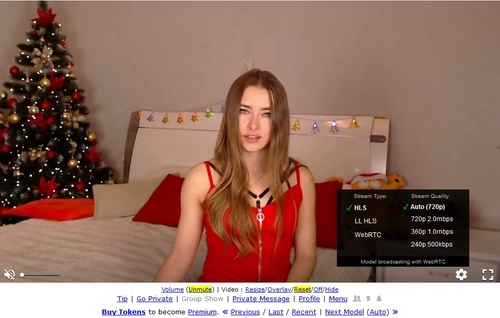 MyFreeCams is a freemium cam site, so you'll most likely see the models naked before you even think about taking them private. The site has great video quality in most rooms, and makes it easy for you to find whatever cam model or show you might fancy with a great categorization and search features. Unfortunately, they are a bit cumbersome to use, as is the rest of the site, so your best bet is to enter a room and selecting the arrow on the top right to randomly move from room to room.
For more specificity, there are several tools you can use. The Model Explorer on the top right of the main page will allow you to filter and sort using the most popular rooms, but also with answers to fun questions from the models, such as "What I do for fun", and "My favorite songs". Another option is the Tags & Topics search, which works similar to tagging. Any way you go about it, we still recommend the random search, it's a nice change of pace.
This site has a set fee for private 1on1 live sex video chat, which is roughly $5.45 a minute. The option to activate your webcam for a cam2cam show depends on the model. And when available, she may ask for a tip to turn it on. Spy and Group shows are much cheaper. Whether or not two-way video and audio is available in any private show is dependent on the model, but you'll be notified of that prior to entering a show.
---
Conclusion
The five sites above represent the best of the freemium live cam world, and all have impressive feathers in their caps. But our choice for the best freemium site, unsurprisingly, is CamSoda. The site offers the most free features, such as free Exclusive Videos, recordable privates, and of course a haven of free nudity and sex in the free rooms.
If you're ever in doubt, don't think twice - head on over to CamSoda, on desktop or on mobile.