Chaturbate Review - Free Live Sex Cams
Last updated
January 12, 2021
Chaturbate is the world's largest adult webcam platform. It's also one of the most extreme generic cam sites, featuring thousands of free X-rated chat rooms hosted by amateur exhibitionists performing for their pleasure. The site is not for the faint of heart or those looking for subtlety in their online cam adventures. The models at Chaturbate are all about taking things to the next level and pushing the kinky boundaries as far as they can.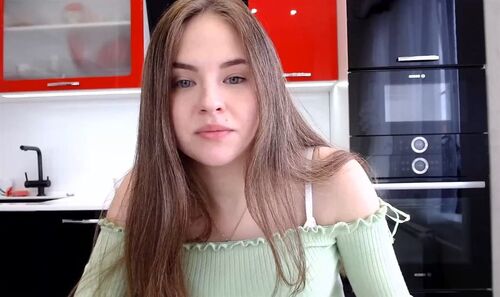 If you're looking for an experience where you don't have to pay to see full-on nudity and sexual acrobatics as opposed to a more professional cam2cam, one-on-one show, then read on to discover the ins and outs of the crazy world of Chaturbate and what makes this site the #1 draw for amateur sex cam enthusiasts and aspiring live porn performers
In Brief
Chaturbate first burst into the public arena back in 2011 and quickly gathered a dedicated following of adult camming enthusiasts. As opposed to many premium cam sites, Chaturbate follows a different business model. Premium cam sites keep nudity and any 18+ activity firmly in the realm of paid-for chat sessions or group shows. Chaturbate on the other hand has it all out in the open. In fact, the name 'Chaturbate' is an amalgamation of 'chat' and 'masturbate' giving a good indication of what to expect the minute you enter the site.
Visitors to Chaturbate can see everything and anything for free, and only pay if they want to have a private chat encounter or if they want to tip the host to perform a specific sex act. As you'd expect from the world's biggest adult cam destination, there are thousands, often up to 4,000 bawdy boudoirs broadcasting 24/7.
The site is available in 15 languages, not surprising considering it's in the top 25 of the most popular sites on the web. There is, however, a price to be paid for so much free live adult entertainment - and that price is that advertising is all over the site, the search engine is pretty weak and when it comes to cam2cam sessions - it's a whole different (and more difficult) ballgame - but we'll get to that later on.
The Webcam Models
With so many streaming sex rooms day and night, you're guaranteed to find whichever type of cam host tickles your pickle. Girls are in their thousands, with hundreds of men (gay, straight and bi) looking to party, alongside rooms featuring ongoing orgies, couples, threesomes, trans performers, and any other combination you can think of. Basically, you name it, they have it.
Before you even start perving through the steamy snapshots that fill the homepage, it's recommended to go to the top menu bar and select your preference (Female / Male / Couple / Trans) otherwise you'll just be overwhelmed by the options.
The photos of each room feature a static grab taken from a live video feed just moments before. So what you see, is pretty much what you'll get if you decide to click through. The photo also has a transparent info bar featuring the performer's online pseudonym and her/his age. There's also a small red pin that in theory indicates where they're located (don't expect much from this as most prefer not to say where they're based) and finally you've got the scoop that really matters - how long they've been online that day and how many people are watching them. Pay attention to this, the larger the number of viewers generally means the better the action and streaming quality is in the room.
The Girls
The females at Chaturbate cover every age, appearance, fetish, and sexual skill level there is. The majority are amateur exhibitionists streaming from their houses and even dorm rooms. So, if you're looking for a college co-ed hosting a porn party with her friends, or a hardcore MILF getting her kink on from her kitchen - Chaturbate is definitely not going to disappoint.
The kinks and fetishes performed by them (and the guys) run the gauntlet. BDSM, squirting, JOI, SPH, femdom, findom and more. It's all for the taking if you know how to get to them (and we'll tell you how in a second).
The Boys
Unlike most sites, Chaturbate has an almost equal selection of gay/straight and bi dudes looking to get some dick dancing going in front of their cam. If you're looking for some dude on dude fun, then be it a twink, muscle, a papa bear or just a 'straight' guy that wants to have a virtual homosexual fantasy fulfilled, he'll be chatting and masturbating there at this very moment.
The Trans
Gender fluid models feature mainly male to female transgenders, with the majority coming from Asian and Latin America. It should be noted that while there's a strong selection, HD streaming in this particular category can be somewhat spotty. Also be aware that some of the models that tag themselves as transgender seem to be either at the start of their journey or transgender in their mind-set, as opposed to having the physical attributes.
Couples
Couples isn't just twosomes, this category features any room that has two or more performers streaming together, including threesomes, orgies and such like. Also some rooms have set themselves up as 'couples' rooms but there maybe just one cam participant streaming at the time.
Chat Room Features
When you click on a snapshot you're taken into the open chat room where you can either sit back and enjoy all the free explicit entertainment that's dripping in front of you or, you tip the xxx host to do a certain something for your own deviant delight.
If the video window is too small for your liking, you can go to the tiny arrow about halfway down the left side of the screen and drag to enlarge (or even watch in full screen mode).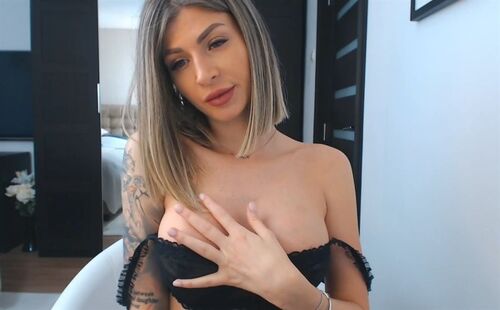 What you can't easily do on Chaturbate is navigate the thousands of rooms by a particular kink, fetish or even look. Rooms are tagged with relevant search words, but this is where the benefits of a free mega sex chat site are lost. The performers are competing against each other for an audience and tips, trying to get as many pervs as possible to peek at their squirting and squelching. So, they'll mark themselves with search tags that aren't relevant to them in the hopes they'll come up in more searches. On the top of the photos you'll see all the most popular search tags. If the one you're after isn't there simply select (more tags) on the right and hundreds of additional hashtag groups will appear. Each group features the number of viewers in that category, how many rooms are currently online, along with photos of the most popular online cam babes.
Going Private...
Taking a room into a private chat session is somewhat different at Chaturbate. Once you've chosen a new porn playmate, check that she does indeed do private sex chat sessions, many of the girls prefer to perform for tips in their open rooms and won't close the virtual curtain to other viewers.
Show Types
There's basically just one show type at Chaturbate - and that's a Private Show with some girls offering the option to spy on their ongoing private shows for a reduced number of tokens per minute.
Free Chat
Chaturbate is all about the free xxx chat. In their public porn parlors many of the girls have tip menus listing the rates of how many tokens you have to tip if you want them to masturbate with a dildo, squirt, finger their pussy for a few minutes, etc.
Private Show
Private cam shows for a 1on1 adventure are less popular than at most premium adult cam sites as models prefer to get tipped by the multitudes watching them in their open rooms. If a girl is prepared to close down her room for an exclusive 1on1 sex chat, then most won't offer a cam2cam option. If you do want to cam-to-cam it with your cutie, you'll have to set yourself up as a 'broadcaster' first which can be be a somewhat complicated process. There's no easy or quick way to start a 2-way cam show.
Spy Show
A Spy Show is where you can peek into a girl's ongoing Private Show. You can't interact with the babe, you're simply a silent voyeur into someone else's sex time. Quite often, these silent glimpses cost the same per minute as a Private Show.
Webcam Broadcast Quality
Video quality on Chaturbate is exceptionally high. In the past year there's been a huge increase in the percentage of rooms streaming in not only HD, but HD+ and even several that have raised the bar and are broadcasting in crystal clear 4K streaming rooms.
All rooms that are HD enabled feature a small icon on the snapshot showing that they're broadcasting in HD. If you enter the room and the quality seems less than optimum, you just hover over the image and a small white HD box will appear on the bottom right of the screen. Click/tap on this and make sure the highest resolution possible is selected.
Mobile Device Interaction
If you access Chaturbate from a smartphone or table device, the site intuitively loads in a mobile-responsive layout. Chatting in a room easy and user-friendly. You can enlarge the live feed by dragging the window towards the bottom of the screen.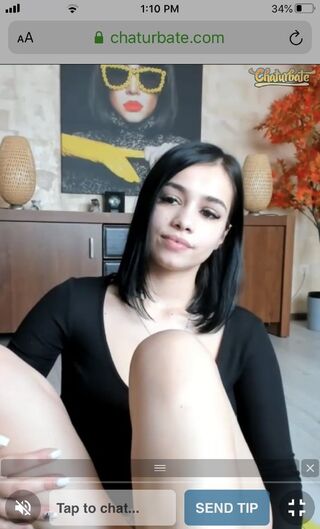 Even if you enlarge the video to the maximum capacity, the message bar at the bottom of the feed is transparent, so you can send and receive messages, while not obscuring any of action.
Registration
Membership to Chaturbate is free, easy and takes just a few seconds. You don't even to give an mail (that's optional and only used if you're interested in receiving updates or other site-related communications).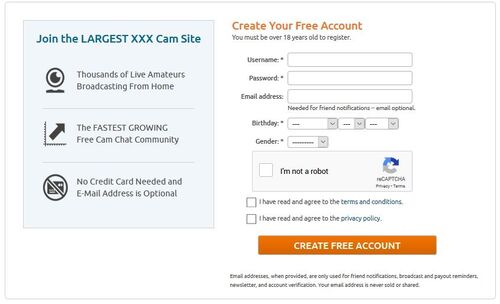 All you have to do is input a username and password of your choosing. Your profile also requires an age and whether you're a man or woman - but that's it - you don't need to share any other details.
Chaturbate Tokens Packages
Depending on how you pay, you're offered a variety of different token packages. Before you start tipping or starting any paid-for chat show you'll need to stock up on the tokens before hand. If you're paying by credit card, the site ensures complete discretion and security and charges do not appear on you billing statement under Chaturbate, but are attributed to chaturbill or mmbill.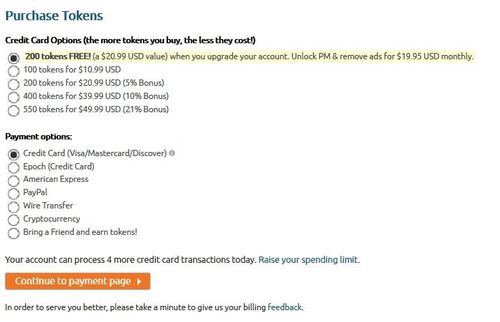 Payment Methods
Chaturbate is one of the few live cam sites that accepts American Express alongside many other major credit cards, but this is only available to those located in the U.S. All payment methods accepted are listed below:
Credit Card (Visa / Mastercard/ Discover)
Epoch (payment processor for most major credit cards
American Express
Cryptocurrencies
Bank Wire Transfer
Prices
The following table gives an indication of Chaturbate's pricing structure. The rates were calculated using a non-discounted, averaged cost per token.
| | |
| --- | --- |
| Sex Chat | Costs |
| Average Rate/Minute | $2.70 |
| Cheapest Rate/Minute | $0.60 |
| Most Expensive/Minute | $8.00 |
Chaturbate's Membership Program
You can purchase a $19.95/month premium membership package which the site refers to as upgrading to the status of a Chaturbate Supporter.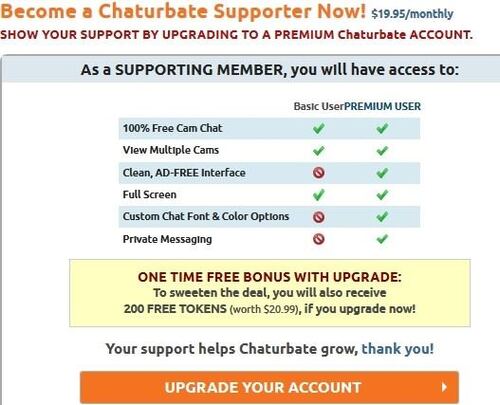 Along with a few benefits, including an ad-free layout and private messaging capabilities, you also get a one time bonus of 200 free tokens worth $20.99.
Customer Support
If you have queries or questions about the site, on the menu bar at the bottom of any page there is a small Support link. By selecting this you can find information on a range of FAQs, alternatively you can submit a request via the site or send an email to the address they list. Currently there is no 24/7 online support center.
Positives and Negatives
Positives
Free nudity and explicit acts
Over 4,000 rooms streaming 24/7
HD+ and 4K broadcasting rooms
User-friendly mobile layout
Low-cost private chat sessions
Site available in 15 languages
Negatives
Difficult to set up a cam2cam private encounter
No community powered forum
Weak search engine
Ads on the homepage for visitors and basic members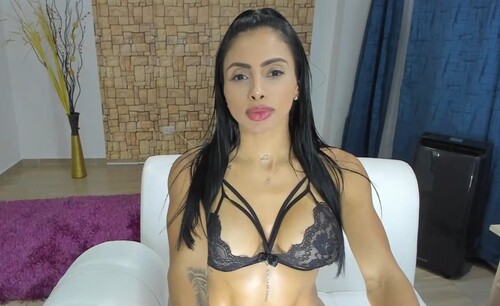 On The Whole
Chaturbate is truly a cam site like no other. If you're looking for not just cheap, but free live sex cam fun then without any argument, Chaturbate, hands down, is the ultimate destination. There's a seemingly endless choice of models covering every kink, fetish, look, age and level of performance from professional porn stars looking to make a few dollars on the side and grow their fan base to students getting down and dirty in their dormitory, experimenting on cam just for the fun of it.
Private cam shows are extremely cheap, but saying that, with so much hardcore happenings going on for free, the best way to get an eyeful of what xxx activity you're looking for is to simply tip the babe a few tokens in her public rooms and watch what unfurls.
What Chaturbate isn't recommended for is a private 1on1, cam2cam meeting. Operating your cam can be quite a tricky process - so for this - we'd recommend alternate sites. But after all is said and done, if you're looking for great HD streaming, even crystal-clear 4K broadcasts of a hot horny honey taking it all off for free - Chaturbate can't be beat.