Stripchat Review - A Premium Free Webcam Site
Last updated
January 10, 2021
Stripchat is somewhat of a hybrid between a premium live cam site and a crowd-powered freemium cam site. At first glance you'd assume it's one of a handful of premium sex chat sites. The homepage is clean without ads, the snapshots of live cam rooms are clear and seemingly in HD and the search menu is concise and well categorized... but then something catches your eye. The fact that at any one time there are between 1,000-2,000 cam models online is the first indication that all is not as it seems for a premium cam site.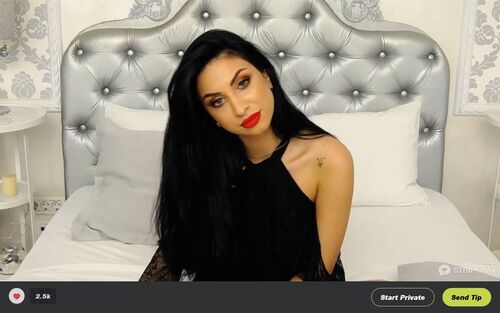 A second glance at the photos on the well-laid out landing page and you'll see an overwhelming number of the images feature nudes and highly explicit sexual poses. This points to the fact that it's indeed a freemium cam site masquerading under the sophisticated veneer of a higher tier live sex chat site. Quite simply - it's the best of both worlds.
In Brief
Stripchat is a relative newcomer to the world of live sex video chat. It first burst onto our screens in 2016 as an offshoot of the adult entertainment site xHamster. As a relative latecomer competing against some well more-established free XXX cam sites, the site has seen exponential growth in its roster of models, quickly becoming a serious player in the live cam arena. One of the main reasons they've managed to attract so many cam models in such a short period of time is due to the site's higher than average earnings split for performers. This also has meant that many of the top cam hosts in the industry have migrated over to Stripchat.
Stripchat isn't only focused on providing a cam2cam experience, the site is constantly adding new features related to all aspects of adult content and entertainment, including special cam shows hosted by a sex therapist and psychologist. It even has sex therapists registered as cam hosts providing video therapy the same way models provide X-rated video chat.
One of Stripchat's most notable differentials is the headway it's making in live cam technological capabilities. Currently it's the only webcam site where you can find models streaming in 4K full virtual reality (VR). This all-immersive experience is an indication of what to expect in the near future for online live porn experiences.
The site is translated into 19 languages making it truly a global hot-spot. This emphasis on international reach is further enhanced with a flag appearing on every cam host's snapshot indicating where the girl/guy/couple or trans model is located.
The Webcam Models
With thousands of registered webcam models performing on Stripchat, the site prides itself on offering a 24/7 plethora of choices for every taste and predilection. The top nav bar on the Stripchat landing page shows the option to view either Girls / Couples / Boys or Trans. Once you've selected your chosen group - the left hand menu then enables you to narrow down results based on: Age / Ethnicity / Body Type / Hair or Private Price.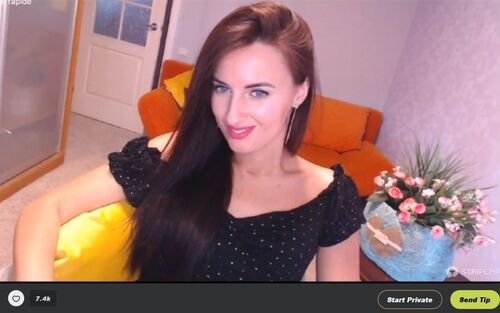 If you're looking for something more specific - the last option - Popular Tags provides an alphabetical listing of all the major search keywords, ranging from specific fetishes and kinks, to nationality, and even some of the cam models' offline activities, like swinging and yoga.
The Girls
With so many thousands of girls registered to be hosts of 1 on 1 sex chat - the quality of their video streaming, background settings and performance can vary wildly. Stripchat is not just for the pros - amateurs, first-time cam girls, bored housewives, horny college students, appear alongside professional porn-stars and experienced extreme cam models. Their rooms are as varied as they are. Some perform in perfectly lit, highly stylized settings with the model trained in using the camera angles to the optimum ensuring no off-cam activity occurs. Other girls and rooms are far less polished. but the standards can quickly be determined within a few minutes in their free public chat rooms.
The Boys
While there may not be a thousand plus boys online at any one time as there generally is with the girls, you can expect to see at least a hundred plus active rooms. Even though the site differentiates between couples / boys and trans - the search results for boys tends to bring up a good smattering of all three when you go into the boys and men section.
The Trans
The trans cam community on Stripchat is a rapidly growing group - though at the time of this review, there were generally some 50-100 online (depending on the hour). The overwhelming majority of Stripchat's shemales come from Latin America, with a much lesser percentage from Asia. If you're looking for other ethnicities (Arab, Ebony, Indian and White) the options are limited, but then again on most cam sites (including shemale-centric sex cam sites) this holds true.
Chat Room Features
All the chat rooms are free to enter unless the webcam performer is in a private session. In the cam room you can send the babe a message, but most will mute anonymous users. You'll need to open a free Stripchat account before you can publicly message most of the performers. It's in the room that you can click on a model's profile, photos and video, etc - but many of the explicit photos and X-rated videos can only be viewed for a fee. You can also tip the models in their public chat rooms to perform a specific act. Most have a menu of kinks and fetish acts that they'll perform for a predetermined tip.
Going Private..
Most girls offer two options of private sex shows: either one that others can spy on, or a totally exclusive experience cam2cam show that blocks others from viewing. Some girls charge extra per minute to enable cam2cam and stop others from spying in - while others have one set rate/min inclusive of cam2cam and exclusivity.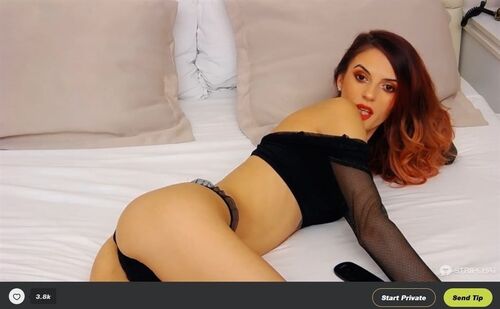 Show Types
As mentioned earlier in this review, Stripchat has something no other XXX webcam platform currently offers - the option to enter a virtual reality one-on-one, cam2cam show. In addition to this remarkable experience, the site has a variety of ways in which to interact with the adult cam performers. Some are purely voyeuristic in so much as you can view the explicit action but cannot comment or use cam2cam - others provide the full cam2cam sex chat adventure.
Free Chat
Stripchat is a freemium site which means a lot of hardcore exhibitionism takes place behind the camera lens in the free chat rooms. Many of the models strip off and happily play with themselves, others will use sex instruments as a way to get your attention and tease you into taking them private. It's quite often, though, the ones that keep things a tiny bit more demure that pull in the most interest. You'll often find them in a private session - so be patient. In free chat rooms you can tip a cam model to perform a specific kink or fetish. Most of the models have a rate menu in their chat rooms showing the prices (number of Tokens which must be tipped) in order for them to engage in acts such as pussy fingering, fisting, dildo action etc.
Private Show
Before you take a model into a premium one-on-one Show - make sure you review her bio to see if she's into your own particular brand of fetish/kinks. You can also private message her beforehand explaining what you want to take place and make sure she's willing to do it. Cam2Cam can be operated in private shows with some (not all) allowing 2-way audio communication for an additional charge. Also, many girls insist on a minimum time block and won't start a private show unless you commit to at least 5 or 10 minutes in advance.
Spy Show
A Spy Show is when you enter someone else's 1on1. They cost the same as the regular private chat show and you cannot use your cam or interact with the performer in any way. You're a silent witness to the performance she's giving another member. The only advantage is that in a Spy Show mode, you don't have to commit to a minimum amount of time and can enter for as long or short as you like.
Ticket Group Show
Occasionally models host a Ticket Group Show. This is when the cam model puts on a hardcore show for viewers. The live porn performer determines how long her show will last for and how much entry to the show will cost. It's not based on a price/min rate, rather an all inclusive pay-up front charge that can be anywhere from 8 to 200 Tokens, depending on the XXX model.
VR Show
For those wanting a unbeatable premium experience, nothing tops Stripchat's VR Shows. If you have a VR Headset, all you have to do is install the Gizmo VR program (which you can do directly from Stripchat). Price/min for VR Shows are the same as the Stripchat model's regular cam2cam private chat rate but are most definitely next-level immersive live porn. If the room is VR enabled, the preview snapshot of the live feed will feature a small blue VR icon on the top right of the photo.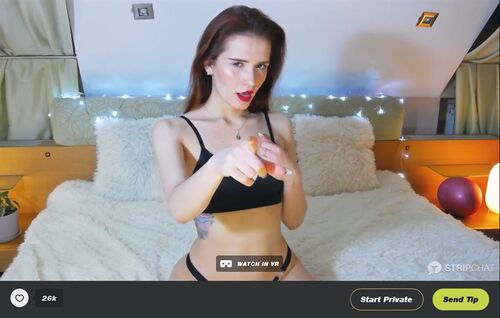 Webcam Broadcast Quality
Video feed quality at Stripchat is not standardized. There are always HD rooms online, but by no means are they the majority of cam rooms. All rooms which do broadcast in high definition, indicate this via a small HD icon on the top right of their screenshot.
To bring up all online HD rooms, simply go to the left nav bar and scroll down to the Show All Tags option. An alphabetical list of all the search categories then appears. Go to 'H' and choose HD. Once you've found the HD room that interests you, hover over the video stream and on the top right an HD settings icon will appear. Sometimes a room will be HD enabled but the stream automatically feeds in SD - you have to then manually select HD from the options appearing under the HD settings icon.
Mobile Device Interaction
Stripchat is mobile optimized and can be viewed on any smartphone or mobile device, with the site intuitively loading according to mobile specifications. It's not, though, the most user-friendly to use on a mobile device. If you're messaging the model in her public room, the message box takes up half of the screen - leaving only half a screen free to view what is by now a very small video feed.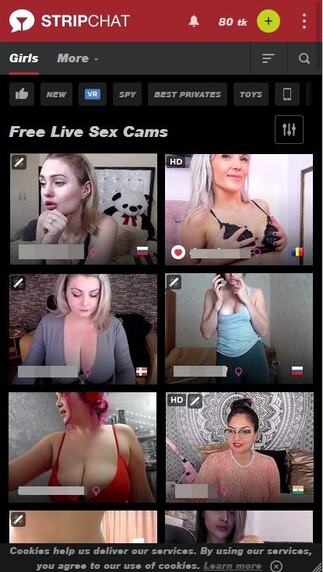 If you want to look, not talk, you can simply select the full screen icon which appears on the top right of the live feed. This way the video is in full screen mode (but only in a horizontal version) and you cannot send or read messages.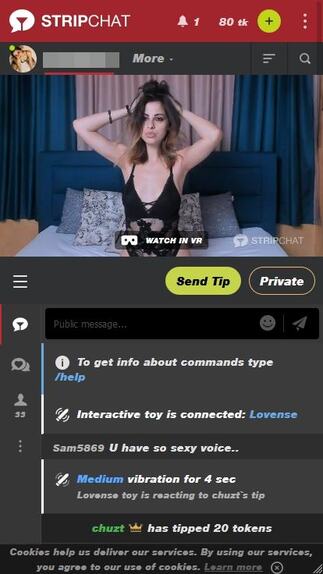 As of yet, the site is not offering cam2cam chat via mobile platforms. This is only available on the desktop version.
Registration
Registration to the site is free, easy and fast. You need an email that must be active and accessible to you, and a username of your choosing. Once you input these details - the site will automatically send you an email with your unique password. Once you verify the email by clicking on the link it contains - you'll be a registered Stripchat member.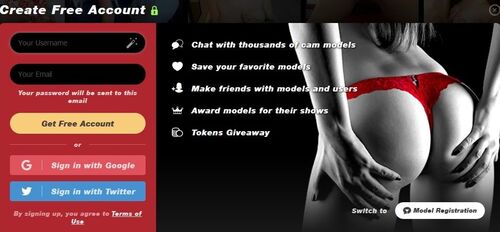 Stripchat Tokens Packages
To purchase Tokens on Stripchat you need to select the Green plus (+) button on the top right of any page. This will bring up a box showing the available payment methods and Tokens packages. The site offers a variety of payment methods ranging from most major credit cards to redemption of brand/store gift cards. You can also pay via PayPal and cryptocurrencies which provide an added layer of anonymity.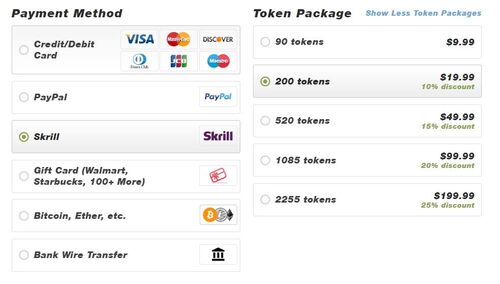 If you're paying by credit card, the site ensures complete discretion and security and charges do not appear on you billing statement under Stripchat, but are attributed to the payment processor.
Payment Methods
The options are not globally available, so depending on your location, not all the choices listed below may be offered:
Credit Card (Visa / Mastercard/ Discover / Diners Club / JCB / Maestro)
Paypal
Skrill
Gift Cards (US only)
Cryptocurrencies
Bank Wire Transfer
The larger the Token bundle you purchase, the bigger the discount the site will give you. Each payment method offers differing discounts. So, it's worth checking out all options - for example, if you pay with a cryptocurrency, you'll get a larger reduction per bundle than if you're paying via credit card.
Prices
The following table gives an indication of Stripchat's pricing structure. The rates were calculated using a non-discounted, averaged cost per Token.
| | |
| --- | --- |
| Sex Chat | Costs |
| Average Rate/Minute | $3.40 |
| Cheapest Rate/Minute | $0.80 |
| Most Expensive/Minute | $8.70 |
| Group Ticket Shows | $0.80 to $20.00 |
The site does not generally host promotional deals or time-limited discounts, preferring instead to keep year-round low cost chat rates.
Stripchat Membership Program
Stripchat has one premium paid-for membership package based on a recurring monthly $20.00 fee.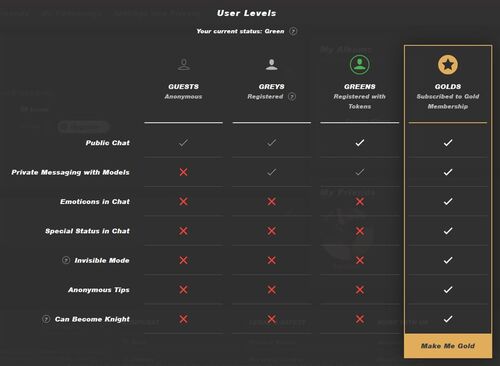 The Gold membership program activates chat emoticons, invisibility, ability to tip anonymously, private messaging privileges, and a Knight Status, giving you the power to mute basic members in any cam room for up to 24 hours.
Customer Support
The site provides a comprehensive FAQ section located at the very bottom right of any page. If questions are not covered in the FAQs you can submit a question/request through the site and generally you'll receive a response within an hour - even less.
Positives and Negatives
Positives
VR shows
Thousand plus performers online at any time
Every day new cam hosts join
Free public chat rooms (many explicit)
Hourly Stripchat Token giveaways
Manage account privacy settings
Comprehensive and user-friendly search features
Secure and safe payment methods
Site available in 19 languages
Blog/Twitter/Snapchat presence
Negatives
No mobile cam2cam capability
Limited number of HD rooms
No live chat or phone support
Some models have a limited command of English
Promotional packages only available to Gold members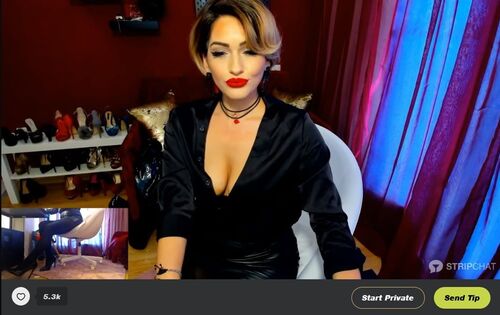 On The Whole
Those who have VR hardware can enjoy a new level of live porn shows at Stripchat. As the only private cam site that currently offers VR cam chat, Stripchat enjoys a level of exclusivity and is working hard to ensure that it remains at the fore of technological advances in the X-rated webcam world.
As a freemium cam2cam site it masquerades incredibly well as a premium live cam site through its well implemented and intuitive search engine, an ad-free layout and a clear and user-friendly layout.
The overwhelming majority of the cam performers tend to get explicit very early on in their free chat rooms which somewhat lessens the anticipation and imagination prior to going into a private cam2cam session. On the other hand - if you're looking for a sex cam experience that is heavy on the fetish and kink - then the Stripchat models are the go-to selection.
All in all - if you're looking for a private cam experience and not sure what type of performer, action and build-up is to your choosing, then Stripchat is the best place to start. With such a wide variety of free rooms, you can look and learn for free and save your money for the ultimate private live sex cam show.