Flirt4Free Review - 1 on 1 With Top Models
Last updated
January 07, 2021
Flirt4Free offers more show types, chat room features, tipping options, and VIP benefits than most other adult webcam sites. There is a fetish education center, a calendar for scheduled shows with top performers and celebrity appearances, and an active blog that does well at keeping members informed of all the special features, events, and promotions that regularly happen on the site.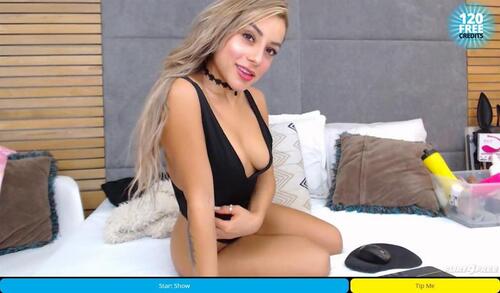 At its core, Flirt4Free is a premium site. It's just not a stingy premium site like many others. Flirt4Free has its free offerings, as well. While the models are waiting to be taken into a private performance, they may jump into a Party Chat. This type of show is fueled by sending tips and can get explicit if the party gets off its feet. You can participate by tipping, or not. In either case, you'll get to see into these shows for free.
In Brief
Since 1996, Flirt4Free has been running its webcam platform. Over the years, the site has become a powerhouse outfit of free and private shows. What has helped to keep the site on top, has been its steady pursuit of adapting the best technologies and interface designs, while attracting and fostering the talent of the best performers for the job.
Typically, there are between 400-600 models actively online, with near half of them being male models. Along with finding top-grade female talent, Flirt4Free is one of the top destinations for finding gay and straight male webcam models. Model profile pages are replete with free beauty photos, a schedule of online hours, blog entries, user comments, a wishlist, and Fan Club details.
The webcam broadcast quality is so spectacular in most rooms, that it's the lower quality cam rooms that will stick out. But those are few and far between. Activating your webcam, for a cam2cam session, is included in the price paid for a private chat. And, if you go for the VIP Membership, at $39.95/month, one of it's benefits is being able to record the private shows and re-watch them, indefinitely.
Flirt4Free tends to find its biggest fans in those that love a bunch of show types and chat room features. This is a premium site that's definitely geared toward private one-on-one shows, but it also sees that it's not always about the intimacy of a 1on1. Sometimes, members just want to mull about, checking out what's happening in the various Party Chat rooms, or maybe read up on the latest sex cam trends and fetish delights in the site's Fetish Education center, or Blog posts.
The Webcam Models
If a model appears on Flirt4Free, it means she's passed a viability test. The site gives all new models a chance to prove themselves. Models that don't immediately appeal to members will get some coaching and guidance from Flirt4Free. And if the model still can't attract an audience, then she'll be kindly removed from the platform.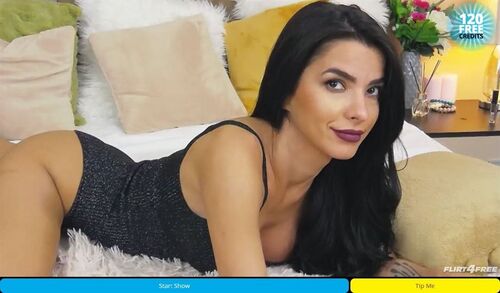 Flirt4Free wants to deliver performers with a talent for this type of show, and not just someone that has merely learned how to turn on a webcam. To pay for the experience of a private show, one should expect the girls to be professional in their performance. And Flirt4Free does just that, by delivering a cultivated bunch.
The Girls
Flirt4Free does well at showcasing its top talent. There is a Top 20 Models list, of the current most popular girls. And, Flirt4Free gives cash prizes to the models that put in the work, by performing for a minimum number of hours and getting high marks from members. Winning models are announced each month, and at the end of the year, the Flirt of the Year award is declared.
The Guys
By switching the site to show only the Guys, you'll enter into one of the most impressive collection of gay and straight male webcam models. The most populated categories of guys usually online are the Interactive guys, who are ready to play with pleasure toys, then College Guys, European Guys, Muscle, Domination, Twink, and Latino men.
The Transgenders
This niche category is here for a reason. There are those of you that like to see a beautiful woman with her own cock. While this category is not as abundant as the other genders, it still proves to be a choice destination to find some of the top performing tranny webcam models online. Typically, there will be some half-dozen t-girls ready to go.
Chat Room Features
The features available in each chat room will differ, depending on how the model has chosen to make herself available for contact, and what show type she is currently hosting. Beyond the text chat, some girls have the Flirt Phone option, which enables you to actually call her over the phone. Or, use Flirt SMS to send phone text messages back and forth. During the public and private chat times, there is access to send quick Tips, the option to join her Fan Club, and a complete profile listing all physical attributes and acts she is willing to perform in private.
Going Private...
Upon entering into a private session, you'll have a choice to make: to start a completely one-on-one show that no other members can enter into, or to go into a Multi User Show, which allows for multiple members to chat in private. The later will always be slightly cheaper than the exclusive option. And other members may never actually enter the show.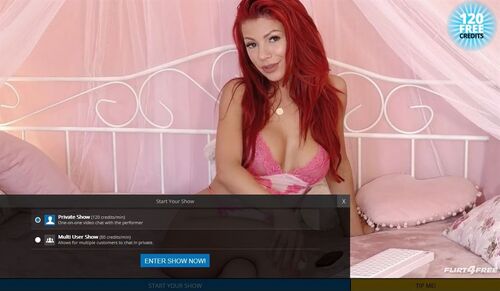 Show Types
Flirt4Free has more show types than any other cam site out there. The most popular among them are the 1on1 private shows. You can start one with any model that is hanging out in her public room. But don't stare at her too long while in her open chat waiting to decide if you should go private with her, as she can change her show type to a Party Chat on a whim, and the option to go private will be temporarily unavailable.
Standard
The most popular show type. This is the standard private show that gets you one-on-one with the model of your choice. When a girl is in her open chat flirting with any member in her room, she's ready to go private with the first to request.
Premiere Chat
These models have proven themselves to be hugely popular, and as such, get extra support from Flirt4Free. The Premiere Chat rooms are showcased and use the highest quality video in the Flirt4Free system.
Voyeur Mode
Catch a performer already involved in a Standard or Premiere Chat and enter in a voyeuristic mode. No audio or text chat is available for voyeurs.
Multi-User
Multiple members chatting with a model in private. Each member can hear her and send text chat. Multi-User shows are always 2/3 the cost of any exclusively private show.
Feature Shows
Flirt4Free occasionally brings on pornstars for exclusive performances. All paying members can watch and chat. VIP members get access to all Feature Shows for free.
Group Chat
The cam girl will set a goal of the required number of Credits she wants to start a show with a set time. Any member can pledge the minimum or the full goal to start the show. This is a community show experience.
Party Chat
The girls can go into Party Chat mode at any time from their open chat. It's free to watch these shows. During this time, there is no access to starting a private show. Tipping can get you special attention.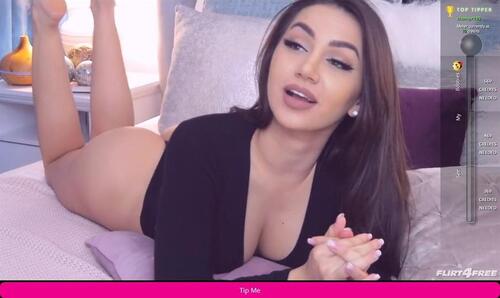 Webcam Broadcast Quality
All rooms playing in high definition are clearly labeled as such. Where you don't see a room tagged as being HD, then it'll be streaming in a high quality standard definition rate. These rooms are in the minority, and are most likely newer performers on the site. When you see a Premiere Chat room, know that these are the models that Flirt4Free supports with the highest video quality in its system.
Mobile Device Interaction
Flirt4Free's site is completely mobile friendly. There is no downloadable application that is needed. The site works well on both iOS and Android operating systems.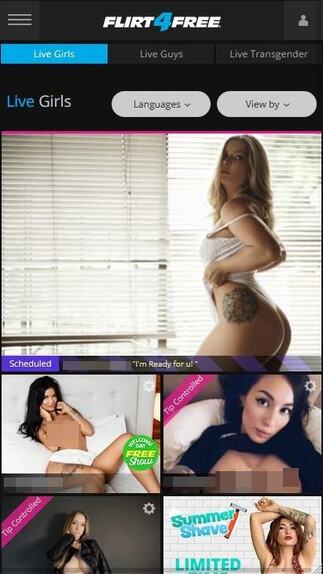 The mobile site is fun and fast and easy to use. After you have entered into a chat room with any model, all you have to do to move to the next model is to swipe to the left. To return to the models that have been passed by, just swipe back in the other direction. The order of the models you swipe through will keep.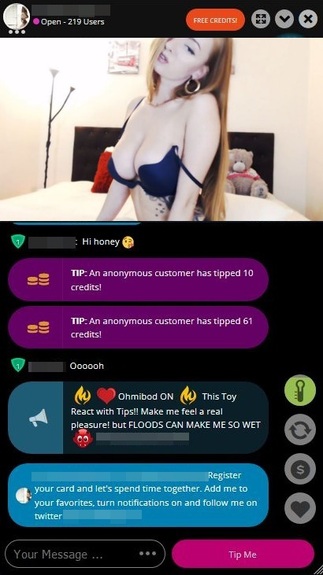 Essentially, all the site features and functions that are present on the desktop version of the site, are also available on the mobile site, including being able to activate your phone's camera for a C2C session.
Registration
Flirt4Free is open to guests. Without having to sign in to the site, it's free to browse around and check out what the girls are doing in their non-private chat rooms. It's even possible to send text chat messages as a guest user, though most girls will have this feature blocked to users not at least signed in. So, if you want to start off by just chatting in the open rooms, and maybe start saving girls you like into a Favorites list, then you'll need to create a username and apply with a valid email address.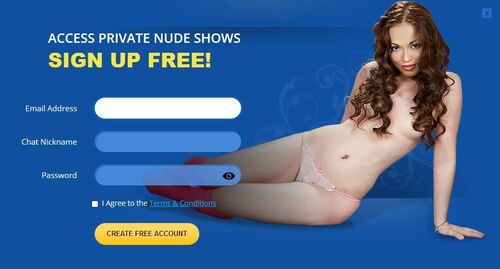 With a username, the girls are much more likely to reply to your text chats. To take it a step further, Flirt4Free is ready to gift you 120 Flirt4Free Credits when you validate a credit card. Use these Credits how you wish. If you search through the girls by their private chat rate, you can find some cheap ones where 120 Credits will last you for up to 10 minutes of one-on-one sex chatting. Or, find the most popular Flirt4Free girls, and some of them will cost you all 120 Credits for just a minute of private access.
Flirt4Free Credits Packages
The Credits packages available for purchase will initially show for a credit card payment. To change the means of payment, select to Change payment method to see what's available to you. Please notice that some of the methods may change the number of Credits for the same purchase price.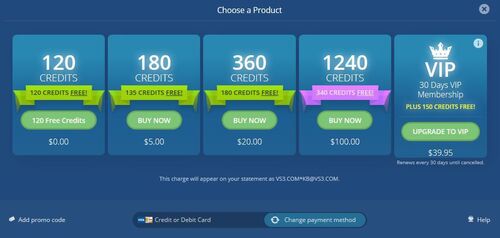 Subscribing to the VIP membership is the only purchase that will renew itself every 30 days until cancelled. All other purchases are once-off buy-ins.
Payment Methods
Not all methods of payment shown here are available from all geographic locations. Depending on where you're visiting the site from will depend on what methods are available to you.
Credit or Debit Cards: Visa, Mastercard, JCB, Diners, Discover, Maestro
Brand Name Gift Cards: Best Buy, Home Depot, Walmart, and 50+ others
Crypto: Bitcoin, XRP, Etherium, Litecoin, and 50+ others
Bank Wire Transfer
Giro Pay
Sofort Banking
PaySafeCard
SafetyPay
PayPal
As an example, Crypto payments are currently available to visitors from the U.S., but not from Europe. If you're located in Europe and want to use your Bitcoin to purchase Credits, then consider accessing the site over a VPN.
Prices
Flirt4Free is known for having some of the cheapest private webcam rates online, as well as the most expensive. From the main page you can sort all the models by Price. Doing this will show you the girls asking for 120 Credits a minute, and all the way down to those asking for only 5 Credits a minute. A Credit on Flirt4Free is valued at near 10 cents.
| | |
| --- | --- |
| Private Chat | Costs |
| Average Rate/Minute | $4.50 |
| Cheapest Rate/Minute | $0.50 |
| Most Expensive/Minute | $12.00 |
There are some well known webcam performers operating on Flirt4Free. And they can get top dollar for their time. $12.00 a minute is a steep rate, but they wouldn't ask for it if they weren't getting it. If you want to try out Flirt4Free's private room features without worrying about spending too much while figuring things out, then go for some of the cheaper rooms.
Flirt Rewards Program
Special perks and bonuses are available for highly active members. The more time you spend in one on one chat with the Flirt4Free models, the more points you'll earn. The more points you collect, the more rewards you'll unlock. Points are earned by being in a paid for private chat room, for activating cam2cam, Fan Club activity, getting the VIP Membership, sending Virtual Gifts, messaging the performers, sending Tips, making community forum posts, and even just logging into the site will get you points. In all, there are over 20 actions that you can make on the site that award for points. Starting off, your membership status will show to the models with a Rookie badge next to your chat name. If you ever reach the pinnacle of the 12 status levels, the models will see you with the Legend badge.

There is even a list of very specific Missions to complete to earn points. The missions include: sending your first tip, adding a credit card to your account, giving a 100 Credit tip during a Party Chat, have a private show that lasts at least 1-hour, pledge and participate in 50 Group Chats, have 100 private shows that last longer than 5 minutes, log 100 minutes worth of 1on1 private chat, use webcam to webcam for 1-hour in a month, make your first Flirt Phone call for at least 10 minutes, and many more, with each having its own value in points.
Basically, most actions made on the site will add points to your membership account.
As you reach certain levels in points totals, you unlock promo codes to be used on your next purchase of Credits. The first level will give you a one-time use promo code to get 22% more Credits from the Credits amount you choose to buy. The most lucrative promo code to unlock with points will grant you 44% more Credits on whatever amount you choose to purchase.
Additionally, you can spend the rewards points to buy Virtual Gifts for the models, spend them to unlock up to 20 different screen names, spend them on Performance Boosts to help bolster a models ranking, and spend them on access to Flirt4Free's VOD area.
Customer Support
While urging members to refer to the site's FAQs for common issues, there is a 24-hour Live Chat assistance to handle any problems that a member may encounter. To speak to a Flirt4Free customer service representative, there is Phone assistance. Lastly, there is an Email submission form to submit any inquiries.
Positives and Negatives
Positives
In operation since 1996
Premium site with free shows that allow nudity
Industry award winning chat site
Cheapest buy-in available is only $5.00
A clean and colorful interface, with simple navigation
Hovering over gallery previews activates a live peek into a room
120 free Credits for validating a credit card
High quality HD broadcasting in most webcam rooms
C2C and 2-way audio are included in the private show rate
Models can get explicit in the public chat rooms
Model profiles with detailed bios and free picture galleries
Top models have professionally produced promo videos showing them in action
Joining a model's Fan Club grants a discount on her regular private show rate
A dedicated fetish education area with a F4F staff blog and community posts
Fetish models catering to BDSM, JOI, SPH, CEI, CBT, Roleplaying, and more
Rewards program for active members unlocks bonuses and discounts
Only site with regular promos and coupons giving discounts on Credit buys
F4F regularly holds sales events, like during holiday seasons
Generous VIP Membership benefits, like emailing attachments and recording live shows
Flirt Phone and Flirt SMS enables 1on1 phone calls and text messaging with the models
Purchase site currency with Paypal, Bitcoin, or Gift Cards
Trusted and secure billing processors
Responsive customer service
Negatives
Not as many models actively online as found on other popular cam sites
Guests (not signed in) only get 1-hour a day of free live chat
VIP membership doesn't give discounts on private shows
Private sessions with Top Models are very expensive
A model can choose to decline cam2cam and 2-way audio activation
Casual members may never enjoy the Flirt Rewards points system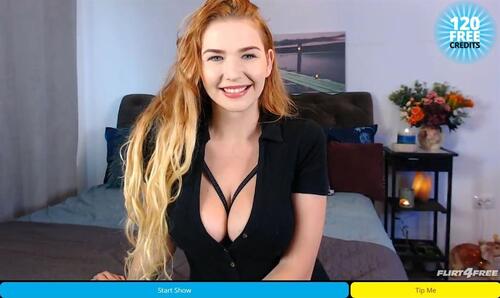 On The Whole
If the service, feature, or option exists in the world of online sex cams, then Flirt4Free has got it all covered. The site is loaded with every tool, item, and attribute that can be found on all the top private cam sites.
Performers on the site have the option to set their webcam rooms for private shows only, or to open up their rooms to a public shows. As a Guest or Basic (Rookie) member, you'll be able to watch the Party Shows the girls put on for the public, while they work the crowd for tips.
But, while there are free offerings at Flirt4Free, the primary focus is on getting you into a private webcam show. And, in turn, making that private encounter one that arms you with all necessary, as well as superfluous, chat room features and supplementary communication methods for making your interaction with a cam girl be your private affair you've been looking for.