SecretFriends Review - Private Chat with Hot Euro Girls
Last updated
January 04, 2021
SecretFriends is firmly focused on closing the continental divide. Sexy Euro cam girls hang out at this premium live cam site looking for a new friend with whom they can practice their English and their incredibly hot X-rated cam performances. It also has a bunch of benefits that make this popular live sex chat platform more of a hub for adult entertainment with some very unique and fun features.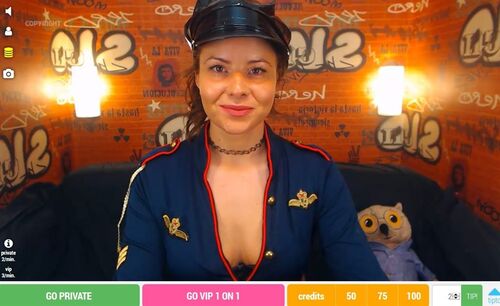 Many premium cam sites focus solely on private chat shows hosted by models from all over the world. SecretFriends is quite different. It's somewhat of amalgamation of a porn site and a live cam site promoting both aspects of adult entertainment but with a surprise twist. When it comes to the non-live fun and games on the site, there's thousands of videos to watch, a heavily trafficked forum where cam aficionados gather to compare notes on girls, actions and updates, and a games center to while away your time if you're not in the mood to watch a hot babe get naked.
On the live cams side of things, it's all about the Euro-muffs. Naughty girls from across Eastern and Western Europe populate the platform. These babes are slightly different to many of the nymphos you'll find at other sites, in as much as they're looking not just for a porn playmate but a valued friend who they can seduce both in mind and body.
In Brief
SecretFriends is far more about offering top quality cam cuties as opposed to offering a huge quantity of cam performers. Generally you'll find around 100 plus streaming, and sometimes even less, but the girls that you'll find online are all worthy of a visit. They're not just good-looking as you'd expect, but they're all extremely friendly, personable and enjoy getting to know their visitors in open chat rooms, as much as they do getting more intimate with them in private paid-for shows.
The homepage of SecretFriends takes a bit of getting used to. It's somewhat 'retro' in its look featuring a myriad of images and promotions (related to the site), in addition to the gallery of snapshots of online models. It's almost as if the site is trying to fit everything they provide onto one screenshot. But for the sake of clarity in this review, we're going to focus mainly on the live cam aspect of the site.
The Webcam Models
SecretFriends' headquarters are in The Netherlands, which means, quite naturally, the site attracts live sex stars and amateur porn performers from across Europe.
If you're looking for some dick action, again you'll be struggling to find many options here (and the same with transgender models).
On the homepage, a static image of the host appears with a colored box indicating her online status and her chat room status. If the box next to her name is green, it means she's waiting for a new friend to come visit her in her chat room. If it's yellow, she's hosting a paid-for show, red means she's been whisked away into a private chat encounter with some lucky dude and grey means she's gone offline.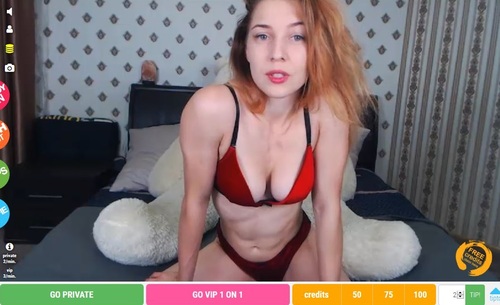 But note we say 'chat room status'... There are different types of chat rooms. Some of the babes have a small star next to their name which means you can only enter their private domain if you are a 'verified user', that means at some point in the past you've purchased credits on the site. You don't necessarily need to have credits in your account, but must have made at least one purchase. If there's a small German flag icon this doesn't mean you're looking at a German girl, rather the room is what they call a German Room and you have to pay just to enter (in a moment we'll explain more about what this means).
The Girls
The site features all types of girls when it comes to 'professionality' of shows, but is less all-inclusive when it comes to appearances and ethnicities. As opposed to many premium sites, it has a true representation of pro, semi-pro and amateur cam models. You can find everything from a verified European porn-star to a girl next-door looking to have some naughty fun with a horny hommie from across the seas.
However, when it comes to looks, if you're looking for a western woman you'll be spoiled for choice, however, there is a shortage of Ebony, Latina and Asian models. There are a handful, normally online during peak hours, but this isn't the site for you if that's where you preferences lay.
Chat Room Features
If you're looking for a particular perv or fetish to do with a new nympho, you'll need to go to the menu bar of boxes that appears above the gallery of snapshots on the homepage and select the third button (Filters). This brings up a list of the top search tags including kinks such as BDSM, fetish, fisting, dildos etc., as well as appearances such as shaved pussy, fake tits, braids etc.
The Advanced Search feature is less fetish focused and is more geared towards finding a babe based on her Age, Hair Color, Tit Size, etc. It's also one of the few sites that even lets you filter your options based on a girl's zodiac sign.
When you hover over a snapshot (and if it's a free open room - not one for verified users or a German room) a live video feed will appear showing what the cutie pie is up to in real time. Although it's meant to be a premium site, which means no nudity or explicit fun stuff taking place in these rooms - every now and then you'll come across some naughty girl bending the rules to your advantage. So, if you're looking for a quick tit flash, or maybe some wet dildo action - you're going to find it if you're patient enough.
Going Private...
At the bottom of the video window in a girl's chat rooms there are two large buttons 'Go Private' and 'Go VIP 1 On 1'. As long as you have stocked up on site credits, you can select either option to start a private cam chat with the host. If your fave lady isn't online you can also schedule a virtual date with her. All you have to do is select Plan a Date which is a link located on her profile page and indicate how long you want the date to be. This is a pre-paid option with the credits deducted from your account once you send in the request. If the model fails to confirm or refuses your date, the credits are automatically refunded.
Show Types
There is quite a selection of different paid-for show types at this site - some give incredible value for money - others less so. But, what is extremely user-friendly with all show types, is that rates per minute are pretty standardized across the board for all girls, so no nasty surprises when it comes to pulling out the wallet.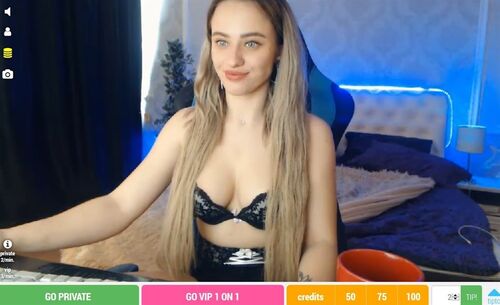 Free Chat
Free chat is another term for a girl's open chat room. This is where you can get to know the sweetie, check out her bio and if you're looking for a bit of light fun and action, then tip her. Many girls use an interactive vibrating sex toy and for a set number of tips you can turn it on and watch her squirm with pleasure. Some will also perform specific sex acts such as fingering, spanking and sucking, if you tip them well.
Private Show
A Private Show is when things start to get really hot and horny. You're in charge of the action and these girls are pretty open-minded. If there's something special you'd like her to do, make sure you ask ahead of time so you won't get disappointed if your fave perv isn't a passion of hers. Bear in mind other users can peek into a Private Show for a couple of credits - so you may not be the only one enjoying the view. Cam2cam is included in all rates but 2-way audio isn't. For this you'll need to start a VIP Show.
VIP Chat
VIP Chat is the only exclusive option and costs more than a Private Show, but here the virtual doors are closed and it's just you and your new buddy, no-one else is allowed to sneak a peek at her show. These shows are slightly more expensive than a regular Private Show but rates include the use of dual audio, as well as cam-to-cam.
Spy Show
A Spy Show is a sneak peek into someone else's Private Show. You can stay for as long as you want but can't use your cam. These shows are useful if you want to make sure how the girl performs in private before forking out the full price for yourself.
German Rooms
These are rooms that you have to pay to enter and for some reason they've been designated 'German Rooms'. If you see the Deustchland symbol on a girl's snapshot it means she only hangs-out in a pay to play lounge. As you'd expect though, if you're paying to enter, the girl will make it at least worth a few dollars, with most entertaining totally nude and taking self-pleasuring to a new high.
Group Chat
A Group Chat is a show type the Euro-chick proposes. It's basically her way of officially getting hot and hardcore in public. To enter a Group Chat you'll have to pay. It's normally just $1.00 a minute and in return you'll get an eyeful of some extreme porn pleasuring. The more the babe gets tipped during her show, the kinkier the action becomes.
Webcam Broadcast Quality
When it comes to the quality of the video feeds, expect to find most babes broadcasting in HD. If they've taken it up a notch and are streaming in HD plus (1080p), there'll be a small HD toggle on their snapshot. If you're a fan of the higher res and only want to see HD plus rooms than you can use the Filters search link mentioned earlier and select the HD search tag to weed out any non HD+ rooms.
You can also select the size of the video window to best suit your viewing preference. On the top far right of the chat room there are three boxes featuring screen sizes: small, medium and even full-screen mode.
Mobile Device Interaction
SecretFriends is mobile friendly with an easy-to-use interface and the option to enjoy a cam2cam encounter on any smartphone or mobile device. Chat rooms are maximized offering all the features you'd find on a PC layout, as well as the option to pan left and right, and zoom in and out of the video feed.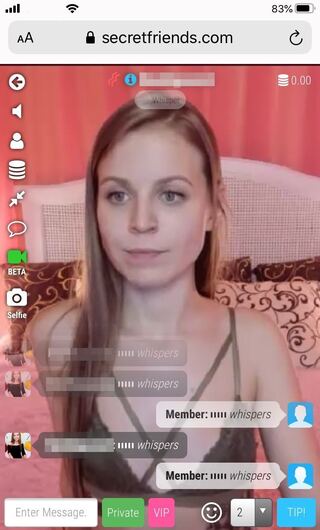 Messages appear on the mobile version as a transparent overlay bar making sure as little as the action as possible is blocked, but when it comes to sending a message, the phone or mobile' keyboard will obscure around a third of the image. So when you're typing a love note, be prepared to lose a good portion of the feed.
Registration
To sign-up as a member of SecretFriends is quick and free. All information provided to the site is is protected by cutting-edge encryption protocols. All you need to do to become a member is to input a valid email, along with a username and password of your choosing. The site will send you verification link to the email provided and your confirm via the link your membership is set.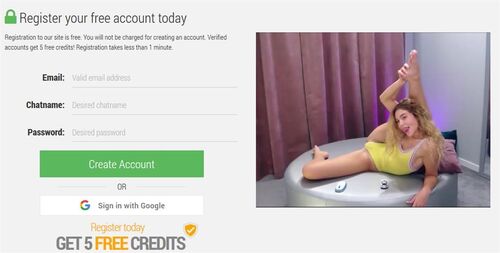 SecretFriends' Credits Packages
To start a private chat, enter a verified user's chat room or a German room, tip a model or access paid-for media, you'll need to stock up first on site credits. Working out how much a chat or access to videos costs, is relatively simply compared to other premium sites.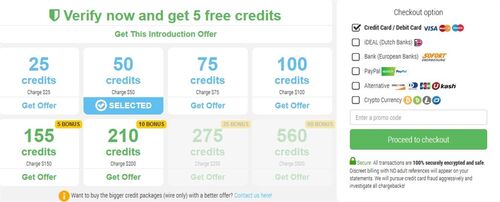 At SecretFriends, one credit equals one dollar. The site offers a variety of credit packages but only starts to sweeten the deal with some free extra credits if you purchase a bundle costing $150 or more. And, you will receive five free credits the first time you validate a credit card - no purchase necessary.
Payment Methods
The site offers a wide range of payment options as listed below:
Visa
Mastercard
Diners Club
Maesto
JCB
Discover
UKash
CryptocCurrencies
Sofot
iDeal
Prices
The following table gives an indication of SecretFriends' pricing structure. The rates were calculated using a non-discounted, averaged cost per credit. Rates are standardized across the board
| | |
| --- | --- |
| Sex Chat | Costs |
| German Rooms/minute | $2.00 |
| Private Chat/minute | $2.00 |
| VIP Chat/minute | $3.00 |
| Spy Shows/minute | $1.00 |
| Group Chat/minute | $1.00 |
SecretFriends' Membership Program
In another move away from most premium private live sex chat sites, Secretfriends doesn't offer a membership program. Every user, regardless of how long they've been registered to the site or how much money they've spent is considered equal.
Customer Support
When it comes to getting any questions answered by the site operators, you'd better hope your query is covered in the platforms comprehensive FAQ page. Unfortunately, SecretFriends doesn't offer either 24/7 live online customer support or even a phone number to contact them.
Positives and Negatives
Positives
Score 5 FREE credits just for validating your credit card - no purchase necessary
Cheap and standardized private chat rates
Huge amount of additional X-rated media
Stunning Euro-girls on cam
Negatives
No customer loyalty program
Many chat rooms are pay-to-enter
Weak search engine
Limited selection of girls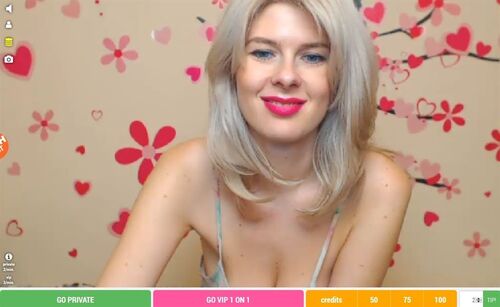 On The Whole
In addition to the sexy Euro cam girls steaming up the screen at SecretFriends.com, the site has a whole slew of additional features including it's stand-out XXX Portal. In addition to the thousands of X-rated photos and porn video, it includes a Vintage Classic Porn Premium Videos category where you can find some of the oldest adult movies made - some dating back over a century.
If this, together with the sexy Euro-babes looking for a new friend with benefits isn't enough to keep you busy at the site, then the platform's Games give another fun reason to waste some time. There's Blackjack, 5-card Poker, A Wheel of Fortune, A Slot Machine, even Scratch Cards that cost a credit to play and offer prizes including jackpots of 1,000 credits.
But, at the end of the day, it's all about the private chat shows with a new friend from the European continent and with such low chat/minute rates, chances are you'll be busy flirting up a storm with a french femme, a sexy Spanish senorita or a British babe within no time.