Best Cam Sites for the Girlfriend Experience
Published
September 15, 2020
One thing that unites us all as humans is the need for intimacy, companionship, love, and sharing happy moments with those we care about. Unfortunately, in this fast paced world, it's becoming harder to find. This is why having a 'girlfriend experience' through live cams has become increasingly popular. Lovely, accommodating ladies, fantastic HD quality, ability to talk and watch on mobile - All these reasons and more have created the perfect simulation we crave, but for different reasons can't have. With that in mind, we've compiled the best 5 cam sites to cater to those who are looking for that special lady to spend time with, enjoy her company, and feel cared for in the best possible way.
LiveJasmin.com
LiveJasmin is the most premium a site can get, and is frequently honored with awards and accolades for its superior customer service, streaming quality, and of course - The best, most professional ladies in the biz. Not only does the site greet you with luxury dripping from the polished and sleek profile pics of the ladies, once you enter a room you'll quickly recognize the quality of these seasoned pros.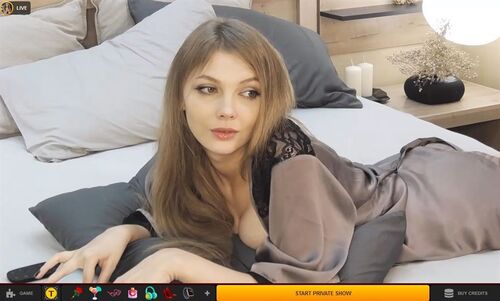 To get the girlfriend experience on LiveJasmin, you'll want the Hot Flirt or Soul Mate girls. These two categories host girls ready to match with lovers, not minute men. They look for a more romantic and delicate kind of person that can enjoy getting to know them. These are women well versed in giving the GF experience, so there's a great chance you'll find "the one" in one of those categories.
As this is a premium site, there's no sex or nudity in the free rooms, which means they're the perfect place to get to know the girl you'll be in a relationship with, especially considering the impeccable hi-def streaming in most rooms. On average, a private chat will set you back $3.60 a minute for a private session, and the cheapest rates start at $1.20 a minute.
That's not too bad, but consider that for a cam-to-cam session, you'll need to add $1-2 each minute for each extra feature - Your cam and your mic. To make things cheaper, take a look at profile pics with the words New and Promo on them, as well as the Sale category on the left search bar.
LiveJasmin also has an excellent mobile c2c, which enables you and your babe to watch one another while you're using your smartphone. This is especially fun when you try out LiveJasmin's feature Mobile Live, where the girl herself also uses her cell, so you could be both chatting from the road, just like a real couple.
---
Flirt4Free.com
Perhaps you're looking for a very particular kind of gal, one that is less on the vanilla side and more on the kinky side. She's still sophisticated and stunning, but maybe she enjoys to play naughtier games, just like you do. Flirt4Free is the perfect place to find her, as it boasts a wild and fantastic fetish community, and a dedicated Fetish category to match. Along with unbeatable HD quality rooms and super fun extras, Flirt4Free is a tough site to beat.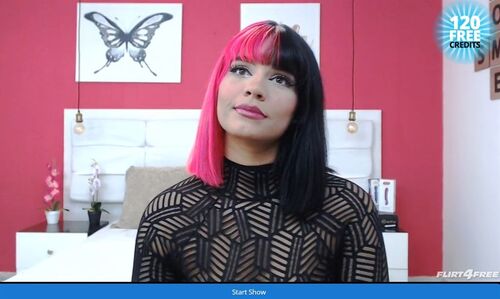 The absolute best way to find your new playgirl is going to a feature unique to Flirt4Free - The Forums. There, you'll be able to find not only other members to discuss your GF live cam needs, but also talk to actual women that will offer up their services. This makes searching almost moot, as you get a clear reply to your query from the hot babe, and you can pick the one that tickles your fancy most.
On the very bottom of the home page you'll find all the extra features that Flirt4Free offers, such as Interactive, which are rooms ready to connect your pleasure toy with your new lovers' toy. And Fan Clubs, are all the girls that ask for a monthly tribute to grant you access to view their uploaded pictures and vids, as well as get exclusive offers. As well, there are all the top girls that have won contests, such as Flirt Of The Month, or Webcam Hall Of Fame.
Flirt4Free is not cheap by any means, with an average price of about $4.50 a minute, however at the same time, boasts some of the cheapest cam rooms, starting off at just $0.50 a minute, which includes c2c. If you like, you can also put to use the site's Show Offers feature, which allows you send a message to a specific lady and negotiate rates and times.
It's also important to mention that Flirt4Free is another premium site that offers the rare pleasure of a mobile cam 2 cam, along with a mobile version that is just as great as the desktop and is extremely user friendly on your smartphone.
---
CamSoda.com
CamSoda is no ordinary freemium site, but a giant free-for-all cornucopia of open rooms, all displayed at once in real live streaming time. It's almost too hot to handle, and your head may be spinning when you first enter and check out the hundreds of rooms full of nakedness and risque activities. It also offers some of the lowest prices, even for a free site, and includes a mobile version which is the best around, not to mention includes 2-way video and audio.
The search on CamSoda is not as simple as on other sites, as there is no real search engine, only tags, though there are thousands of them. You can attempt to search for specific words, but honestly, it would be much quicker to simply choose the mamas you like best and ask them about your desired live GF experience.
One great benefit that only CamSoda offers is what happens once you do find that lucky lady - You can record your sessions, any and all of them, for free. This sounds like a minor boon, but most sites either don't have the option at all, or charge for it. By recording your shows and saving them in My Media, you can rewatch these anytime, anywhere.
Going into said private chats will cost $3.00 a minute on average, but will start with the lowest price of $0.70 a minute. Keep in mind that because CamSoda is a huge freemium site based on tipping, there will be ladies without the private chat option, or conversely, some will charge extra for cam-2-cam.
CamSoda is one of the very few freemium sites allowing you to open your cam on your mobile device and, thus, engage in interactive c2c chats on the go. As CamSoda itself doesn't offer HD in all rooms, the mobile version is great because it eliminates that issue altogether, with crisp streaming quality and all the great features of the site as well.
---
ImLive.com
Just like a woman, ImLive is a complex site with many facets, some freemium, some premium, and some simply great that cannot be described with a singular adjective. The site is premium, yet is has plenty of giveaways and offers unique deals and free tokens. In short, ImLive is a beautiful, complicated system that just wants to make you happy - On its' own terms.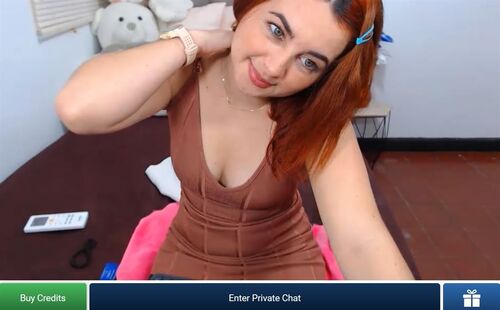 The heart of the site is located in the Members Area, which is where you'll be able to find all the information you need, all the rooms and categories, your billing info, including promotions, deals and announcements of special events, parties, and promos. We recommend starting there just as soon as you sign up.
The main reason we encourage you to do so, is so you can scooch on over to the most intriguing feature on the site that will aid in finding your girlfriend experience partner: Fulfill Your Fantasy. This is a super fun option for anyone looking for something special, which is hard to find. ImLive does have a search filter, but it's limited, and no tags. In lieu of these, submit your fantasy, which goes out to all the women on the site, and watch the offers pour in, including prices and lengths of chats.
If you decide instead to go for a grand search quest in the regular categories, and your find your lucky lady there, you'll be happy to know that private chats are incredibly cheap for a premium site. The cam rates start at just $1.00 a minute, with the average video chat coming in at an affordable $2.25 a minute.
Another great perk which you can tell by a little vibrating icon on the gals' profile pic, is interactive pleasure toys you can connect to by tipping. Each room will have a price per seconds where you can tip - And watch your lady love squirm as you keep on tippin'.
---
Stripchat.com
Stripchat is a wild ride, and you never quite know where you're going to end up, no matter which intentions you have coming in. The performers are unique, all in their free open rooms where sex and nudity are not just allowed, but very much encouraged. You'll see costumes, couples, ladies from all over the world and a number of categories that will blow your mind. We hadn't even heard of some of them before visiting Stripchat for the first time.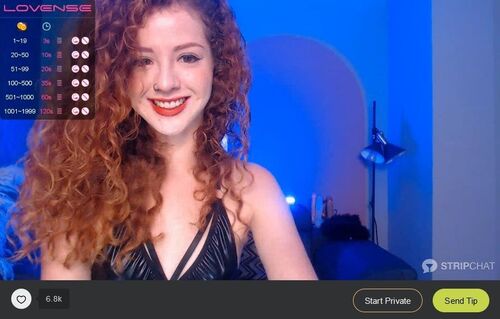 When searching for your GF counterpart, there are a few ways to go about it on Stripchat. On the top is a search bar, where you can type in anything. We recommend typing in GF, as that will bring up the most results (Between 30-40 live cams). You can also type Girlfriend, but that will show much less, as not many girls on the site use that name in their profile.
The other way to look is more about the chat - Virtual reality chat, that is. Stripchat offers what no other site currently does, a real VR private chat, in 4K HD streaming quality. Once you select these rooms, you'll also receive plenty of information with instructions on what to download/buy, and how to use the feature.
If you prefer to search the "old fashioned" way, we recommend firstly going to All Categories found mid-way down the homepage. With over 2,000 babes online at any given time, categories are necessary. These are no ordinary categories, though. Sure, you'll find the classics, such as Roleplay, Bondage, BDSM and the like, but you'll also find unique and unusual categories, like Best For Privates, Romantic, and Colorful.
Private chats average around $3.40 a minute, but start at just $0.80 a minute. You may get charged extra for c2c. Filtering by price will make sure you'll find a gal in your price range, and though not all rooms have HD, selecting the HD category will ensure a great viewing experience.
---
Conclusion
These 5 sites all offer the best possible options to find your lady love for that intimate, special, one of a kind girlfriend experience. Hopefully you'll find a lady that's caring, has a great sense of humor, is easy on the eyes, and she won't cost you a fortune.
The site that wins our hearts for this particular inclination is LiveJasmin. Mostly, because the girls on the site are unlike any others. Couple that with amazing HD quality, plenty of ways to find a deep connection, and prices to fit every pocket (As well as the option to c2c on mobile), and you've got a winner. LiveJasmin gets our vote as the best site around to find your next live cam GF experience.