Top 6 Fetish Cam Sites Accepting PayPal
Whichever fetish flavor floats your fancy you're going to find it on these 6 leading adult cam sites. Some sites are all about the darker side, others cross the boundaries with roleplay games from a horny housewife's home or a squirting student's dorm room. But what each and every cam platform does have is a PayPal friendly payment method. PayPal is a cam aficionado's best friend. It provides an added layer of anonymity helping ensure what takes place between you and your fave fetish femme, remains between the two of you. Read on to find out which are the top 6 sex cam platforms for private fetish chat shows that are PayPal friendly.
CamSoda.com
When it comes to finding girls that love to take things to the next sexual level both on and off camera, then first stop of your fetish quest must definitely be CamSoda. As a freemium site, CamSoda has a whole lot of kinky fun and games happening in most of the free chat rooms. With over 800 rooms of mainly amateur wannabe porn performers streaming 24/7, these girls compete between themselves on not only looks, acts and skill, but also offer some extremely competitive prices in order to get your attention directed their way.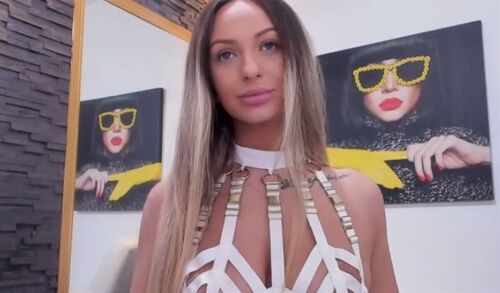 Finding the perfect fetish-focused play pal at CamSoda is pretty easy. The moment the homepage loads you're inundated with hundreds of snapshots showing captured moments before all the rooms' live video feed previews start to play. So, it seems a bit redundant to tell you how to get directly to the fetish-centric rooms as almost every girl is into some form or another of kink. Whatever your particular proclivity, bets are that on the home page, a significant percentage of the girls will not only be up for it, but probably are fans of it already.
If though, you want only the babes that have tagged themselves as fetish performers (but you really will be missing out on a whole world of horny goodness if you limit yourself to these nymphos) then simply go to the view all tags button on the top right above the gallery of images. Select this and on the first page of results scroll down until you come to the Fetish category.
Once you're ready to open start a private paid-for chat show, then be prepared to pay around $3.00 a minute for a fetish sex chat session. This rate is the average, more or less, however you can find several BDSM / fetish rooms that ask just $0.70 a minute. All fees are meant to include cam2cam and 2-way audio, though some girls ask for an additional tip if you want them to watch you too.
Buying CamSoda tokens with PayPal:
On the top right corner of the homepage select the orange Add Tokens button
Choose PayPal under Payment Type
Select your preferred token package under Payment Options
Click/Tap on the Purchase Tokens Now Button
Complete the pop-up transaction form to receive your tokens
---
LiveJasmin.com
LiveJasmin is beyond a doubt one of the top premium xxx cam sites around. First off, it's all about HD. Almost every room is at a minimum HD (708p) with many streaming in glorious HD plus (1080p) And you'll be thankful it is so HD focused when you take a look at the cam girls that live on the site. Each and everyone is top of class in their category (ranging from 18+ model types to hardcore MILFs and bouncy BBWs from every ethnicity). When it comes to the cam models who like to invite you into their dungeons, you'll be happy to hear those virtual doors slam shut. These ladies are skilled professional fetish devotees and know exactly what it takes to make a live private cam show a fetish fantasy fulfilled.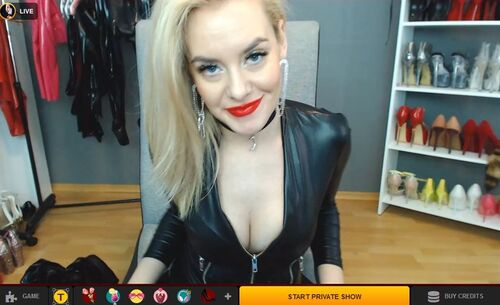 LiveJasmin has both quality and quantity with some 1,500 stunning cam models online day and night. The homepage brings up a selection of some of the most gorgeous cam performers, in fact many of the models perform exclusively on LiveJasmin with chat users going to the site just to spend a few minutes with these stunning sex goddesses.
To get to the fetish ladies you just go to the menu on the left of the homepage and select Fetish. This will bring up a gallery of dominatrixes, subs and the girls that switch between the two genres. If you're looking for a particular fetish just hover over the live feed of a possible playmate and a small info icon will appear on the top left of the window. Click on this to find out more about their particular pervs. Another way to go is by selecting the search icon on the top right of the homepage (next to the magnifying glass symbol0. In the Willingness group, just click/tap on your fave kink.
Prices per minute for a one-on-one private sex chat don't include cam-to-cam and 2-way audio. For each of these features you'll need to factor in an extra $1.20 a minute on top of the advertised rate. The cheapest exclusive cam shows start at just $1.20 a minute, though most come in around the $3.60 a minute mark.
Buying LiveJasmin credits with PayPal:
On the top of the homepage go to the Get Credits link and click through
Go to the bottom of the pop-up box and select the PayPal button
Choose your preferred credit package or enter a customized amount you'd like to purchase
You will be redirected to a PayPal page where you can complete the payment process and get your LiveJasmin credits
---
FetishGalaxy.com
FetishGalaxy is the only premium fetish-centic webcam platform to make it onto this list of the best PayPal friendly sites for fetish cam chat shows. Every one of the 150 or so online rooms is focused on kinky X-rated quirks. Private cam shows with these mistresses and subs extraordinaire are some of the cheapest around. While HD streaming isn't as pervasive as the pervs on the site, the low rates, skilled and passionate performers and user-friendly layout make it a fave for fetish devotees.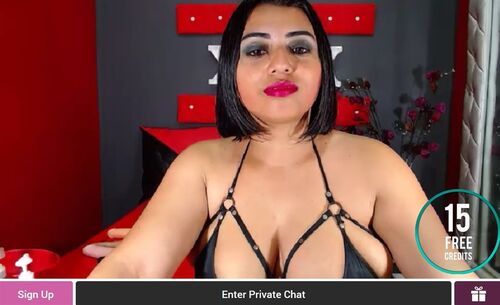 FetishGalaxy is about fetish and fetish only. This is apparent the moment the homepage loads. The gallery of snapshots are not for the faint of heart. These lewd ladies like to show off their particular talents, often in an explicit image - so be prepared. Each of these xxx photos is clearly labelled as to which side of the perv path the cam host walks - Dominatrix / Submissive or some call themselves Experts / Educators (which basically means they can flip between being both a domme or a sub).
Fetish covers a whole family of genres and the site makes finding a porn partner for your personal perv easy and quick. You can either go to the top menu bar and select one of the main kinks such as; Bondage, Humiliation, Findom, and Jerk-off Instruction (JOI) etc., or drill down further using the advanced search option. To do this you just go to the small search icon on the far right of the page. Once you click on it a pop up box appears showing 27 fetish sub-categories. You can also filter down the results using Age and Ethnicity parameters.
As mentioned earlier, private cam sex chat rates are low, starting at a budget-friendly $1.00 a minute for a c2c show. Most rooms tend to come in at the $2.25 a minute mark with all prices inclusive of cam2cam and dual-audio usage. A quick heads-up here though, not all rooms stream in HD, in fact they're still in the minority. So, before you start the meter ticking, make sure the streaming quality of your partner is up to par for your needs.
Buying FetishGalaxy credits with PayPal:
Select the Credit button on the top right of the homepage
Click/tap on the Change Biller button located on the bottom of the pop-up box that appears
Choose the PayPal/Epoch option and then click on Apply
Select the credit package that best suits your budget
Compete the transaction process to receive your credits
---
Flirt4Free.com
When it comes to singling out a generic premium cam site for it's strength and commitment to making sure fetishes are part of the mainstream live sex adult entertainment world - then Flirt4Free deserves the title of best of the best. The site's dedicated fetish arena covers all things non-vanilla. From user-powered forums, to infotainment, articles, fetish relevant news and of course a search page featuring 54 dedicated kinky cam categories, Flirt4Free is a user-friendly bridge that crosses all types of sexual roads.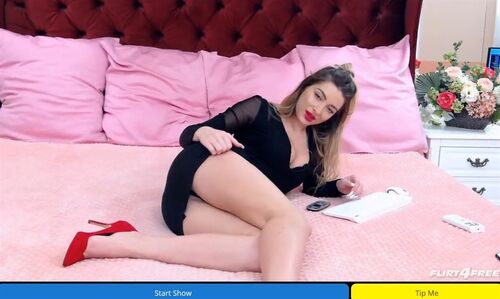 To get to the spicy cam babes out of the 600 plus X-rated rooms streaming 24/7 at Flirt4Free, it's a one click trip from the homepage. On the top menu bar simply hover over the first link (Live Cams) and click on Fetish from the drop-down menu. This takes you to the page with all the proclivities beloved by so many including; Bondage / Sissy Training / Role Play / Spanking / SPH / Slaves and more.
It's worth checking out the threads on the forum. This is where many kink kings post ideas or experiences they recommend. If you're looking for something specific, and you post your deviant dream on the board, then quite often the adult cam stars will contact you with price quotes in order to make your fantasy a reality.
If all this isn't enough to convince you to check out Flirt4Free, then their prices will seal the deal. Flirt4Free's cam-to-cam fetish chat charges kick off at just $0.50 a minute, though it must be noted these rates are in the minority, most of the babes ask for a much higher $4.50 a minute (inclusive of cam2cam and 2-way audio usage). But... and this is important, the site is always hosting deals and promotions that give discounts on chats and many of the girls host their own deals offering coupon codes that give you extra minutes (even double the time) if you go private with them.
Buying Flirt4Free credits with PayPal:
On the homepage click on the large green Credits button located on the top right of the screen.
Select the Change Payment Method at the bottom of the box
Choose PayPal from the list of payment options that appear
Select the credit package that best suits your budget
Complete the transaction process page in order to receive your Flirt4Free credits.
---
Stripchat.com
Stripchat is a premium cam site filled with amateur lovers of all types of porn. From girls looking for an audience, to ladies honing their art in the hopes of being discovered by a major porn powerhouse studio. There's every age, look, ethnicity and proclivity covered in the 2,000 or so sex chat rooms streaming at any one time. But, if you're looking for those that like the darker or dirtier side of sex, this is where things get fun.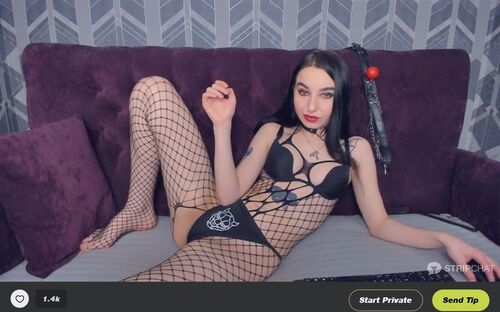 To start narrowing down your options to just those who like to take things up a naughty notch or two you can either go to the left hand menu bar and scroll down to Popular Categories. Here you can find a few major genres such as BDSM, Hardcore or Dirty Talk. But if you want to really find more specific kink categories you'll need to click on the All Categories button at the end of the menu and select a fetish from the alphabetical search listing page that comes up.
Stripchat is really into making things easy to find. That means their search groups are incredible specific; Granny Fisting, BDSM MILF, Ebony doing Striptease, Tittyfuck and hundreds are more listed, with the number of relevant rooms currently online.
As you'd expect from a site featuring fetish chat sex babes streaming from their home, prices are lower than those performing from more professional settings. On average, rates for a kinky cam fest stand around $3.40 a minute, though you'll easily find low-cost shows at just $0.80 a minute. When it comes to cam2cam and dual-audio there are no hard and fast pricing rules. Some of the sex performers will include it in their rates, others will charge extra, even double their non-cam2cam rates.
Buying Stripchat tokens with PayPal:
Click/tap on the green circle next to the images of tokens on the top right of the homepage
Select PayPal from the Payment Method options
Indicate your chosen token package or click on Show More Token Packages to view more package options
Press the Continue button
Review the information and click on the Proceed to PayPal button to complete the transaction
---
LivePrivates.com
LivePrivates is all about excellence. Every performer has to pass a stringent vetting process before being allowed on the platform. This ensures the site's curated selection of live porn performers are pros in every aspect. Every setting, from BDSM caves and dungeons to elegant boudoirs and professionally styled bedrooms are perfectly lit and laid out making sure not one second of the hot and horny action is missed. And of course, it goes without saying that the overwhelming majority of the 1,500 streaming sex sirens ply their assets in HD and HD plus.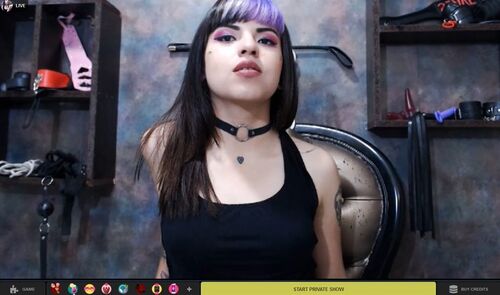 One thing you're guaranteed at LivePrivates is that if you're into BDSM /Bondage or acts that require ropes, whips, spanking paddles and the such like, the LivePrivates experts make sure all necessary paraphernalia is on hand. You won't waste a paid-for minute or be disappointed when you find out the room isn't appropriately equipped.
With so much eye-candy on display it can be hard to focus at the fetish at hand. Just remember though, LivePrivates is a premium site so there's no nudity or explicit entertainment in the open chat rooms. To get to the lascivious ladies, you'll need to select Fetish from the menu of options located on the left of the homepage (or try dominatrix / submissive but these are the only kink categories listed).
These babes are all virtuoso vixens and look the part to the nth degree. This is reflected in the private fetish chat rates. On average a one-on-one session will cost around $3.50 a minute - but again, you'll need to add another $1-$2.00 a minute if you want it to be a cam2cam show and the same again if you want 2-way audio. The cheapest cam rooms start at $1.20 (without c2c and dual audio).
Buying LivePrivates credits with PayPal:
Click on the Get Credits link located on the top right of the homepage
On the bottom of the blue pop-up box select the PayPal button
Either choose an amount you'd like to spend and enter the number in the Custom Amount box or select a predetermined credit package.
Complete the payment process on the PayPal page you will be redirected to in order to receive your credits
---
Conclusion
The above sites are the pick of the cam crop for private fetish cam chat shows that take PayPal as a payment method. Some are extremely cost-effective offering cheap cam2cam fetish chat sessions. Others make sure HD streaming is the norm and every kink and perv is covered by its library of online sex performers. And of course, any round-up must include a fetish-centric site that's all about the lifestyle and whose performers are devotees of deviancy.
PayPal is an extremely popular payment method for live sex chat as it adds an additional layer of anonymity to your online adventures. Privacy, security and discretion are at the fore, ensuring the only personal identifying details connecting you to your cam fun is the email address linked to your cam site account. There's no need to give the site (or payment processor used) any other details.
Out of the top 6 fetish cam sites accepting PayPal which are listed here, one sneaks into the top spot as the most recommended - and that's CamSoda. A huge selection of kink and fetish models, an incredible selection of high quality streaming rooms, easy-to-find kink categories, and of course, some extremely cheap live private fetish chat rates.