Top 5 Lovense & OhMiBod Private Chat Sites
Nowadays you can literally turn on your cam partner with a click of the mouse. All the best live cam sites feature models with a buzz that you have control over. We checked out the top cam sites to find the best private sex chat shows featuring models using Lovense and OhMiBod interactive vibrators. Read on to find out how to switch on the pleasure toy, how much it'll cost, and what it'll take to be climaxing in perfect harmony with your favorite cam girl.
CamSoda.com
CamSoda has it all, amateur, semi-pro and pro cam models, HD streaming, low-cost cam2cam private chat shows and a huge selection of rooms where interactive vibrators are considered by the performer as an integral part of any show. It takes just one click to get to the babes that are plugged in and ready to squirm at your command. Read on to find out how to bypass the site's search tags (of which there are hundreds) and get directly to the exhibitionists and start controlling their orgasms with a tip or two.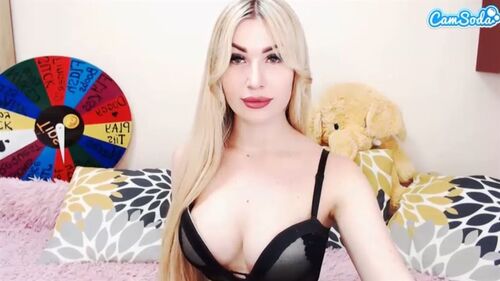 CamSoda has around 400-600 adult performers broadcasting at any one time. The great thing about this site is that you don't have to pay to see nudity and full-on explicit performances. It's a freemium site which means the girls are free to go as far as they want in their public open chat rooms, and many take the no-hold ethos and strip off and go all the way.
To start a buzz going inside the cam cutie of your choice, first step is to narrow down your options of rooms by those that are OhMiBod enabled. All you have to do is go to the menu above the gallery of snapshots and select the OhMiBod tag which appears in the middle of the bar.
As opposed to premium chat sites, girls at CamSoda like to perform in public and if you want to see her do something specific, you just tip her a set amount (most rooms have a menu of tip rates showing how much each act costs). If you want to turn on her toy you can do this a few seconds or until climax. The longer it's vibrating, the more you pay. To do this you simply click on the Control Her link located on the right of her live video feed.
If, however, you're looking for 1on1 cam date and want to be the only one to watch her squirm, you'll need to click on the Go Private button in order to start a private show. Most cam performers ask around $3.00 a minute for a private live cam date, though some of the lower quality streaming rooms or new models on the site ask just $0.70 a minute.
Take A Tip: Check that the girl is using her toy before clicking on the Control Her link or going private. Sometimes they have them switched off and if you pay for it to start vibrating you'll have to wait for it to be turned on... and that might take a while.
---
ImLive.com
ImLive is focused on offering low-cost live chat and lots of it. In the open chat rooms, the girls will seduce and entertain like pros, but don't expect any nudity or toy action to take place. The good stuff is kept locked away for those willing to pay the very low costs to open the boudoir door and launch a private cam session.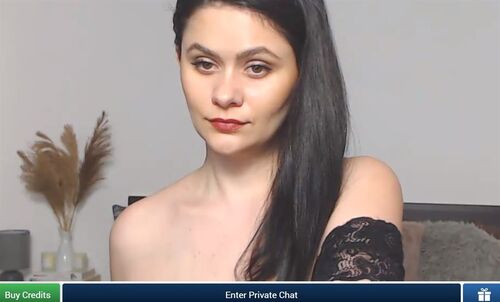 The cam performers at ImLive cover all ethnicities, appearances, age and skill. From true amateur MILFs broadcasting from their bedroom to verified porn-stars holding court in well-equipped professional studio settings.
One of the coolest free features at ImLive is its ability to let you watch six rooms at the same time. If you click on the Multi-Viewer link at the top of homepage, it brings up live feeds from six rooms at the same time meaning you get six times the action as you scroll through videos to find that perfect cam partner.
To get to the vixens with the vibrators you select the Filter button on the top of the Live Cams page. In the drop-down menu that appears when you click/tap on the downward arrow, go to Features, hover over it and on the menu select Play the Toy and the site will bring up only those photos of rooms with the titillating toys. Any photo though that has the big blue circle with a dildo on means that the babe is hooked up and ready for some movement.
You can only turn on the vibrator once you've taken the girl into a private cam show, and at ImLive, private does not come at such a big cost. Most 1on1 cam chat sessions come in at just $2.25, with many rooms charging the minimum of $1.00. And yes, these rates include cam2cam. Tipping to get the toy turned on generally will set you back around $1.00 for a 30 second buzz.
Take A Tip: The Discount Club is a model's way of making sure you come back to her for more exclusive cam time together. For just $16 a month you get 60 cents a minute off her chat rate, access to her host videos and discounts off her recorded shows.
---
Cams.com
Cams is all about the interactive webcam experience. Every room that features both an interactive vibrator and the site's unique Connexion option which lets sync your toy with the girl's, has a large sticker and icon on the snapshot showing at a glance whether it's worth clicking through for some extra-level online fun.
There's generally around 500-600 rooms streaming 24/7, the majority of them in HD and HD plus. It is a premium site though so there's no X-rated happenings in the free open chat rooms. To see a model's assets and how she uses them, you'll need to pay and start a private 1on1 cam show.
What you will find, and a lot of them, are girls using OhMiBod and Lovense toys. On the left of the homepage, the first category of search options is Show Types, and the first link here is for Buzzmode. These are all the rooms that are enabled with the bluetooth linked toys that you can switch on in both the public and private chat rooms.
All you have to do (once you've stocked up on site tokens) is enter the girl's hangout and you'll see a big notice overlaid on the video explaining you simply click anywhere in the live feed and it'll give the babe a buzz (for 10 tokens). If you click on the big purple Superbuzz sticker it'll set you back 30 tokens, but that's a powered-up push that'll really get the cam model squirming with pleasure.
Another interactive show type is the Connexion, which takes simulated online sex to a new level. If you have a Lovense Max (a toy for male masturbation), you can hook it up remotely to the cam performers Lovense Lush and control the power of both and truly have the joy of climaxing together.
On average, most private cam chat shows come in at $3.00 a minute, not including cam to cam. The cheapest rooms are slightly less at $2.50 a minute. Rates don't include cam2cam, so if you want to be seen - you'll need to factor in an additional $1.00 a minute.
Take A Tip: Sign-up for a model's Fan Club even before you start your first private chat with her. Most ask $14.99 a month and in return you get a package of perks including up to 70% off all private chats with them and free access to her recorded shows.
---
Flirt4Free.com
There's no nudity or explicit fun and games taking place in free open cam rooms at Flirt4Free. But, if you're looking for an interactive sex show, Flirt4Free has them all. It's not just a tip and vibrate option, at Flirt4Free you can sync your device with the cam performers device and control them both. Prices for a private cam experience can be high, but in this review we'll show you how to cut those costs big-time.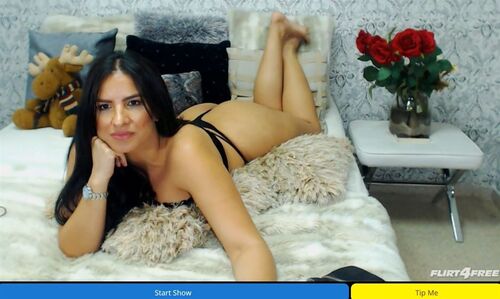 At this site, if you want to see any action and finish in unison with your favorite femme, you'll need to start an exclusive 1on1 private live cam show. Every performer at Flirt4Free is a total pro at her art and many specialize in one fetish or another. So if you're looking for some horny harmony in a cam2cam show, with a kinky babe, Flirt4Free show is full of options.
To find the interactive rooms is extremely easy - every room that has them features a large pink sticker with Tip Controlled on the snapshot in the homepage gallery of online performers. If you only want to see these rooms, click on the Categories link on the top menu bar and select Interactive from the options that appear.
Once you start a private 1on1 cam show, you can tip the babe and see her squirm as long as the toy vibrates, or if she has a device that you can sync with your love toy, you can tip and control them both and prolong the pleasure as long as you want.
Even though Flirt4Free has some rooms that will host a private cam2cam chat for just $0.50 a minute, the majority of rooms charge around the $4.50 a minute mark. All rates include cam2cam but, you'll have to tip extra if you want to have an interactive sextoy session.
Take A Tip: If you've got a babe that you really like to spend time with in private chat, it's worth joining her Fan Club. It costs usually just under $20.00 a month and gives you benefits include access to her media and discounts on private sessions. It's also worth checking out which girls are giving out Deals (coupon codes that can double the minutes you get in a 1on1 show).
---
Stripchat.com
Stripchat is all about the interactive sextoys. At any one time you'll find between 400-500 cam models out of the 1,000 plus streaming rooms waiting for someone to jump into their free chat rooms and tip the toy so it'll start vibrating up a wet whirlwind. Stripchat is a unique site in as much as it looks like a premium cam site, with no ads cluttering up the homepage and a well thought-out search engine, but it is in fact a freemium site like CamSoda meaning a lot of the action takes place in the free open chat rooms with tips fueling the shows.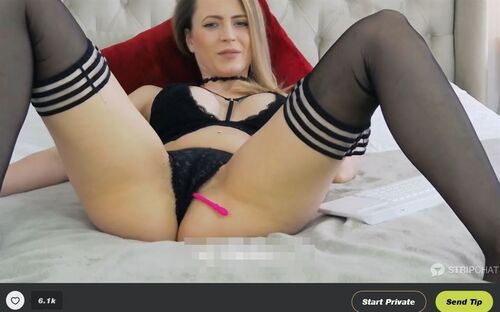 The girls themselves vary in style and quality of performance. On one hand there are pro cam models hosting stylish sessions in HD, HD plus and even mind-blowing VR (virtual reality). Stripchat is currently the only adult cam site offering VR shows for viewers with VR headsets. This really takes the action up a level and if you own a virtual reality headset - a Stripchat VR show is a must.
On the other hand, there are true amateurs performing out of their houses and even college dorm-rooms, with less attractive, stuttering SD broadcasts. No matter what standard the performer, Stripchat is a freemium site which means most get naked and kinky in their free chat rooms and if you don't want to go into a private cam chat meeting, you can tip the girl and get her vibrator buzzing here.
In order to filter your options down to only those that are using interactive toys, you go to the left-hand vertical menu bar on the homepage and scroll down to the Popular categories. The first option is Interactive Toys showing how many broadcasting rooms in this group are currently waiting for your visit.
If a cam2cam or private cam session is more what you're looking for expect to pay around $3.40 a minute, with the occasional room coming in at the site's minimum rate of $0.80 a minute. Some performers include cam2cam in their standard charges, others ask for more - even double, so check before starting any show what the girl's policy is on this.
Take A Tip: Make sure you've registered as a member of Stripchat. It's free, secure and only takes a moment to sign-up. Once you have, you can enter the site's hourly free draw when they give 50 tokens each to ten members who are logged into the site at the time of the draw.
---
Conclusion
Tipping a girl to watch her play with herself is so yesteryear. With today's technology you can easily tune into a girl's vibrator no matter where it is (and we don't mean in which country) and turn it on with one click. For many people, it's the power you have over the girl's desire, you can decide when she orgasms, even how strongly she'll climax if she gives you the reins to her pulsating play-pal.
The above 5 cam sites all feature interactive chat rooms. Some will only let you take control of the OhMiBod or Lovsense toy in a 1on1 private cam chat date, others are happy to get wet and wild in their open chat room.
One site however let's you do both at competitive pricing. With stunning cam girls of all looks, ethnicities and skill levels, HD streaming and free shows to heat you up, CamSoda is a great start for an interactive journey in cam chat land.