5 Leading Cam Sites That Will Let You Pay with Cryptos
Published
February 02, 2021
Paying for your live chats with cryptocurrencies has one major advantage. The blockchain technology, upon which these currencies are based, makes it virtually impossible to trace online transactions back to you, promising you much desired confidentiality and anonymity. We've gathered here the 5 best cam sites that will be happy to accept your cryptos.
CamSoda.com
CamSoda is a top-notch cam site which hosts 600+ hot models around the clock. Many of them boldly pose for you in their open chat room wearing nothing but their birthday suits. The site has unique live chat features meant to upgrade your user-experience.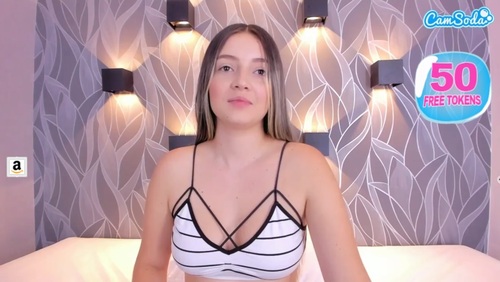 CamSoda's performers appear under hundreds of theme tags. You can browse through these tags to find the girl you would like to engage with, or simply go to the main page and pick one of the beauties there.
A private chat will cost you $3.00 a minute. The cheapest models charge an affordable rate of $0.70 a minute. You won't be asked to pay extra for a c2c chat, which you can initiate either on your computer or on your mobile phone.
To use cryptos to fund your chatting activity, you'll need to do the following:
Press on Add Tokens and select Cryptocurrencies as your preferred payment method
Pick one crypto out of the 8 currencies (e.g. Bitcoin, Etherium, Litecoin or Monero) put at your disposal
Choose the credit pack you want to buy
Click on Complete your Transaction to reach the final deposit page
The majority of CamSoda's models will allow your private chats with them to be recorded. You can watch these recordings later on free of charge. This is a wonderful way to re-experience the thrill you felt when you first chatted with these models.
If you intend to use CamSoda's services on a routine basis, you should seriously consider upgrading your membership status to Premium by paying $19.95 a month. Doing so, you'll enjoy a clean ad-free interface and be able to send models private messages, change tip volume, and tip and chat anonymously.
---
LiveJasmin.com
LiveJasmin is one of the web's leading premium live chat sites. Any time you visit it, you'll meet more than 1,000 online models dying to entertain you. Almost all of them are professional cam performers who broadcast at HD720p promising you high quality viewing experience.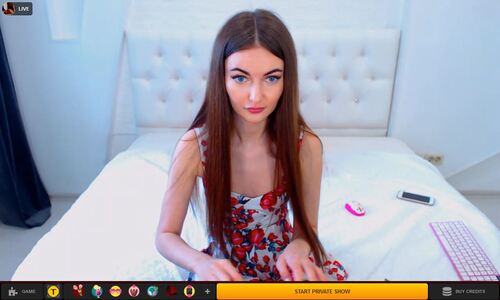 LiveJasmin has a nifty filtering tool allowing you to sort out its model according to a variety of parameters including a Willingness category which comprises a variety of kinks the model will be willing to incorporate into her show.
A one-on-one show paid with cryptos is around 10% cheaper compared to a credit card and it'll cost you $3.20 a minute on average. Minimum rate is $1.00 a minute. You can activate your cam while you are chatting from your smartphone but engaging in a cam2cam chat whether from a computer or from a mobile device demands an additional fee of 1-2 dollars a minute. The same applies to 2-way audio.
To pay with cryptos for LiveJasmin's premium features, follow these guidelines:
Press on Get Credits on the site's main page
Tap on Payment Methods at the bottom of the page
Choose Crypto Currencies
Select your desired credit pack or enter a desired amount
Choose the type of crypto you wish to pay with (There are more than 10 currencies at your disposal)
Enter your email address for receipt and press on the Pay button
You'll reach a deposit page where you'll have to complete your purchase
LiveJasmin has a unique promotion specially designed for newbies. Once you finish opening an account, a Wheel of Fortune will pop up on your screen. Spinning it will get you discounts of up to 99%. You'll have one hours to make a purchase with the discount you've won. If you fail to do so, the wheel will appear later on for another opportunity to receive a discount.
---
Flirt4free.com
More than 600 constantly active models waiting for you in their chat rooms, multiple cam show options, including kinky ones, tons of hot videos and lucrative reward and VIP programs make Flirt4Free a main hub of live chat activities.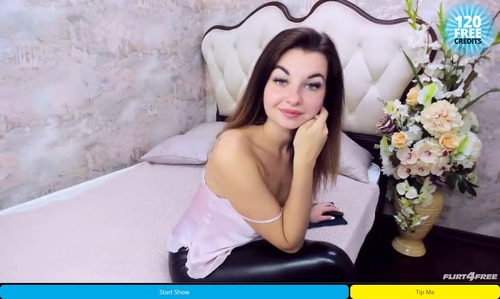 Flirt4Free's has many room types where you can engage in Party Chats, Group Chats and, of course private chats. The latter, paid by cryptos, will cost you $4.50 a minute on average. You'll be able to find models who charge as low as $0.50, but, unfortunately, there aren't too many of them on the site. Cam to cam doesn't cost extra, and it can be activated on your mobile device.
If you want to save money, you can opt for a Multi-User Show most models give. You won't enjoy exclusive time with the performer as you'll join other users. Moreover, you won't be able to turn on your camera (unless you were the first participant in the show). But the price you'll pay is approximately 25% lower than a private chat.
To pay with cryptos, here is what you have to do:
Press on Buy Credits
Tap on Change Payment Method
Select Crypto and select your desired pack of credits
Choose the type of currency you want to use
Enter your email address and press on Pay
You'll be transferred to a deposit page to validate the transaction
Flirt4Free has a great reward program that highly benefits repeat users. It gives you points for every action you do on the site. For example, you'll earn 10 points for each day you'll login to your account. You can use these points to get all sorts of perks like discounts on new purchases and free access to premium videos.
The site also has an awesome VIP program. For $39.95 a month, you'll enjoys special features comprised of enhanced private messaging with models, 200 free videos a day, free hour-long feature shows, unlimited access to recorded shows, access to VIP only promos and a 5% discount on all video purchases.
---
xLoveCam.com
If you're into watching girls from Europe, xLoveCam is the place for you. The large majority of the 500+ models present on the site 24/7 are fair-skinned Europeans you can chat with at highly affordable prices.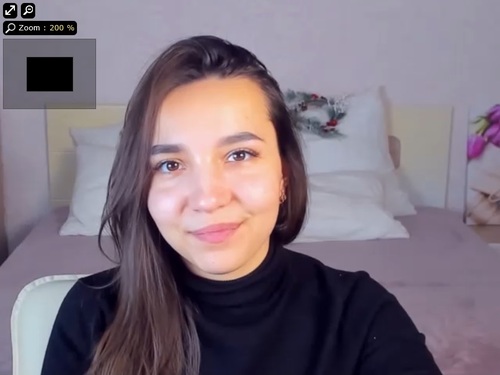 xLoveCam is a premium cam site with most of its girls performing with their clothes on in their public rooms. However 'most' doesn't mean 'all' and every once in a while, you may run into a bolder model who has decided to wear her birthday suit while she is in a public chat. In addition, every Monday, most the models will pose for the users with their breasts fully exposed on what is called Topless Mondays.
For a 1 minute of intimate private show funded by cryptos , you'll be required to pay $2.15 a minute on average. Minimum rate is $1.10. Even though these rates are around 10% more expensive compared to paying with a credit card, they're still cheaper than most other cam sites especially when taking into account that you won't be asked to pay extra for cam2cam. Like the sites reviewed above, xLoveCam's c2c apparatus is responsive to mobile devices.
Private shows on xLoveCam are not private in the full sense of the word as other users can access them either as full participants if they pay the model's chat rates or as passive onlookers for a reduced price. To drive them away, you'll need to initiate an Xclusive Show and pay 30-50 percent extra.
Using cryptos as your payment method, you'll be required to do the following:
Tap on Add Credits
Press on Crypto Currency
Select your desired credit pack
Choose the currency you wish to pay with
You'll be taken to a deposit page to initiate the transaction
Some of xLoveCam's models have galleries with explicit videos you can watch on condition that you become their VIP Member. Membership fees range from 3 to 20 euros a month. The higher a model rank is and the more videos she has, the higher her price will be.
---
Stripchat.com
When talking about Stripchat, two things immediately spring to mind: myriads of performers and plentiful free nudity. Most hours of the day, the site hosts no less than 2,000 models. During peak hours, this number can double itself. Many of these models perform in the raw in their public chat rooms for you to enjoy.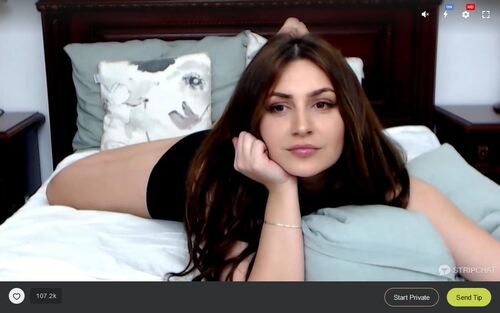 The site's models are arranged under quite a lot of categories allowing you to find almost any niche you can think of and, so, diversify your live shows. By pressing on All Categories under the search bar, you'll be directed to a page where these categories are presented in alphabetical order.
Using cryptos, a private cam chat with your favorite performer will cost you $3.40 a minute on average. The cheapest models on the site take $0.80 a minute. Adding c2c to your chats will make it 30-50 more expensive in most cases. In addition, many of the girls have minimum chat duration of 5-10 minutes. The moment you open your camera, your show becomes impervious to spies, which is a great plus if you value your privacy.
To pay with cryptocurrencies, follow these instructions:
Press on the tokens tab on the main page's header and, then, on Buy Tokens
Choose a credit pack
Select cryptos and press Continue
Choose your desired currency and insert your email
Tap on the Pay button
You'll be sent to a deposit page to conclude the transaction
For a monthly payment of $19.99 a month, you can become an Ultimate member and get really nice perks, which consist of sending private messages to performers, hiding your username in a model's room, tipping anonymously, and using emoji in chat. You'll also be able to become a model's Knight (if she anoints you) and gain moderation powers in her room. Equally important, you'll get a special badge which indicates your newly acquired status.
Stripchat is the only site today with virtual reality cam chats. At any given moment, its VR section contains 15-20 models capable of giving you electrifying stereoscopic live shows. You'll need to download a special application and obtain a headset to take part in these shows.
---
Conclusion
You shouldn't be concerned. The web's leading cam sites are considered safe places for watching live shows and chatting with models. Paying with cryptos will add another layer of security to their already secure online platforms as these virtual currencies will make it practically impossible to connect your user name to your real name. Put differently, you'll become nameless, an online ghost.
The 5 cam sites reviewed here let you pay for their services with quite a few types of cryptocurrencies providing you with a bulwark against the possibility of revealing your identity.
All of these sites offer you plenty of beautiful models to interact with and great chat features.Yet, in our opinion, CamSoda is better than the rest. Its breathtaking girls who love to perform unclothed in public and wonderful features, like free access to recordings of your private shows and mobile cam2cam, explain why we prefer it to its competitors.