Top 5 Lesbian Private Cams That Accept Gift Cards
Congratulations, you're probably one of the very few cam aficionados out there who know that some of the leading premium (and one freemium) private chat cam sites redeem generic brand name and store gift cards for site credits/tokens. You can now use an unwanted or even partially used gift card from retailers such as Starbucks, Walmart, Adidas, etc., and enjoy a hot and hardcore private lesbian webcam encounter. Read on to discover which sites are gift card friendly and how to find the steamiest girl-on-girl cam action at the following 5 live porn platforms.
LiveJasmin.com
Fortunately for all of us, one of today's leading premium chat site, LiveJasmin, accepts gift cards in lieu of payment for site credits. LiveJasmin is home to some of the most in-demand cam models, with many of them performing exclusively under the LiveJasmin banner. Not only is its selection of cam hosts incomparable, it also features HD streaming throughout the site, with many rooms HD plus (1080p) enabled. When it comes to the selection of lesbian and bi-curious girls, these babes are the best of the best. Most flow both ways, however the site also has a strong category of pure girl-on-girl action to browse through.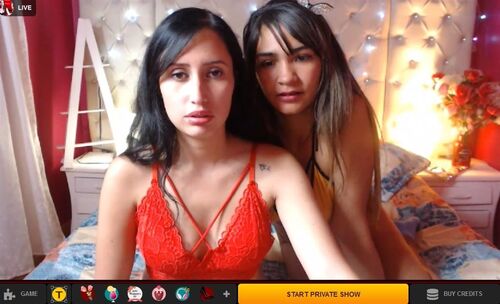 In order to get straight to the lesbo fun simply go the left hand menu bar on the homepage and select BFF from the Category menu. This brings up all the streaming females only group/threesomes or couples. While HD is pretty pervasive throughout the site, there are a few exceptions, and these tend to be in this section. Here, the streaming quality seems to be more in the SD range with the odd HD and HD plus rooms.
If the snapshot of the room on the homepage has a green circle, it means the girls are hanging out in their open chat room, looking for some fun and games. By hovering over the photo a live video feed comes through showing exactly what's happening in the room in real-time and also gives a clear indication of what broadcasting resolution to expect.
How to redeem a gift card:
Make sure you've registered as a LiveJasmin member. Registration is free, secure and only takes a few seconds to do.
On the top right of the homepage select the Get Credits link.
In the pop-up box click/tap on either the Gift 100+ icon, or the Payment Methods button.
Next step is to choose Next under Gift Card Validation.
This brings up 100 plus options of cards, scroll through until you find the brand/store gift card you wish to redeem.
When it comes to taking a couple of cuties into a private live cam date expect to pay around $3.60 a minute. The site does have private chat rates starting at just $1.00 a minute, but these are rarely found in the lesbian lovers groupings. If you're into a cam2cam and 2-way audio experience, you'll also need to factor in another $1-2.00 a minute for each of these features.
---
Flirt4Free.com
Flirt4Free is slightly different from the other premium cam sites listed in this review, in as much as it's not all about the private sex chat dates. In addition to the randy cam models who are looking for a new friend that loves to watch live X-rated action as much they like performing, it also has many other features related to online adult activity. For fetish fans, it offers a kink-focused home featuring user and model-powered forums, along with 54 dedicated fetish sub-groups, leading porn-stars who host special members only shows and a Live Cams Mansion where girls host themed monthly horndog parties.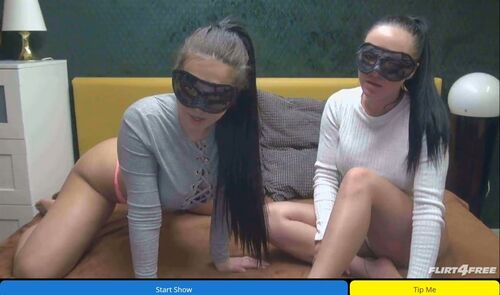 Like many of the cam models in other sites, an overwhelming number of Flirt4Free babes identify themselves as bi-sexual, fewer though classify themselves as lesbian only. Those that do mainly perform in group cams such as twosomes / threesomes and girl on girl orgies. The quickest way to find the chick loving chicks is to go to the Categories link on the top of the homepage and from the drop-down scroll menu select Lesbian.
There generally isn't a huge selection to choose from and if you're looking for choice over quality, then you're going to be somewhat disappointed. On the upside, the lesbo duos and groups that do stream on Flirt4Free are all extremely talented and take a no holds barred approach when it comes to actions in a private lesbian chat show. Dildos, muff-eating, squirting and spanking are par for the course, alongside some very sensual erotic entertainment.
How to redeem a gift card:
First make sure you've registered as a member to the site.
If you are already a member then go the top right of any page and select the green Buy Credits link.
Options for credit bundles then appear, at the bottom of this you click/tap on Change payment method.
Next step is to choose the Brand Name Gift Card option.
Simply scroll through the hundred plus varieties until you find your gift card brand.
Prices for two sets of tits (or more) in a private chat show generally hit the $5.00 a minute mark, but some of the newer girl groups will put on a great display of muff eating for just $2.00 a minute. All rates include cam2cam and 2-way audio. The site also has many ongoing promotions and deals giving either free credits or discounts on private shows. While the majority of these relate to the more generic categories, it's always worth checking out if there's a special offer on the lady lovers. To check out all the specials on offer go to the bottom of the homepage and under the Live Chat category take a look at what's available in the Promos / Show Offers and Deals links.
---
Stripchat.com
Stripchat has something that Flirt4Free and LiveJasmin doesn't - and that's a whole lot of pussy action going on in the free open chat rooms. The cam site is a freemium platform, which means the girls can do what they want in their open chat rooms and they do. When it comes to the lesbian lovers, they don't waste a minute in pretending to be coy or shy, these girls show exactly why they love the female touch and when it comes to going private - be prepared to get an eyeful of HD hotties taking lesbian loving to the extreme.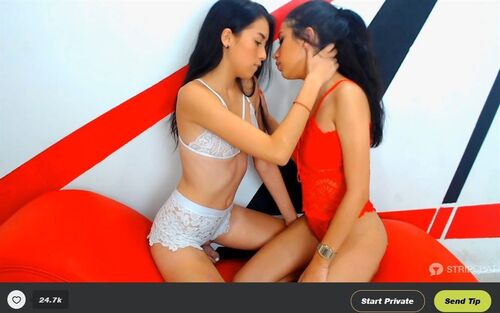 Stripchat not only has a great selection of girl-on-girl cam rooms but many of the them are HD enabled meaning a crystal clear close-up of the pussies that are primped to perfection. To weed out the men-only girls and mixed gender couples you just go to the menu on the left of the homepage and scroll all the way down to Lesbian. This filter brings up all the rooms that are girl-on-girl, groups or even single gay girl performers.
The snapshots that then appear are static images taken from the room's live feed just moments before, so you know what you see, is more or less what you'll get if you click through into the free chat room. All HD streaming cams have a small HD icon on the top left of the photo, these rooms tend to feature more skilled and experienced lezzie ladies and as result, can cost more per minute than the more amateur angels.
How to redeem a gift card:
Log in to the site as a member or join the site to become a member.
Once you're logged in, click on the small green circle with a plus sign located on the top right of the homepage.
Choose the Gift Card box from the payment methods that appear.
After selecting Continue, a scroll through menu of over 100 gift card options.
Click/tap on the brand/store card you wish to redeem and complete the payment process.
Private chat sessions tend to hit around $3.40 a minute for some one-on-one time with the deviant divas however, some of the performers will hike up their rates (even double them) if you want to turn the show into a cam2cam party. Unfortunately there's no way to know or filter out those that do this. You have to go into each room and click on the Start Private button to see if there's a c2c levy.
---
Cam4.com

Cam4 is the chat site of choice for amateur exhibitionists around the world. It's a freemium global party house where you can find every type of cam lover logging on and pleasing themselves in the hopes someone's going to come by their room and join in. If you're looking for some sleek, professional girl-on-girl action, then other sites listed in this review probably are better options, but if you're into real amateur bi and gay girls who enjoy experimenting and pushing their boundaries on cam - then this is the place to be.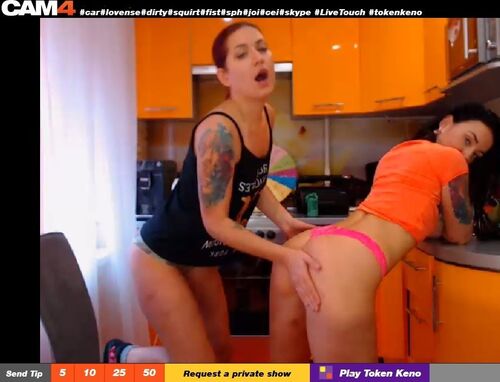 One of the benefits at Cam4 is that you can get to see all types of lesbians looking to kick up their kinks on camera. Horny MILFs on the down-low and experimental students to butch babes and girly girls, the selection is huge. It's so large in fact that unlike all the other platforms in this article, it's not just a one click search. On the top left of homepage you need to first go to the Females link located adjacent to the site logo and from the drop down menu select Couples.
Now you can either browse through the hundreds of hardcore snapshots of streaming rooms or narrow down your results further via the orange Filters button on the top left of the images. Here you can decide if you want your girls to be Gay, Bi-Sexual or Bi-Curious, if they have shaved or hairy pussies, which ethnicity describes them and of course if they host Private Shows. Many of the lesbos won't do 1on1 cam sessions, preferring instead to stay in the open rooms and finger, suck, eat and punish each other for tips.
How to redeem a gift card:
Make sure you're signed into the site as a member.
Next go to the top right of the homepage and select the Buy link. Another option is to select the Buy Tokens button located under the live video window in any chat room.
Choose the Gift Card box from the payment method options.
Scroll through the retailer/ brand names of cards until you find your chosen brand.
Select it and continue with the payment process.
If the babes do host 1on1 cam shows, many insist you pre-pay for a block of time (a 5,10, or 15 min show). The longer the session you book, the cheaper their rates per minute become. However, before doing this, if you want to use your webcam and have some two-way viewing going on, check with the pussy dolls first if they allow cam2cam shows and if they do, if they charge extra for it. Some rooms flat out don't host cam2cam and others can significantly hike up their rates if they do.
Saying all this, most lezzie lovers on Cam4 ask around $3.00 a minute for a private session, though you can always find cheaper rooms (if you're prepared to compromise on streaming quality).
---
LivePrivates.com
If you're looking for girls on top, and by that we mean the girls that reign supreme as the leading cam performers of the day, then head on over to LivePrivates. This uber-exclusive premium cam chat platform carefully grooms its gallery of goddesses. A private encounter with a lesbian couple at LivePrivates is a cam chat experience that is hard to top and the girls work hard to keep it that way. But, and there's always a but, such perfection comes at a price so be prepared to wipe out the value on your gift card in one shot.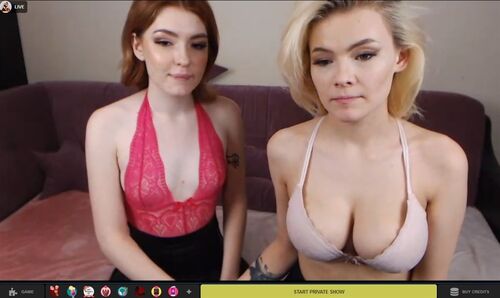 While it's hard to fault much at LivePrivates (apart from what can be extremely high cam chat rates), the selection of girl-on-girl rooms is somewhat limited. At first glance it may seem there's quite a number of vixens online, but a closer look reveals many of the girls appear under different screen names. For example, what may look like 30 lesbian lover shows are taking place, in reality it's probably closer to 20 with some rooms repeated.
As with most cam sites, the majority of all performers on the site tag themselves as bi-sexual or bi-curious. If you're looking for two or more friends with benefits enjoying each others womanly curves on cam, then you'll need to select the category called BFF, located on the menu bar on the left of the homepage.
How to redeem a gift card:
Sign into the site as a LivePrivates member.
Go the top right on the homepage and click/tap on the white Get Credits link.
A pop-up box with credit packages appears, choose the button featuring the Gift 100+ icon.
Select the green Next button in the validation process box which details the terms and conditions of paying by gift card.
Click/tap on the downward arrow in the Select you brand... box and choose the appropriate card brand.
If you're not looking for a cam2cam and 2-way audio performance, you can expect to pay somewhere around the $3.50 a minute mark. Not that bad, but when it comes to having the all-inclusive experience, this price can jump, almost double as both cam2cam and 2-way audio are each around $1-2 a minute extra. Expensive, but then again, the site really does feature only the cream of the cam crop cuties.
---
Conclusion
These five sites not only offer great lesbian live cam shows, but they all let you trade in unwanted or partially used brand or store gift cards for credits/tokens that you can use to purchase some private girl-on-girl chat sessions. Unfortunately all of this goodness is pretty much limited to viewers based in the U.S.
The overwhelming majority of the hundred plus gift cards that can be traded in are only available to those located in the U.S. There are some exceptions, but these are few and far between. If you're based outside of the U.S. you'll have to check on each site which international cards the site's payment processor accepts. Even so, some of the sites, don't even bring up the option to trade in gift cards as a payment method if you access the site from outside of the U.S.
When it comes to choosing one site over the others, for some female-to-female live cam fun and games, LiveJasmin takes the top spot. The girls are cute, yet kinky, the quality of most video feeds are either high-quality SD or HD, and 1on1 cam chat prices don't reflect the high-quality of the performance you're about to sit back and enjoy.