Top 3 PayPal Accepting Lesbian Private Chat Sites
Published
October 13, 2020
PayPal is one of the most popular payment methods for financing purchases and services online. Once you set up your PayPal account you can speed through any checkout process in seconds. It also provides an added layer of security and anonymity as the site doesn't receive any personal details such as your bank account or credit card number. The following are the top sites that let you pay via PayPal for private lesbian cam shows. We reveal how much, on average, a 1on1 session costs at each platform, as well as delving into the quality of models, streaming capabilities and the unique benefits at each site.
CamSoda.com
CamSoda is one of the web's most popular freemium cam sites. The difference between a premium and freemium platform is that on a premium site, the models are strictly pay-for-pleasure with no naughty antics or stripping off taking place in a free chat room. At a freemium site, everything goes and certainly at CamSoda, that's the case. Another big difference between the two types of sites is that on freemium sites, the majority of the performers are amateurs - at CamSoda that's also the case, but not entirely. Here you'll find some verified celebrity cam stars hanging out with the girls and housewives next door.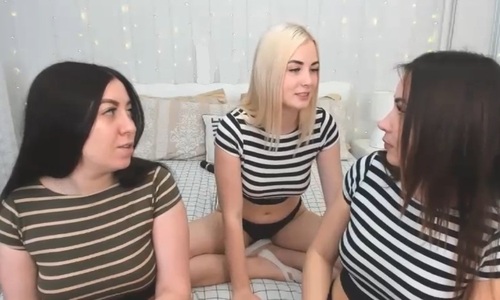 Finding the girl-on-girl rooms out of the 800 plus streaming at any given time isn't the quickest search option out of all the sites listed here, but it's definitely the most enjoyable. The moment the homepage loads you'll immediately notice that this site isn't the platform for bashful babes. The snapshots for you to browse through are grabbed from live feeds, so what you see is what you'll get when you select a room to enter.
To get to the girls playing with their girlfriends you have to click on the view all tags link on the top of the photos towards the right side of the screen. Go straight to page 2 of the results and scroll down until you come to the Lesbian category. Another option is to look at the Couples group. This category feature all types of twosomes including mixed genders, but also groups of girls. To get to this you can simply click on the link on the homepage above the photos or scroll down a bit further on the 2nd page of search results until you hit that group.
What CamSoda offers that not every other platform does is the option to record your private show with a lesbian model and store in your CamSoda account where you can re-watch it over and over at no extra charge.
How to use PayPal at CamSoda:
Select the orange Add Tokens box on the top far right of the homepage
Under Payment Type click/tap on PayPal
Choose the appropriate token package under Payment Options
Confirm the value by selecting the Purchase Tokens Now button
Complete the process as instructed to immediately receive your tokens
Prices, on average, hover around the $3.00 a minute mark. The cheapest cam rates at CamSoda come in at around $0.70 a minute, but if you're looking at more than one performer in a show, there aren't that many rooms that are priced at the minimum rate. Prices are meant to include cam2cam and some do, but many will ask for an additional tip to enable a c2c date or even charge a higher per minute rate.
---
Stripchat.com
One thing you can't fault Stripchat for is lack of choice. This mega-platform features around 2,000 cam performers online at any one time, all of whom are looking for a new playmate for some naughty fun and games. Like CamSoda, Stripchat is a freemium site which means most of the cam stars turn on their webcam in their open rooms, strip off and start a wild party where everyone is invited and there's no cover charge.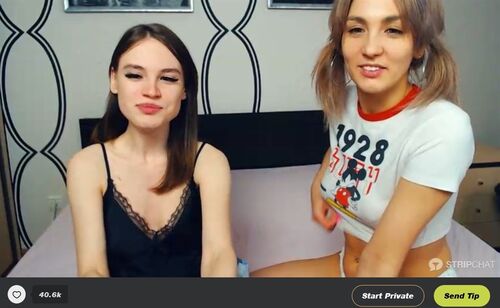 To get to the girls with girls at Stripchat all you need to do is go to the left menu bar, scroll down until you get to the Lesbian link. One click is all it takes to have the page reload showing only those babes that are broadcasting with their special friend (or friends) who they like to get intimately personal with. While Stripchat has a huge number of online rooms, in this category you'll normally find around 30 or so online.
While it's a freemium site attracting a lot of amateur angels, there are also many semi-pro cam models who call Stripchat home. On the preview snapshots you can see at a glance if the room is broadcasting in HD. If it is, a small HD icon appears on the top left of the photo. Normally these rooms are hosted by the more professional performers.
When it comes to finding the deals, Stripchat doesn't make it easy, especially in the lesbian lounges. Some of the experienced hosts have Fan Clubs. These cost $9.99 a month to join and give you a bunch of benefits including the ability to spy for FREE on their ongoing private shows. Like CamSoda, some of the girls also have the option to record a private show with them, which is then loaded onto your Stripchat personal area and you can re-watch it as often as you want at no additional cost. Unfortunately, this isn't offered by many of the babes-on-babes, but if it is, it makes the value of a lesbian cam session at Stripchat an unbeatable delight.
How to use PayPal at Stripchat:
Go to the green circle with a plus sign on the top right of any page
From the list of Payment Method options choose PayPal
Choose your preferred token package or select the Show More Token Packages button for more options
Press the Continue button
Make sure all is correct and then click on the Proceed to PayPal link to complete the transaction to get the tokens transferred into your Stripchat account
Expect to be charged around $3.40 a minute for a lezzie cam show. While some rooms on the site come in at the platform's minimum rate of $0.80 a minute, this price is rarely found in the lesbian performances. There's no lock-hard rule when it comes to a premium for a cam2cam show. Some girls have a flat rate which include it, others charge a slightly higher per minute rate, while others will double the price.
---
121SexCams.com
121SexCams is a premium site which means officially no monkey business or babes chatting in the buff in their open chat rooms. Unofficially, you'll probably notice quite a number of the cam hosts break these rules, or at least push the boundaries as far as they can. What 121SexCams has that the other top private cam sites listed here don't have is a unique payment method that when linked to your PayPal account makes it super-easy and quick to start chatting in a 1on1 cam date and not worry about running out of site tokens or credits at the most inopportune moment.
Finding the females with females hangouts at 121SexCams is just a couple of quick clicks from the homepage. On the right of the screen, click on the large green Categories button and go down the alphabetical search options until you get Lesbian. One more click and you'll be in the luxury lounges of ladies with ladies.
There's generally around 600-800 rooms broadcasting 24/7 at 121SexCams, while this number is around average, what isn't average is the number of females with their friends holding court. There's always at least a minimum or 30 or so twosomes, threesomes and even more girl-only shows taking place, with this number pushing 60 during peak hours. And browsing around here is even better, as you don't have just only a large number of nubile nymphets to take a gander at, but most are HD streaming, ensuring you get a crystal-clear view of all the goings-on.
121SexCams doesn't feature any discounts and promos as such, but what it does offer is the option to book block sessions. The longer the shows you pre-book and pay for, the bigger the discount you'll get off the per minute rate. For example, you'll get a 5% discount if you choose a 15 minute session, 10% on a 30-minute private cam show, 15% off a 45 minute one, and if you go all out and book a 60 min cam session with your girls, you'll get a 20% reduction in price.
How to use PayPal at 121SexCams:
When you register as a member you'll need to provide a payment option
Input registration details and select Continue
Select PayPal and click Proceed to PayPal button
Enter your email or phone number on the PayPal page and click Next
At 121SexCams, you don't need to buy site credits or tokens prior to starting a private cam date. Once you've registered and linked your membership to a PayPal account or credit card then you're ready to go. Average prices stand around $3.00 a minute, with an additional dollar or two more a minute if you want it to be a cam2cam session. You're only billed for the time you spend in a private show with the ladies and you don't have to worry about accumulating a huge charge. There is a $25.00 or $50.00 daily cap and if you want a higher maximum, you'll have to contact the site and request a larger max-out.
---
Conclusion
It's one thing to find a cam site that takes PayPal, it's another to find one that not only is PayPal friendly but also had a good selection of lesbian performers, HD streaming options and extra bonuses to help offset the cost of a private show. All the sites listed here have all that and have been verified as safe, secure and discreet platforms.
In addition to PayPal, most sites take a variety of payment options including major credit cards, bank transfers, cryptocurrencies. Some even accept brand and store gift cards where you can redeem the value of the card for site tokens/credits to spend on lesbian cam shows.
All the above sites are highly recommended, though with so much free activity and naughty antics taking place in the open rooms, CamSoda is our top pick. Loads of lesbians, great streaming options and the ability to record your paid-for show and relive the experience over and over makes it our fave destination for PayPal girl-on-girl cam shows.