Best 1on1 Cam Sites That Accept Paysafecard
Published
September 01, 2020
Paysafecard is one of Europe's most popular online payment methods. It's a safe, secure and anonymous method which lets you purchase goods or services online, with no need to give out any personal or private financial information. The following 5 private cam sites all accept Paysafecard as a payment method. Read on to find out more about each site, how to use a Paysafecard and how much a private show at each site will set you back.
LiveJasmin.com
When it comes to the best of the best at a reasonable price, LiveJasmin leads the way. The site hosts over 1,000 semi-pro and pro live video chat hosts, each one highly skilled in cam modelling. Prices for a private cam session may seem high at first but if you read on, we'll show you ways that will significantly reduce the cost a 1on1 show.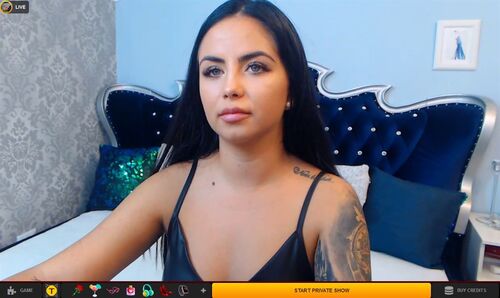 Before assuming LiveJasmin, or any cam site listed here accepts Paysafecard, you should always check first whether it's an option from your locale via the payment options. At LiveJasmin you simply click on the Get Credits link at the top right of the homepage. This will bring up a page showing the different credit bundles available. The site automatically assumes you're paying by credit card, so you'll need to manually select your chosen payment method (in this case Paysafecard) by selecting the yellow Payment Methods link at the bottom of the box. If Paysafecard doesn't appear in the options available, then it's not a viable payment method due to your location.
The per minute prices for a cam session at LiveJasmin aren't the cheapest. However, there are always ways to cut the advertised rates significantly. All new members who link their account to a credit card (no purchase necessary) receive 9.99 FREE credits. Although you may want to ultimately use a Paysafecard to purchase site credits, you can always give your credit card details, get the credits and then not make any purchase on your card.
Before you buy any credits, the site offers a promotional wheel that can land on prizes including one that gives you a whopping 99% off your first purchase and a varying percentages off subsequent packages.
When it comes to the costs, bear in mind that they don't include the use of 2-way video and audio. Each of these features will set you back an additional $1-2 a minute each. On average, a private show (normally in HD) with an A-list cam model comes in at around $3.60. However, the cheapest rates and rooms that are holding a time-limited sale offer deals of just $1.20 a minute.
---
Flirt4Free.com
Flirt4Free is another premium cam site, but this one has a twist. In addition to the wide variety of around 400-600 online semi-pro and pro models, many of whom use HD broadcasts, the site hosts a micro-site dedicated to all things spicy. It not only features 54 non-vanilla sub-categories to search through, but also a regularly updated trove of information and articles related to niche acts and even a community-powered message board where models and viewers discuss specific acts.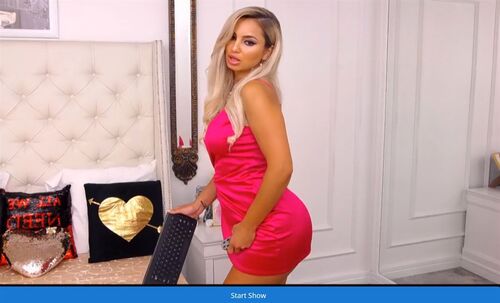 To check that Flirt4Free accepts Paysafecard from your location you have to first sign in as a member. Membership is free and it takes just seconds to sign-up. Then click on the large green Buy Credits box on the top far right of the homepage. On the box that then appears, select the Change Payments Method link at the bottom and the payment options then appear. Choose Paysafecard if it's an option and then select the bundle package that best suits your budget.
Similar to LiveJasmin, Flirt4Free gives away credits if you link your account to a credit card (though you don't have to use it). Here they'll give you a whopping 120 FREE credits if you verify a credit card. If you want to keep your financial details away from the site, there are other ways to cut the per minute rates for a premium private show. For example, you can negotiate the price per minute rate with a model. Many will give you a discount if you book at least ten minutes or so with them. To see what's the best rate you can get, you simply click on the Make An Offer link that may appear above the performer's live video window in her open chat room. Many of the cheapest rooms (5 or 10 credits a minute) don't have this link, meaning their rates are fixed.
Another way to make your Paysafecard funded credits last longer is to opt into a Group Chat. A performer has a set amount of time to raise a fixed number of credits. If you pledge credits and she reaches her target she'll start an intimate show lasting 5-15 minutes where the clothes come off and the action heats up
All the rates at Flirt4Free include cam 2 cam activation. While the average price for a private cam session comes in at around $4.50 a minute, you can always find a handful of rooms asking the site minimum of just $0.50 a minute. Generally speaking, the lower the rate, the lower the streaming quality.
---
ImLive.com
ImLive is a premium cam site with an emphasis on cheap per minute private cam prices and exclusive celebrity specials. In addition to the regular private shows with one of it's 600 or so online semi-pro hosts, the site also features monthly live performances by some of the biggest names in the industry, as well as multi-viewer shows and even a Fulfill Your Fantasy option.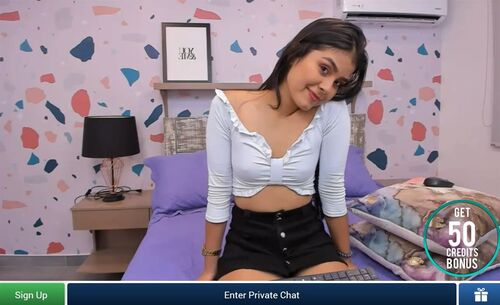 To use Paysafecard at ImLive, you have to first register (which is free and quick) and sign-in as a registered user. Then select the Get More link on the top right of the homepage. This brings up a box showing available packages. At the far left on the bottom of the box, there's another link to Change Payment Method. By selecting this, the various payment options appear including Paysafecard if it's available in your region.
Similar to LiveJasmin and Flirt4Free, ImLive hands out FREE credits to users who verify a credit card. At ImLive, you'll get $50 worth of FREE credits (50 credits) comped to your account. This can cover around 15-20 minutes of a private show with a performer. The Fulfill Your Fantasy feature is a great way to get the perfect show at the lowest price. How it works is you describe your dream cam girl and the performers bid on it in order to partner with you. And they know, the cheaper their per minute rates, the more chance they have at being selected as the one to fulfill your fantasy.
Other great features at this site include it's multi-room search tool where you can watch six live feeds at the same time without paying a penny. Another popular feature at the site are Candy Shows. These are performances initiated by the model where several viewers can get access to some very wet and wild action for just a handful of credits.
Rates are low, but this can come at the expensive of streaming qualities, which tend to be SD. However, the site is making strides to improve broadcasting options with more rooms coming on board with HD cams. On average the C2C inclusive rates stand at about $2.25 a minute, with the cheapest price kicking off at just $1.00.
---
xLoveCam.com
xLoveCam is a premium cam site with a huge number of European models. Most of the 500 plus online models are bi-lingual, if not tri-lingual. So, if you're looking to chat with a performer in your native language, you'll most likely find her at xLoveCam. Rates at this site all include C2C usage and are extremely affordable.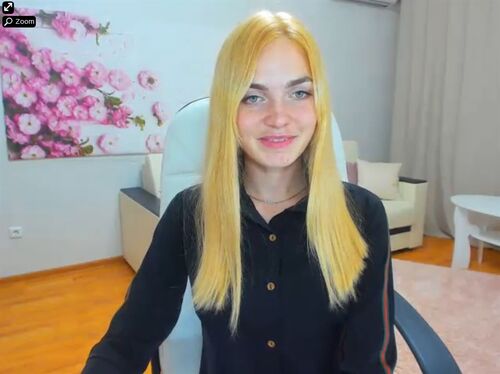 In order to find out if Paysafecard is an available option and to buy credits, you first have to sign into the site as a registered member. Then you click on the yellow Add Credits box on the top right of the homepage. This immediately brings up a box showing all the payment options. You choose Paysafecard (if listed) and then select your preferred bundle.
Membership is free and all new members receive a VIP video. The site features an extensive video library and you can choose from almost any one of the listed clips. However, some videos last just a minute or so, others are 10 minutes or longer. Before you select your free VIP video, check to see how long it is. Most models have several to choose from, so it's obviously worth your while to select one that lasts longer than a minute or so.
While xLoveCam is a premium site, which means no nudity or niche acts are allowed to take place in the performers' open chat rooms, the platform hosts a Topless Monday. For 24 hours, the cam stars strip off from the waist up and many tend to take it a step further and 'forget' to wear anything from the waist down in their free cam hang-outs.
All the advertised per minute rates at xLoveCam include C2C and 2-way audio usage. On average a 1on1 cam session comes in at the $2.00 a minute mark, with the cheapest cam rooms half that price, kicking off at just $1.00 a minute. While these prices are super-low, other users can peek in at the action. If you want your show to be exclusive with no-one else getting a look-in, you'll need to factor in an extra 50-100%.
---
Stripchat.com
Stripchat is the only freemium cam site listed in this round-up of Paysafecard accepting cam sites. The difference between this site and the others listed above is that at Stripchat, the models can strip off and get as wild as they want in their free open chat rooms. The 1,500 streaming performers range from amateur hosts streaming in SD to professional cam models using not only HD feeds, but some even have virtual reality (VR) capabilities.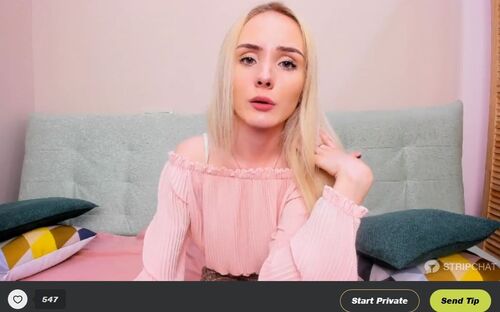 Like most cam sites, Stripchat offers a variety of payment methods that vary depending on which country you're based in. To see which options you can use, you sign-in to the site as a registered user and then click on the green circle with a cross located on the top right of the homepage. This brings up the payment methods and the prices of token packages. Depending on your chosen payment method, the value of the bundles change. So, first select Paysafecard and then one of the token packages.
The larger the bundle of tokens you choose, the more free tokens the site will add to your basket. If, for example, you choose the small bundle you won't receive any free tokens, whereas the largest option comps you 25% extra tokens. One feature Stripchat offers that the other sites don't is that you can record and rewatch a private cam performance for free (as long as the model allows it). Some sites allow you to record a show, but then you have to pay extra if you want to watch it at a later date. At Stripchat, a recordable show is stored in your account where you can access it as many times as you want and relive the experience at no additional cost.
Stripchat is also currently the only platform offering virtual reality (VR) streaming rooms. In order to enjoy one of the most fully-immersive cam experiences around, you just sync your VR headset to Stripchat following the instructions listed on the site and then choose from one of the VR enabled rooms to start a private cam session.
Prices for an exclusive show vary wildly. On average though, expect to pay around $3.40 a minute for some 1on1 time. There are cheaper rooms starting at just $0.80 a minute, though these tend to use a lower broadcasting feed.
---
Conclusion
If Paysafecard isn't an available option due to your location, you'll have to use a VPN to mask your area and set it to a country where Paysafecard is accepted (mainly major European countries).
When you purchase a Paysafecard, the highest amount you can preload onto it is 250 Euros. Though, you can buy several cards and combine the total amount onto one card via the Paysafecard website. That way you can choose exactly how much you want on a card, even if it's above 250 Euros.
While these aren't the only webcam platforms that accept Paysafecard as a payment option, they are certainly 5 of the best Paysafecard friendly private cam sites. If you're looking for the cream of the cam crop, and to take advantage of the savings mentioned above, LiveJasmin is without a doubt our top choice. It features top models, great streaming quality, and a user-friendly layout making it easy to find your dream cam girl.