6 Best PayPal Accepting Private Trans Chat Sites
Published
September 22, 2020
PayPal is a great way to pay for some 1on1 trans cam chat. It's secure, discreet and gives you that added layer of anonymity ensuring what goes on between you and your tgirl remains just between the two of you. The following 6 cam sites not only host the top transgender cam performers around, but they're also PayPal friendly. In this review we reveal insider info on each site, how to get to the hottest t-girls and how much a no-holds trans show will cost.
LiveJasmin.com
LiveJasmin is home to some of the most beautiful babes in the business. At any one time, you'll find around 70-90 trans models online, most of whom stream in HD, and the few that don't broadcast in high-quality SD. Like many sites, the majority of the girls are Asian and Latina though at LiveJasmin, you'll also find one of the largest selection of European trannies of any platform. Prices for a 1on1 show can get high, but we're going to share a secret that'll cut your costs way down.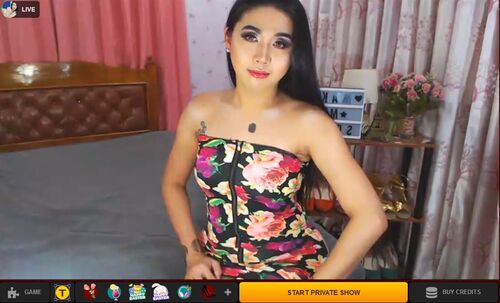 To get straight to the gallery of gorgeous transgender models you'll have to go to the menu bar on the homepage and scroll own until you come to the Transgirl link in the Category group. What then appears is the site's library of performers, and at this platform, you'll see not only the top trannies, but those that are so in-demand that they perform exclusively at LIveJasmin.
Before you buy a credits package via PayPal, make sure you have a go and Spin The Wheel. You can win free credits of up to double the amount of credits in your chosen bundle, ultimately slashing your costs by 50%. You can spin the wheel before every buy-in (as long as it's not more that once every 16 hours).
If you're looking for any free tempting teasers, you're not going to find them on this premium platform. In their open rooms the trans girls remain as demure as they can be. Everything here is paid-for pleasure. A 1on1 session is going to set you back around $3.60 a minute, on average. And, unfortunately this is one of a handful of sites that doesn't include cam-to-cam and 2-way audio in the rates. Each of these features is an additional $1-2 a minute.
If you're the type that likes your cam time on the go, LiveJasmin is one of just several webcam platforms that offers mobile cam to cam private shows.
---
CamSoda.com
CamSoda is a wonderland for those looking for some free full-on action. With hundreds of amateur exhibitionists of all genders and fluidity and rooms covering every niche you can think of, CamSoda is the number on destination if you're looking to indulge in some indecent entertainment. If being a by-stander isn't to your taste though, a private show at this site is going to be a gift that'll just keep on giving.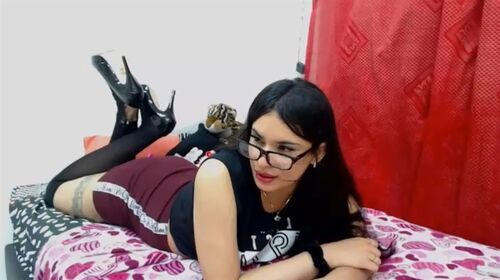 There are two ways to select all the transgender cam models at CamSoda. On the top menu bar of search tags you can select Shemale. However, this doesn't always appear. If it's not there you'll have to go to the top right of the homepage and directly above the gallery of snapshots there's a small settings icon that looks like a wheel. Click on this and a pop-up box appears showing Female / Male / Trans and Couple. On trans, make sure you select the Show toggle. For all the other options simply choose Hide.
You'll see straight away that these shemales are not shy when it comes to showing off their amazing assets. However, unlike LiveJasmin, most of these babes are amateurs, so appearance and streaming is all over the place. But, if you're looking for some free fun - you're going to have as much of it as you can handle.
It's important to note that not all the t-babes at CamSoda are cam-to-cam friendly and some won't even go into a private chat show with you, preferring to perform for tips in their open hang-outs. So, if you have your eye on a girl, check first that she is happy to go private, an that she's cam-to-cam enabled. Price-wise, expect to lay out around $3.00 a minute. Some of the performers include c2c in their advertised costs, others will charge extra, it's up to each girl individually where she stands on this.
CamSoda is like LiveJasmin in as it's setup for c2c chat on mobile devices. Also, as mentioned earlier, most sessions can be recorded and stored in the archives at your CamSoda account letting you re-watch the fun and games over and over at no extra cost.
---
Flirt4Free.com
The selection of trannies at Flirt4Free are some of the friendliest femmes you'll find at any cam site. If you're looking for more than just some flashing flesh and want to have a sapio-experience and get intimate with a stunning shemale via your cam, Flirt4Free is a great option. It also stands at the lower end of the pricing scale with some bargain babes and deviant deals that can't be beat.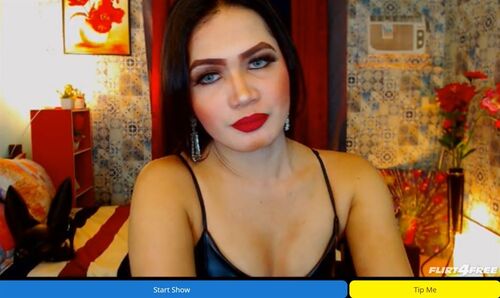 To filter the homepage photos down to those of the cross-gender cuties, simply select the Transgender link on the top right of the screen. Normally the number of babes broadcasting at any one time is somewhat restricted, so if you're looking to be spoiled for choice, you're going to be disappointed. On the other hand, the performers tend to change regularly during the day so it's always worth checking back an hour or so later, you're bound to see new faces.
Rates for a private cam session at Flirt4Free are pretty low to begin with, but the site knows users like nothing better than scoring savings on their flirting escapades. If a babe is more of a semi-pro cam goddess as opposed to an amateur, she may just have a Fan Club. If she does, for around $15-20 a month you can sign-up to it and get a bundle of benefits including discounted private chat rates, some even go as far as slashing their rates for fans by 70%.
Generally, expect to be charged around $3.50 a minute for a private. This rate is inclusive of switching the private show to a cam to cam session, if you wish to activate this feature. And, c2c is available on both desktop and mobile devices. Flirt4Free also features a range of Deals and Promos. The promos are site-wide special offers that change every few weeks, but what is even better are the Deals. These are coupon codes posted by the performers themselves that give additional free minutes (even double the time) on cam sessions with them. Unfortunately, not many trans-babes post codes, but every now and then you'll spot one.
---
ImLive.com
ImLive is an uber-popular premium cam site thanks to its cheap rates and let's party attitude of the girls, guys and transgenders that call ImLive their online home. You'll find 50-80 shemales hosting private parties at any one time, the majority of whom are semi pro or even celebrity t-girl cam stars. While the rates are low, the streaming quality is also pretty low but if you don't mind not having HD, then you'll be in a naughty trans nirvana at ImLive.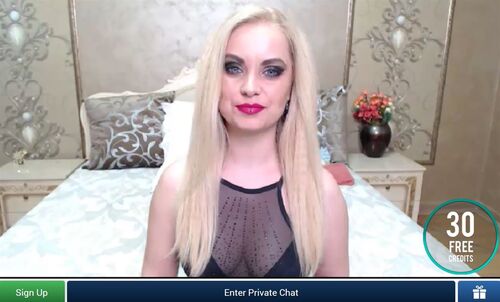 The site generally has around 800 hostess online, but to filter down to the dames with the extras you'll need to go to the tag box on the top left of the snapshots and select the downward arrow. Here you can swap the results from Girl Alone to Trans Alone (or even Trans Couple at peak hours). Once you've done this, the Filter box lets you further narrow down the options to Gender (yep - there's the option for shemale, androgynous, and even intersex), as well as the regular choices of body features, price of shows, and by the kinks she's into.
Unlike all the other sites listed in this review of the top 6 tranny sites that take PayPal, at ImLive, buying site credits using PayPal isn't as straightforward as it should be. First you click on the Get Credits link on the top right of any page. Then you choose the credit package that suits your budget. Next you have to select the light blue Change payment method link on the top of the box. Then select PayPal and click on the large yellow PayPal button. On the other sites listed here, PayPal comes up immediately at a payment method option.
All rates at ImLive include cam-2-cam and 2-way audio and come in at an average of $2.25 a minute. A handful of the t-girls, normally those that are more expensive, stream in HD and are in the league of the top temptresses, offer a membership to their Discount Club. These generally cost around $16 a month and give benefits including $0.60 per minute reduction of private chats with them.
At present, ImLive does not enable cam to cam over mobile devices, as this feature is only reserved for desktop webcam interactions.
---
Stripchat.com
When it comes to choice, Stripchat is unbeatable. The site generally has around 150 trans streaming in all resolutions from SD to HD plus 24/7. (Stripchat is also renowned for its virtual reality shows (VR), but unfortunately we've yet to come across a trans performer that has it enabled). With such a large number of online models in the trans section, almost every ethnicity, look, body type and naughty niche is covered. It also means cam rates are also all over the place but with a bit of hunting you can find a deal of dame.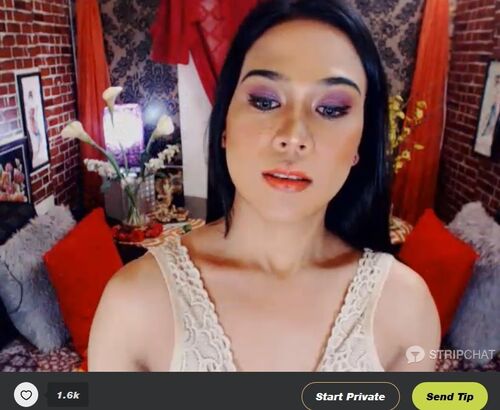 First things first, how to get to the hundred plus streaming shemales. It's a one-click trip at Stripchat, simply select the Trans link on the top left of the homepage and explicit snapshot after snapshot will fill up your screen. Stripchat is a freemium site so expect to see everything and more. The photos are in fact grabbed from the relevant room just seconds earlier, so what you're faced with is pretty much what you'll get if you click on the photo to get through into the live feed.
Stripchat is similar to CamSoda in as much as some of the t-girls offer a Recordable Private option. This is when the show can be saved in your Stripchat account and you can go back whenever you want to and re-watch to your heart's content. To find the trans models that have this as an added benefit, go to the left menu bar and scroll down to the Private Shows category, click/tap on Recordable Options, and the site will filter your results down to only those babes with this privilege on the table.
Prices fluctuate all over the place at Stripchat, with many of the models insisting on a minimum time-spend before going private. There's no popping in and out, most will ask for a 5 to 10 minute pre-paid commitment before closing the virtual curtains. A session with a trans model will set you back around $3.60 a minute, on average. When it comes to c2c, some include it, some will ask for an additional upfront tip, others will ask double their minute rate to activate it.
As yet, Stripchat doesn't have a cam to cam mobile option, so if you want her to see you too, then you'll have to use a webcam.
---
121SexCams.com
121SexCams is another site with a large selection of trans cam models covering all regions, races and raunchiness. At any one time there's at least 100 streaming trans girls from all over the world, ranging from amateur wannabes to professional performers specializing in every perv and proclivity you can think of. What makes 121SexCams unique though isn't its gallery of models, rather its payment method which is one of the easiest to use there is.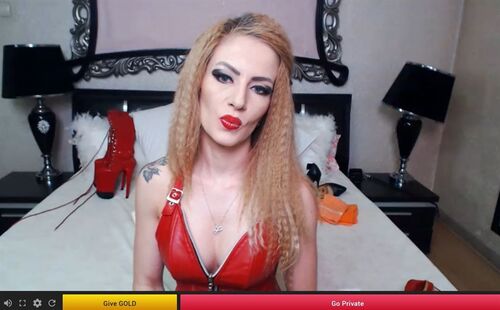 On the right of the homepage, there's a large green Categories button. Select this and then scroll all the way down to the Transgirl link. By clicking on this, the page will reload showing only the shemales that are currently online. If you want to refine the search even further, all you have to do is select the Advanced Search link above the Categories menu. Then select the Trans group, and then filter with options such as Trans MTF or Trans FTM, Age, Ethnicity, Body Type, and the kinks they're into.
The best and pretty much only way to get a better deal at 121SexCams is to book a block session. You prepay for a 15/30/45 or 60 minute show and get a reduction of 5/10/15 or 20% accordingly, off the per minute rate.
Prices for a shemale private cam chat come in at approximately $3.00 a minute, and if you want to make it a C2C session it'll set you back another dollar or two more a minute on top of that. 121SexCams ultimately makes this round-up of the top PayPal friendly tranny cam sites due to its payment system. All you have to do is register a credit or debit card with the site and you're set to go. The site charges you for the time you spend in a closed show without you having to pre-purchase tokens/credits. There is a daily limit of $25.00 or $50.00 ensuring your don't overspend without paying attention. And, if you want a higher daily limit, you can contact the site and request a larger cap.
When it comes however to cam-to-cam on a mobile, 121SexCams isn't there yet. It has a mobile optimized site, though without a c2c feature.
---
Conclusion
All the above sites take PayPal as a payment option for 1on1 tranny cam sessions. Many cammers prefer PayPal as it gives an additional buffer between your online fun and your offline actuality. However, it's worth pointing out that some of the sites will take a premium surcharge if you use PayPal to purchase site credits/tokens so it may not be the most cost-effective option.
Other payment methods offered on most sites include major credit cards, cryptocurrencies and some (LiveJasmin, Flirt4Free and Stripchat) will also redeem the full value of, or even partially used, brand or store gift card to purchase cam site currency.
If one site above others would be our pick for the top trans cam site that accepts PayPal, we'd have to go with LiveJasmin. Its girls are beyond compare, streaming quality is great with almost all rooms broadcasting in HD or at least high-quality SD, and its mobile cam to cam feature makes it a great option wherever you are or wherever you go.