Top 5 Private Cam2Cam Sites to Watch Couples
Published
February 16, 2021
Whether you want to join in the fun or direct the action, having a threesome with another couple in a cam2cam show is double the fun in every way. See a hot twosome pleasure each other while you get to sit back and watch, or perhaps you get to decide what they do, and how they do it while they look at their audience of one.
CamSoda.com
CamSoda is not just one of the best freemium cam platforms around today, it's simply one of the best cam platforms, both freemium and premium. This site hosts hundreds of free live cam rooms streaming 24/7, the majority of which use HD streams. You don't need to pay upfront to see some wet and wild action. Most performers get their kit off and their kinks on in the free rooms, with tips fueling the action. And, when it comes to couples, there's every variety here. Mixed genders, girls-on-girls, a few guys with guys and always a selection of threesomes and groups having a party you can spy on.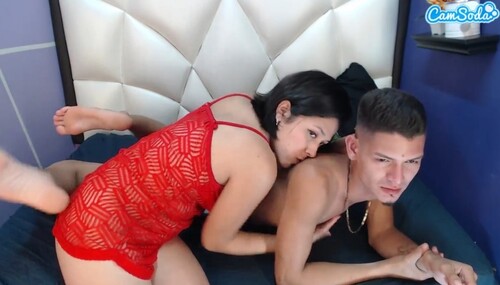 What you won't find at CamSoda is a selection of professional twosomes. Most of the exhibitionists at this site are amateur or semi-pro cam hosts and set up their cam for their benefit, as much as the viewer's benefit. Saying that, almost all of them are looking for a third party to join in the fun and preferably give them directions as they start pleasuring each other.
To find the rooms with one plus one, on the homepage you just click on the Filters feature on the top left of the homepage and make sure the other boxes such as Female, Trans, and Male are unchecked, and the Couples option is checked. The Couples category includes any room where there are more are two or more performers. So, if you're looking for threesomes or groups, you'll find them here. There are more girls-on-girls couples than mixed couples, but there's no way to filter the couples by gender groupings. Besides, at any one time, you'll find around 30 rooms to choose from so you can quickly eyeball the snapshots to see which hosts are your type of tempting twos.
Prices at CamSoda for a private webcam to webcam couples show are low. For example, there are usually one or two rooms asking the site's minimum rate of just $0.70 a minute, but on average most of the private cam2cam couples shows come in at around $3.00 a minute. Generally, the performers include c2c in their rates, but there are some who will ask for a higher per-minute rate if you want to open your cam.
Discover the Extras:
Most rooms at CamSoda offer the option to record a private show with them. A copy of the recording is then stored in your CamSoda account where you can access it and rewatch it as often as you like at no extra cost.
The site enables C2C chat on smartphones and mobile devices, so wherever you go, you can take the players with you.
If you purchase a Premium Membership for a monthly fee of $19.95, you get 200 free tokens for the first month. This works out just a few cents cheaper than purchasing 200 tokens by themselves. You can always cancel the membership after the month ends.
---
Stripchat.com
Stripchat is a freemium site, this means unlike LiveJasmin, the models are free to strip-off and play without limitations in their open chat rooms. It also means that not every room is hosted by professional cam models, quite the opposite. From amateur couples who get their kicks off by having others watch them, to certified celebrity cam models performing duets with their fave fella (or girl), there's couples, threesomes, and groups of every ethnicity, genre, and age here.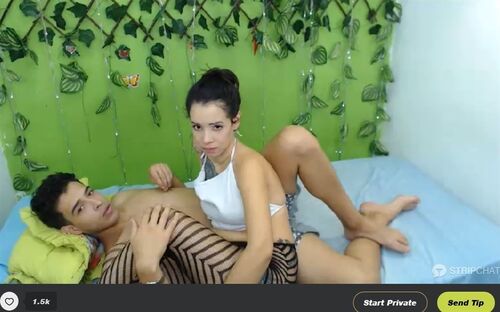 At any time of the day or night, you'll find over 100 couples streaming from studios, bedrooms, offices, and lounges. And, it's not just couples, if you're in the mood for two girls and a guy, three girls, or even want to peek in at any going group gang, Stripchat has them all. Such a wide variety also comes with an equally wide variety of streaming quality. Most of the rooms are HD friendly though you will find some broadcasting in archaic SD. On the snapshots some feature a small HD icon on the top left indicating they're HD hang-outs, but not all do. So even if that symbol isn't there - there's a good chance the video will still come through 720p (HD) or even 1080p (HD+).
Once the site loads, just click on the top left link for Couples and all the more-is-merrier rooms appear. The site doesn't differentiate between two girls or a girl and a guy, however, one way you can narrow down the options is to use the left menu bar and select a specific naughty niche.
Prices for a cam2cam couple chat start low at just $0.80 a minute, however, most couples ask more in the region of $3.40 a minute. When it comes to uniformity regarding C2C as an extra, there is none. The cheaper the room, the more the chance they'll ask for an additional tip upfront or more often than not, post a more expensive rate if you want it to be a 2-way visual extravaganza.
Discover the Extras:
Some couples at Stripchat offer Recordable Privates show. This means you can record the private performance between you and your new friends and store it in your Stripchat account. You can then re-watch it as often as you like for no additional fee. This option is included in the flat rate, so doesn't cost any more than a regular C2C show.
Once you're logged as a Stripchat registered user (registration takes seconds and is completely free), you can enter the site's hourly token giveaway. Every 60 minutes, 10 users receive 50 free tokens each just for being online at the time.
A handful of the couples have VR (virtual reality) capabilities, so if you own a VR headset, this cam platform can whisk you away into a VR encounter.
---
BongaCams.com
Like Stripchat, BongaCams is a freemium site which attracts some of the most liberated and open-minded girls, guy and couples around. In the free chat rooms, the action is extreme, to say the least, and clothes are most definitely optional. This is not a site for the shy, retiring type, but if you're in the mood for some amateur action with two, three, or more like-minded adults that want to be seen and truly want you to join in their fun, then you've come to the right cam2cam platform.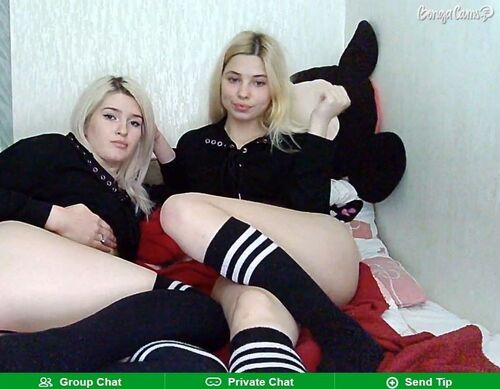 There are generally around 60-80 rooms with all types of friends that like to play together on cam. Girls on girls tend to be the predominant category but by no means all. There's also a large percentage of group games going on here, in addition to the traditional guy on girl party. Most are amateurs with very few professional cam2cam couples venturing onto the site, this means streaming quality tends to be on the low side. On the upside, all rooms cost the same and all rates are inclusive of C2C usage.
To get to the twos that'll tempt you, just select the Couples button on the top right of the main page. With so much free fun to watch and standardized cam2cam rates, you could be wondering why this isn't heading our list of the best 5 cam-to-cam sites to watch/join couples. One reason - the constant barrage of pop-up ads that pause the action and call on you to sign-up or purchase tokens. Free comes at a cost and at BongaCams, this cost is more of an annoyance that muddies what otherwise would be a great C2C site.
As we mentioned, there's no discrepancy in the site's pricing system, every show, regardless of streaming, genre, singles vs couples, etc., will set you back $4.50 a minute (and that's including a cam2cam chat). There's also the option for a Full Private Chat session for $7.50 a minute. In these show types, no other users can spy on your directorial decisions, etc. In a regular private cam2cam date, other viewers can silently enter and watch the going-ons.
Discover the Extras:
The site's promotions constantly change and include a variety of specials such as free tokens for signing-up and a gift of 10 tokens added to your first purchase on the platform.
If you buy tokens on your mobile device or smartphone, the site will comp you up to 100 extra tokens depending on the size of your buy-in.
---
ImLive.com
ImLive is a premium cam platform with some of the lowest cam2cam chat rates around. As a premium site, the official stance is clothes remain on and actions remain PG-friendly in the open chat rooms. Unofficially this doesn't always happen. While you're not going to see the couples get as down and dirty as you will in the freemium sites, you will get full-on teasers of what to expect if you decide to take your new friends into a paid-for webcam-to-webcam session.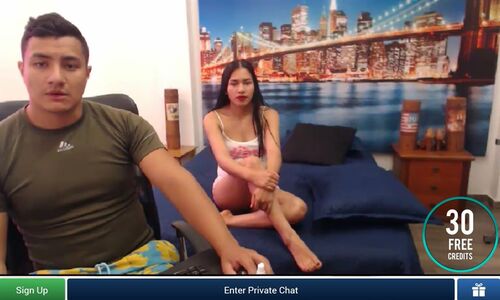 The performers at ImLive tend to be semi-pro live-action lovers, however, with prices so low there is a trade-off - and that's in the streaming quality. Most rooms aren't HD enabled, but recently we've seen an upgrade in the standard, with more and more broadcasting in high-quality SD and even several upping the ante to HD.
To get to the two-plus live lounges takes a couple of clicks at ImLive, but here you can choose exactly what you'd like to see in your group experience. On the landing page, there's a box on the top left of the screen with a downward arrow. The site automatically brings up Girls Alone, but if you click on this arrow you can change the results to Girl and Guy (Couples) / Girl on Girl /Guy on Guy and Threesome (Groups).
Prices are all-inclusive here and start out at just under $1.00 a minute, with the average cost of a 2-way cam party with a couple of cam cuties standing at $2.25 a minute.
Discover the Extras:
ImLive has a Fulfill Your Fantasy feature. You simply write in what you'd like to see and do with a couple on cam and submit your deviant dream. The couples will then get back to you with offers (normally lower than their advertised rates) in order for you to chose them.
The more popular group and couple rooms host Discount Clubs as a way of getting you to honor them with repeat visits. For around $16.00 a month you can join their club and get a basket of benefits and extras including a $0.60 a minute discount off private cam2cam chat dates with them.
---
121SexCams.com
This site doesn't have any of the added extras you'll find at most other sites. 121Sex cams concentrates on one thing and one thing only - and that's private cam2cam chat. When it comes to opening your cam and inviting a couple (or more) to join you in some virtual fun and game, you'll find all types of swingers and semi-pro cam models looking for a new pal to play with, alongside some very kinky experimental college girls.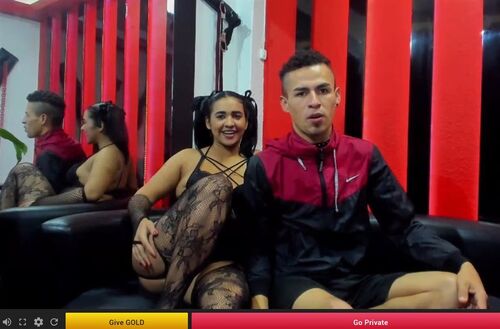 There are usually at least 50 couples, threesomes, and groups streaming at 121SexCams and a good number of the rooms veer towards the more extreme. With ropes, toys, leather, and cuffs the norm for many of these performers, you'll find far more than just vanilla on the menu here.
To weed out the solo artistes and get to those with a cast of two or more, simply click on the large green Categories button on the far right of the homepage, and from the list, you can choose either Couples or Groups. Fortunately, when it comes to finding a couple of HD hotties, you won't have to go far with most of the cam rooms using HD as a minimum with many HD plus enabled.
The biggest thumbs down that we can give 121SexCams is that most of the performers don't include cam2cam in their regular rates. The cheapest cam couples come in at $1.00 a minute with most generally asking around the $3.00 a minute mark. If you want some 2-way pleasure with your new playmates bear in mind most will either charge more (even double their standard rates) with others asking for a tip beforehand. A few do have one rate for both cam and cam2cam but they tend to be on the higher end of the pricing scale.
Discover the Extras:
This isn't exactly an extra but it's a feature that we think is worth highlighting. At 121SexCams, instead of having to stock up on-site tokens/credits prior to a show, here you simply link your account to a payment method and are charged for the time you spend in a paid-for performance. The site even implements a daily max so you can't rack up any outlandish charges.
The only other extra is if you book a block session (i.e. for a minimum of 15 / 30/ 45 or 60 minutes). Once the performer agrees to block out that time with you, the session kicks off and you'll get a discount off the per minute according to the length you've chosen (5% /10% / 20% or 30% accordingly).
---
Conclusion
Each of the above 5 sites has its own unique strengths. CamSoda has low rates, recordable shows, and all types of twos, three, and groups mostly broadcasting in HD. Stripchat has those VR shows, BongaCams equals the playing field with every room charging the same fee, whereas ImLive has some of the cheapest C2C rates around and 121SexCams makes it easy and seamless to start a cam-to-cam date thanks to its user-friendly payment system.
At the end of the day though, if we were to choose one as our favorite, it would be CamSoda. Quite simply, it's got the best of the best in all aspects of camming from the kinkiest couples, to a huge selection of HD streams, free recordable shows, and the option to cam2cam from the palm of your hand via your smartphone or mobile device.